You are here
PM refers GAM, neutral company reports on downtown flooding to technical committee
Reports contradict on rainfall intensity, drainage system
By JT - Mar 14,2019 - Last updated at Mar 14,2019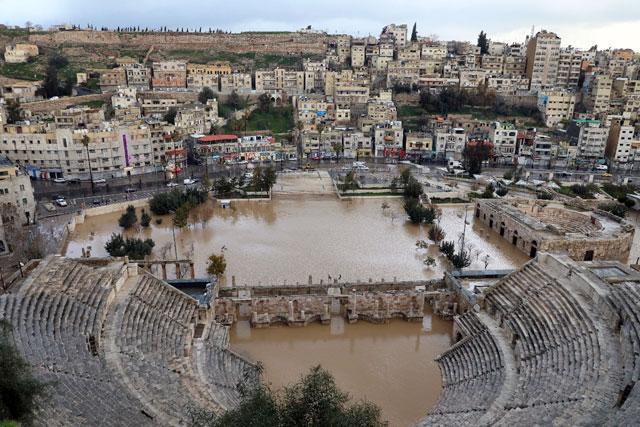 In this photo taken on February 27, the Roman Theatre in Amman can be seen after heavy rainfall flooded parts of the city (Photo by Osama Aqarbeh)
AMMAN — Prime Minister Omar Razzaz on Thursday referred the Greater Amman Municipality (GAM) report on the recent flooding in downtown Amman, as well as the report by a neutral technical company, to a technical committee with experts on board from the Royal Scientific Society and engineer and contractor associations.
The technical committee was formed by the government earlier to help with the case, the Jordan News Agency, Petra, reported.
The technical committee is commissioned to review the reports and help identify the causes of the flooding, according to Petra.
After receiving the company's report, the premier stressed the need for identifying and correcting any shortcomings uncovered in the report, as well as holding concerned parties accountable.
The committee said that the heavy rain Jordan saw in late February did not justify the flooding, as the downpour on February 28 was not exceptional, according to Petra.
Jordan sees similar rainfall every two to five years, the committee said, citing data issued by the Ministry of Water and Irrigation. The panel said that the grids should not have flooded.
The company's report claimed there was a problem in the drainage system coinciding with the rainfall, which extended over a relatively long period, Petra reported.
This, the report stipulated, led to flood formation in lower-altitude areas.
The company has recommended conducting a comprehensive evaluation of rainwater drainage systems to identify possible deficiencies.
GAM's report said that the rainfall exceeded the capacity of the drainage system below Quraish Street in downtown Amman's Saqf Al Sail area, Petra reported.
GAM's report emphasised that the drainage system was operating at full capacity with no blockages before, during or after February 28, the news agency added.
Heavy rainfall that day flooded downtown Amman and caused extensive damage to shops and businesses.
In the wake of the incident, the government decided to form a neutral committee tasked with investigating the case, while GAM formed its own committee.
Newsletter
Get top stories and blog posts emailed to you each day.