You are here
Parliament seeks extraordinary session to end tax law crisis
Rallies continue for the fourth day in a row
By Raed Omari , Petra - Jun 04,2018 - Last updated at Jun 04,2018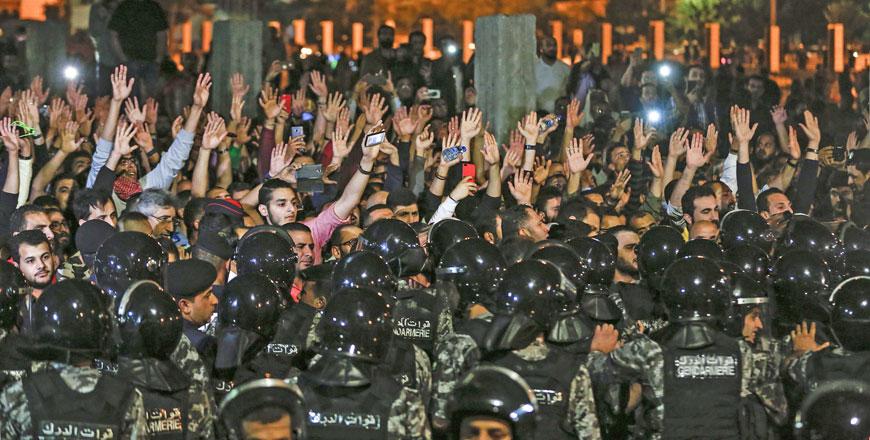 Protesters raise their hands before members of the Gendarmerie and security forces during a demonstration outside the prime minister's office in Amman early Sunday (AFP photo by Khalil Mazraawi)
AMMAN — The two Houses of Parliament on Sunday made a recommendation to His Majesty King Abdullah to convene the Parliament for an extraordinary session to be held as soon as possible to bring an end to the "income tax crisis".
The Senate separately sent the recommendation to His Majesty King Abdullah, advising holding the session, according to a parliamentary source.
The senators, according to the source, suggested that since the majority of the House members reject the amended income tax draft law, they can vote it down and forward it to the Senate, which would follow suit and return the bill to the government, as stipulated in the Constitution.
Later in the day, the Jordan News Agency, Petra, quoted House Speaker Atef Tarawneh as making a similar proposal to the King, noting that the number of MPs who reject the income tax bill had risen to 90. He added that voting down the law is the right move to defuse the nationwide protests that have been ongoing on a nightly basis since Thursday in Amman and several other locations, following a strike led by the professional associations last Wednesday that saw a significant response from citizens.
Tarawneh cited Article 82 of the Constitution, which allows a majority of the House to request an extraordinary session, noting that these opponents had duly filed the petition with the Chamber's permanent office.
Social media and local reports indicated that youth continued their rallies near the Fourth Circle on Sunday night, where the Prime Ministry is located.
The other suggestion made by the senators as they met to discuss the crisis is that the government withdraw the draft law from the House and a national committee be set up to come up with a new law that has the consensus of all stakeholders, the source said.
The consultation meeting on the income tax draft law was chaired by Senate President Faisal Fayez, who, according to the Jordan News Agency, Petra, "highlighted the importance of launching a comprehensive national dialogue on the bill so as to achieve balance between challenges, economic pressures and the interests of various social classes".
Fayez warned "saboteurs" against damaging public assets and called on security personnel to refer those who seek to destabilise the security of the Kingdom to court, Petra reported. In a related development, Fayez also met with the president and members of the Amman Chamber of Industry (ACI) about the draft law, stressing the importance of resorting to national dialogue in this regard. ACI President Ziad Homsi outlined some remarks about the bill, while chamber members proposed recommendations to help boost the national economy.
Newsletter
Get top stories and blog posts emailed to you each day.