You are here
'Paradigm shift' as Azraq becomes world's first solar-powered refugee camp
By JT - May 17,2017 - Last updated at May 17,2017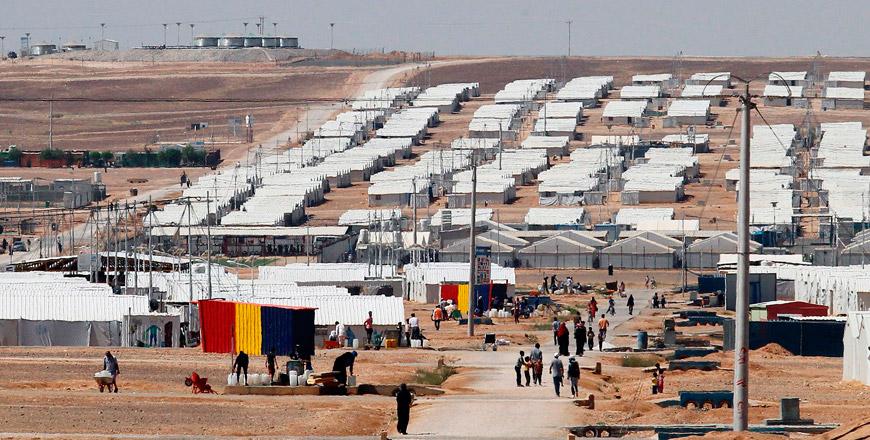 A general view shows the Azraq camp for Syrian refugees in northern Jordan on Wednesday (AFP photo)
AMMAN — Thousands of Syrian refugees will be able to light their homes, charge their phones and chill their food by solar power as Jordan's Azraq camp became the world's first refugee camp to be powered by renewable energy, the UN refugee agency said on Wednesday, the Thomson Reuters Foundation reported.
Each family in almost 5,000 shelters in the desert camp will be able to use electricity generated by a solar plant.
"Lighting up the camp is not only a symbolic achievement; it provides a safer environment for all camp residents, opens up livelihoods opportunities, and gives children the chance to study after dark," Kelly Clements, UNHCR deputy high commissioner, the foundation reported, quoting a statement.
The Azraq camp, some 100km east of Amman and 20km west of the town of Azraq in Zarqa Governorate, is home to 36,000 Syrians refugees who will all be able to rely on solar power by 2018, UNHCR said.
The switch to solar power will save the agency $1.5 million per year and function even if funding dries out, UNHCR said.
The money saved will be invested elsewhere, and could be used to improve sanitation, shelters or organise activities around the camp.
The solar plant — which cost almost 9 million euros ($10 million) — was funded by the IKEA Foundation, which donated one euro to UNHCR for each lightbulb sold in the furniture chain's stores, the foundation reported.
The plant will be connected to the national grid and any surplus electricity generated will be sent back for free.
Funded by the IKEA Foundation's Brighter Lives for Refugees campaign, the solar farm has brought power to a population that lived for two years without electricity, and will contribute to the Jordan national energy strategy to achieve a green economy by 2020, a joint statement from the UNHCR and the IKEA Foundation, received by The Jordan Times, said.
Azraq camp opened its doors in April 2014 and is located in a desert area in northern Jordan, with hot summers and harsh winters. The lack of electricity has been one of the main challenges faced by its residents, making daily activities difficult, such as cooking, washing the clothes, studying or walking safely to the washroom at night, especially for women and children, the statement continued.
The solar farm will result in immediate savings of US$ 1.5 million per year and it will reduce CO2 emissions by 2,370 tons per year. Once the solar plant is upgraded from 2 to 5 Megawatts and operating at full capacity, it will produce three times these savings and reduction in CO2 emissions and cover all of Azraq's energy needs, according to the statement, which added that once connected to the national grid, any extra electricity generated will be sent back free of cost, supporting the host community energy needs.
"The world's first solar farm in a refugee camp signals a paradigm shift in how the humanitarian sector supports displaced populations. UNHCR Jordan will save millions of dollars, while reducing carbon emissions and improving living conditions for some of the world's most vulnerable children and families", the joint statement quoted Per Heggenes, CEO of the IKEA Foundation, as saying.
Related Articles
Nov 13,2017
ZAATARI REFUGEE CAMP — After six months of construction that saw the sprawling of some 40,000 solar panels over "the size of 33 football fie
Feb 15,2016
AMMAN — A comprehensive energy plan to provide electricity to every household in Azraq Refugee Camp, which hosts 29,000 Syrian refugees, is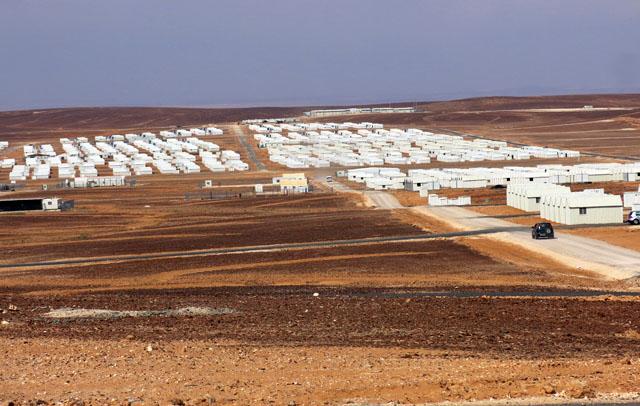 Mar 25,2014
The opening of a third refugee camp in Jordan next month would take some of the pressure off the country's main Zaatari camp and host communities as a soaring number of about 600 refugees is crossing into the country daily, UN and local officials said on Tuesday.
Newsletter
Get top stories and blog posts emailed to you each day.