You are here
World's largest solar plant built in a refugee camp launched in Zaatari
12.9-megawatt solar facility will bring free and clean electricity to over 80,000 camp residents
By Mina Mohit - Nov 13,2017 - Last updated at Nov 14,2017
The world's largest solar power plant built in a refugee settlement was inaugurated at Zaatari refugee camp on Monday (Photos by Amjad Ghsoun)
ZAATARI REFUGEE CAMP — After six months of construction that saw the sprawling of some 40,000 solar panels over "the size of 33 football fields" in southern Mafraq, the world's largest solar power plant built in a refugee settlement was inaugurated on Monday.
The 12.9-megawatt solar facility will bring free and clean electricity to over 80,000 residents at Zaatari refugee camp, extending their current 8 hours of access to power to 14, thereby allowing children longer hours for homework, better storage for refrigerated foods, and enhanced street lighting for maintaining safety and security.
The news of the extended electricity hours quickly reached the camp's residents, who said they were "thankful" for having more access to electricity during the day.
"Right now, we only have electricity from around six in the evening until three in the morning, and there are lots of things we need the power for: using the washing machine, charging our phones and watching TV. With access to electricity during the day, we can keep our kids inside by letting them watch TV; this will keep them from going out under the harsh sun and in sandstorms — getting sick," said Tahani Husni Al Hajali, a five-year-resident of Zaatari from Daraa, Syria.
Since the Zaatari's inception in 2012, access to electricity has been one of the main challenges faced by its residents, making daily lives difficult with intermittent cuts due to lack of power.
"Even though we have a fridge, when the power cuts off, anything we've put inside goes bad. So I'm forced to throw that out and make something new every day," Sharifa Al Rifai told The Jordan Times at her housing unit at Zaatari.
"Sometimes, we have to go to our neighbours' homes just to charge our phones," said Nasser Mohammad, who has been living in the camp since 2013.
The plant with help of UNHCR saves an average of 5 million euros per year in electricity bills, an amount that could be redirected to expand other "critical activities that improve the lives of refugees in Jordan", said UNHCR's Representative to Jordan Stefano Severe.
Additionally, the construction of the plant benefitted many refugees economically and professionally.
Over 75 refugees, including students, worked alongside Jordanians in installing the solar panels, gaining new skills and income for their families, said Severe at the inauguration.
The 15-million-euro solar project, which has a lifespan of 25 years, was funded by the government of Germany through the German Development Bank (KfW), and later implemented with close cooperation with Jordan's Ministry of Energy and United Nations High Commissioner for Refugees (UNCHR), said Birgitta Siefker-Eberle, German ambassador to Jordan.
In terms of its environmental impact, the solar power farm will allow Jordan to be "less-dependent on imported oil, produce pollution-free energy and reduce 15,600 tonnes of CO2 emissions per year", which is in line with the Kingdom's energy strategy, said Siefker-Eberle.
Since the solar facility is connected to the national grid, "it will also help in stabilising the regional distribution network, thereby reducing power shortages for host communities outside the camp," said Joachim Nagel, an executive member of the KfW Group.
The inauguration of the plant saw the participation of HRH Princess Lara Al Faisal, Minister of Energy and Mineral Resources Saleh Kharabsheh, UNHCR's Representative to Jordan Stefano Severe, German Ambassador to Jordan Birgitta Siefker-Eberle and Joachim Nagel, an executive member of KfW.
In her concluding statement, the German ambassador highlighted how renewable energy and energy efficiency have great potential for enhancing bilateral relations between Jordan and Germany, and for his part, Minister of Energy and Mineral Resources Saleh Kharabsheh thanked the German government for its "longstanding and strong commitment to Jordan's development process, in the energy sector in particular…which benefits both the Jordanian host community and Syrian refugees".
Related Articles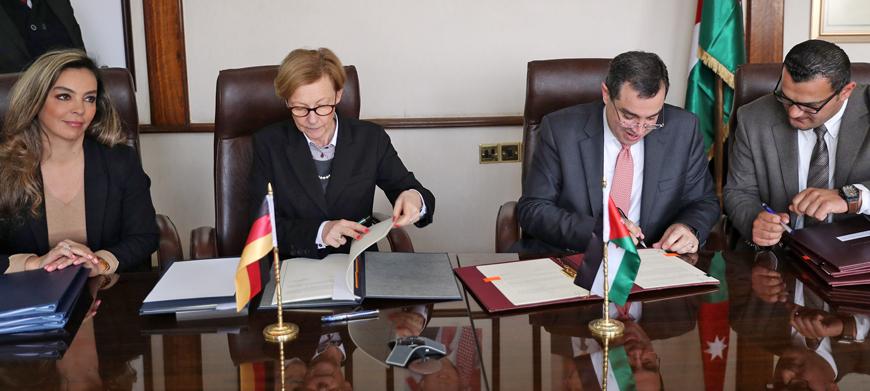 Mar 29,2017
AMMAN — Jordan and Germany on Tuesday signed a 44-million-euro grant agreement to fund the Energy Supply for Host Communities and Syrian Ref
Aug 02,2018
AMMAN — German Ambassador to Jordan Birgitta Siefker-Eberle on Thursday stressed her country's support to Jordan's social protection sector,
Nov 12,2017
AMMAN — Minister of Planning Imad Fakhoury and executive member of the German Development Bank (KfW) Joachim Nagel on Sunday signed the Fina