You are here
'Pakistan looks to increase trade level with Jordan'
By Mohammad Ghazal - Mar 22,2016 - Last updated at Mar 22,2016
AMMAN — Pakistani-Jordanian ties are set to witness a big boost in the next few months as several steps will be taken to increase trade, according to Pakistani Ambassador to Jordan Lt. Gen. Shafaat Ullah Shah.
Pakistan is looking into supplying Jordan with 400,000 metric tonnes of wheat annually and an agreement is expected to be signed in the next few months between Jordan and the Punjab government in Pakistan in this regard, Shah told The Jordan Times in an interview on the occasion of his country's national day, marked March 23.
"This deal is in advanced stages, awaiting final approval of samples to meet Jordanian standards of protein and other contents," the envoy said.
Pakistan and Jordan are also negotiating over a preferential trade agreement to enhance cooperation in economic and trade sectors, added Shah.
"Jordanian-Pakistani ties are deep and solid, and witness great growth at different fronts. But the trade level is below the desired level and we need to do more as the room is large to further strengthen the already existing excellent ties," the ambassador said.
Total trade balance between the two countries in 2015 stood at $85.86 million, with $35 million in exports to Pakistan and $49.92 million in imports, according to official figures.
The ambassador said there are some 16,000 Pakistanis working in Jordan, mostly in the agricultural sector. Some of them also work in the garment sector as Pakistan has some textile and garment factories in Jordan.
Operating a direct flight from Amman to Islamabad, he added, will help boost trade ties, noting that Pakistan plans to host the inaugural session of the Pakistan-Jordan Joint Business Council in the second half of this year, which would be beneficial for businesspeople of both countries and for establishing "much needed" business-to-business contacts.
Pakistan and Jordan are key players in the fight against terrorism and they see eye to eye on all regional issues, said Shah.
"As His Majesty King Abdullah repeatedly stressed that the war on terror is a war that should be waged by Muslims. We Muslims should take the lead in this fight against the terrorists [who] try to hijack Islam and tarnish its image. [The] majority of the terrorists' victims are also Muslims," added the ambassador.
"Jordan and Pakistan have great cooperation in the areas of defence and intelligence sharing."
He added that a delegation of Muslim scholars from Jordan and some Arab states will visit Pakistan soon to take part in a forum on Islamic moderation.
Stressing that people-to-people communication is one of the key areas that Pakistan focuses on, the ambassador said he started an initiative under which he will tour the Kingdom's universities to deliver lectures about Jordanian-Pakistani ties.
He noted that Pakistan awards around 30-35 scholarships to Jordan under the Pakistan Technical Assistance Programme in medical, engineering and other majors.
In addition to these, under various technical cooperation schemes, Pakistan also offers training to Jordanian officials in central and commercial banking, civil aviation, construction machinery, railways and postal services.
Related Articles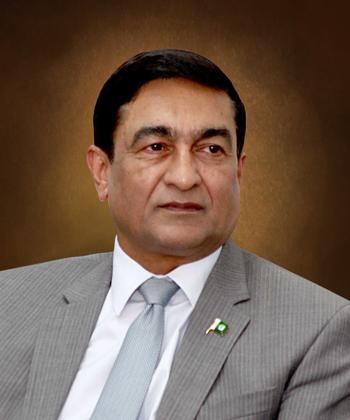 Mar 22,2017
AMMAN — While military cooperation between Jordan and Pakistan is at its best, further efforts are needed from both sides to upgrade trade t
Oct 22,2015
AMMAN — King's Military Adviser and Chairman of the Joint Chiefs-of-Staff Gen.
Jun 03,2016
AMMAN — Throughout their history, Jordanian-Pakistani ties have been characterised by mutual respect and collaboration at various levels and
Newsletter
Get top stories and blog posts emailed to you each day.