You are here
Jordan, Pakistan have history of close ties, shared views — ambassador
By Saeb Rawashdeh - Jun 03,2016 - Last updated at Jun 05,2016
AMMAN — Throughout their history, Jordanian-Pakistani ties have been characterised by mutual respect and collaboration at various levels and in different fields, according to Pakistan Ambassador to Jordan Shafaat ullah Shah.
"The late King Hussein has an iconic status in Pakistan," the diplomat stressed during a lecture, titled "Pakistan-Jordan Relations", organised by the Middle East Studies Centre earlier this week.
"These ties have been further strengthened with the marriage of HRH Prince Hassan to HRH Princess Sarvath," the ambassador continued.
The two countries are pragmatic in the international and regional political arena, said Shah, a retired lieutenant general of the Pakistani army who was commissioned in 1971 and ended his military service in 2009.
"These relations are characterised by a shared sense of history and perceptions on important regional and international issues," he underscored.
In times of crisis, the two countries stood side by side, which has cemented their diplomatic, cultural, political and economic ties.
Jordan helped Pakistan during an earthquake in 2005, as well as during floods in 2010/11; on the other hand Pakistan provided assistance to Jordan in 2013 to help the Kingdom deal with the influx of Syrian refugees.
Regarding the war on terror, both states face a threat from radical interpretations of Islam, thus they found a "common ground to galvanise the silent majority in the Muslim world against extremist tendencies", explained Shah, who holds master's degrees in political science and war studies.
Diplomatic interaction goes back to the early days of both countries, as His Majesty the late King Hussein visited Pakistan for the first time in 1954, while His Majesty King Abdullah came to Islamabad in 2007 to enhance bilateral relations, particularly in economy, trade, science and culture.
From the Pakistani side, there were two notable visits by then president Ayub Khan in 1966, and the last was from former president Asif Ali Zardari who participated in the World Economic Forum in 2011, according to the diplomat.
Other than these high- level visits, officials from both countries meet regularly in multilateral forums, the ambassador stated.
"At the moment, around 15,000 Pakistanis reside in Jordan," the diplomat noted, "and the number includes agricultural workers in the Jordan Valley, businessmen and staff of international relief organisations."
A number of Jordanians have applied for Pakistani universities in recent years, mostly to study medicine, dentistry, pharmacology and engineering, Shah said.
Related Articles
Nov 01,2015
AMMAN — Lower House Speaker Atef Tarawneh on Sunday met with Mexican Ambassador to Jordan Enrique Rojo and Pakistani Ambassador to Jordan Sh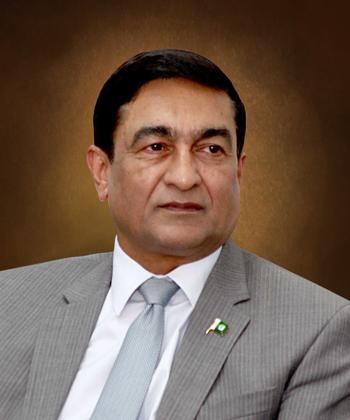 Mar 22,2017
AMMAN — While military cooperation between Jordan and Pakistan is at its best, further efforts are needed from both sides to upgrade trade t
Mar 22,2015
Relations between Jordan and Pakistan have historically been very special in character and have grown in a climate of trust that both sides continue to value, according to Ahsan Azhar Hayat, the Pakistani ambassador to the Kingdom.
Newsletter
Get top stories and blog posts emailed to you each day.