You are here
New agricultural tax will 'destroy ailing sector' — farmers union
By Hana Namrouqa - Jan 28,2018 - Last updated at Jan 28,2018
The Jordan Farmers Union on Sunday demanded that the government annul its imposition of a new tax, warning that the decision will 'destroy the ailing sector' (Photo by Osama Aqarbeh)
AMMAN — The Jordan Farmers Union (JFU) on Sunday demanded that the government annul its imposition of a tax on agricultural production's inputs and outputs, warning that the decision will "destroy the ailing sector".
The union said that the decision of imposing a unified tax of 10 per cent on certain fruits, vegetables and agricultural machineries will have negative ramifications on the sector and the families it supports.
Imposing the tax will limit the use of and trade in agricultural technologies and machineries, JFU President Mahmoud Oran said, warning that it will also cost Jordan the loss of its international markets and compromise the competitiveness that the country's agricultural produce enjoy abroad.
"The decision, which the government took without consultation with sector representatives, will also discourage investment in agriculture, destroy the income of many families and cause a hike in prices of food commodities and agricultural produce," Oran told The Jordan Times.
He underlined that small farmers will be highly affected by the decision which will force them to abandon cultivation, leading to an increase in imports of food commodities and a rise in trade deficit.
"In addition, the decision will also harm small families dependent on small farming and force small agricultural companies out of business," the farmers representative said.
The union urged the government to reconsider the decision and suspend it, warning that if the government carries on with the decision, the union will resort to the judiciary to limit the negative consequences of this "illegal decision" on the sector and the people it supports.
"The union will have to escalate if the government doesn't respond to the sector's demands within 10 days," Oran underscored.
Related Articles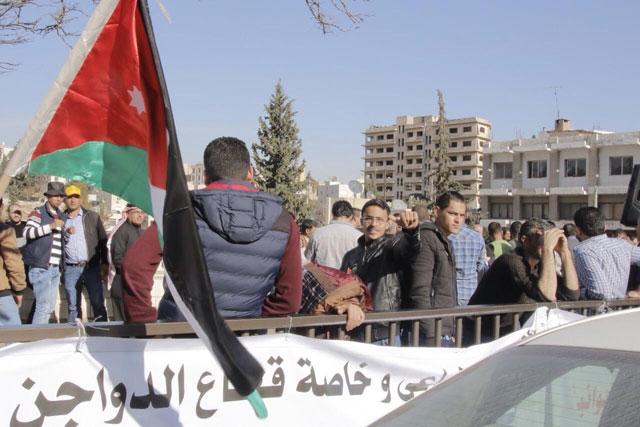 Feb 04,2018
AMMAN — The Jordan Farmers Union (JFU) on Sunday called the agricultural sector to a consultation meeting later this week in order to decide
Feb 07,2018
AMMAN — Jordan is paying the price for its national stand on Jerusalem, which forced the government to enact harsh decisions under such diff
Feb 27,2018
AMMAN — The Jordan Farmers Union (JFU) on Tuesday said that there are "positive indicators" that the government would reverse its decision t
Newsletter
Get top stories and blog posts emailed to you each day.