You are here
Farmer leaders threaten escalatory measures in fight against new taxes
By Hana Namrouqa - Feb 04,2018 - Last updated at Feb 05,2018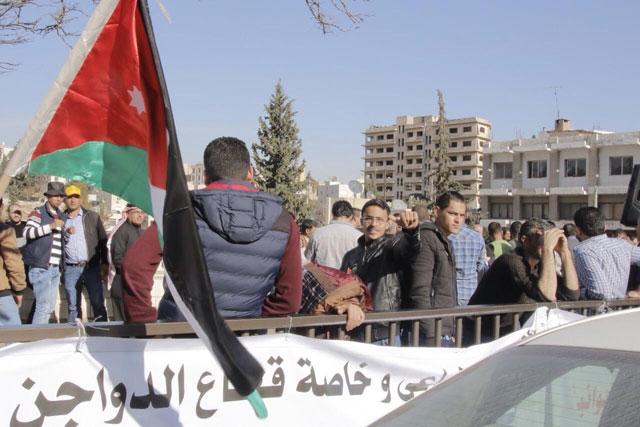 Farmers continue their protest against new taxes near the Parliament on Sunday (Photo by Osama Aqarbeh)
AMMAN — The Jordan Farmers Union (JFU) on Sunday called the agricultural sector to a consultation meeting later this week in order to decide on an escalation plan against the imposition of a tax on agricultural production's inputs and outputs.
"The JFU calls on all components of Jordan's agricultural sector to attend the consultation meeting on Wednesday at noon at the Sports City [in Amman] to decide on measures addressing the government's recent imposition of a unified tax of 10 per cent on some agricultural production's inputs and outputs," JFU President Mahmoud Oran told The Jordan Times on Sunday.
The union demanded that the government annul its January decision, warning that it will "destroy the already ailing sector".
In a statement released on Sunday, the union said that it would follow several measures in order to see the tax imposition on the sector annulled.
Such measures include resorting to judiciary, stopping the supply of produce to the local market as well as "other escalation measures which will be announced in due time", according to the union.
Representatives of the agriculture sector last week held a press conference in which they warned that the decision of imposing taxes on certain fruits, vegetables and agricultural machineries will have negative ramifications on the sector and the families it supports.
Imposing the tax will limit the use of and trade in agricultural technologies and machineries, the union said, warning that it will also cost Jordan the loss of its international markets and compromise the competitiveness that the country's agricultural produce enjoy abroad.
The union said that the decision, which the government took without consulting the sector's representatives, will also discourage investment in agriculture, drain the income of many families and lead to a hike in prices of food commodities and agricultural produce.
Small farmers will be highly affected by the decision, which, the said, will force them to abandon cultivation, leading to an increase in imports of food commodities and a rise in trade deficit, Oran said in previous comments to The Jordan Times.
The union urged the government to reconsider the decision and suspend it, granting it a 10-day ultimatum.
"Nothing happened on this regard since we held the conference last week, which is why we are meeting this Wednesday," Oran concluded.
Related Articles
Jan 28,2018
AMMAN — The Jordan Farmers Union (JFU) on Sunday demanded that the government annul its imposition of a tax on agricultural production's inp
Feb 23,2018
AMMAN — Farmers on Thursday said that they were "anxiously" awaiting the government to annul its recent imposition of a 10-per cent tax on s
Feb 07,2018
AMMAN — Jordan is paying the price for its national stand on Jerusalem, which forced the government to enact harsh decisions under such diff
Newsletter
Get top stories and blog posts emailed to you each day.