You are here
Mulki inaugurates development projects in northern governorates
By JT - May 12,2017 - Last updated at May 12,2017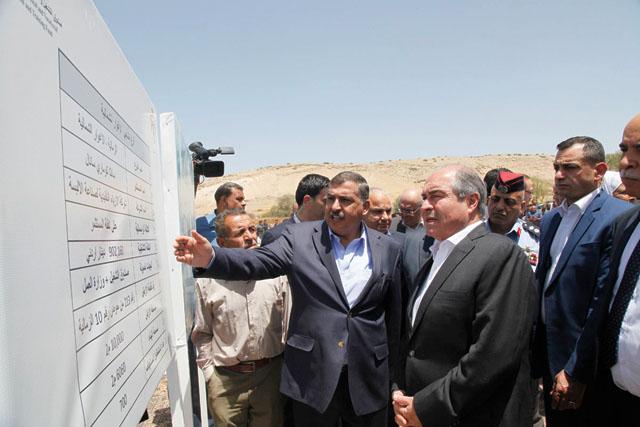 Prime Minister Hani Mulki inaugurated several development projects to improve water supply services to northern governorates and provide jobs in the Northern Ghor and the Northern Mazar on Thursday (Petra photo)
AMMAN — Prime Minister Hani Mulki on Thursday inaugurated several development projects to improve water supply services to northern governorates and provide more than 1,000 jobs in the Northern Ghor and the Northern Mazar, the Jordan News Agency, Petra, reported.
Mulki inaugurated Wadi Al Arab Water Conveyance Project and a project to connect Hofa Reservoir to Beit Ras in Irbid, at a joint cost of around $133 million. He also laid the cornerstone for two productive projects in Northern Ghor and Mazar.
During a field visit to Irbid Governorate, 80km north of Amman, the premier toured various projects which are nearing completion and which are due to see production begin in the next few weeks. `
The Cabinet on Wednesday also endorsed the urban public transport draft law in Irbid, Mulki said, adding that there is around JD2 million of government support annually for transportation.
The public transport project will start in Irbid, followed by Zarqa, 22km east of Amman, Madaba, 30km southwest of Amman, then to Amman and on to southern cities, the prime minister said.
Water Minister Hazem Nasser briefed Mulki on the project to connect Hofa Reservoir to Beit Ras, with $22.4 million of funding from the Japanese government.
Nasser said that the Wadi Al Arab Water Conveyance Project will secure the needs of the northern governorates' residents with a capacity of 30 million cubic metres (mcm), adding that a socket on the King Abdullah Canal at a capacity of 45mcm, a water treatment station, in addition to four pumping stations and a main conveyor to move treated water to Irbid will be working at a cost of $110 million, funded through a loan from the European Investment Bank, the French Development Agency and an EU grant.
Reviewing the Water Ministry's strategic plan, Nasser said the launch of the strategy, which aims to provide northern governorates with water until 2028 at a cost of $305 million, is part of the government's plans to secure additional water resources all around the Kingdom, especially in the north.
The water minister also thanked all the donor parties, especially the US, Japan, Saudi Arabia, the EU, Germany and France.
At the Hofa Reservoir, Japanese Ambassador to Jordan Shuichi Sakurai voiced his country's continuous support to enable Jordan to face the challenges caused by hosting Syrian refugees, announcing that the Japanese government will present another $21.5-million grant to implement the second phase of the project in order to serve new locations.
The inauguration was attended by several ministers and senior officials from the Kingdom and donor countries.
Also on Thursday, Mulki inaugurated a production unit for a project belonging to a company that manufactures traditional costumes, as well as Irbid's cultural centre, which serves nine districts and 18 municipalities, containing a group of specialised halls for performances, a multipurpose hall and a library.
Related Articles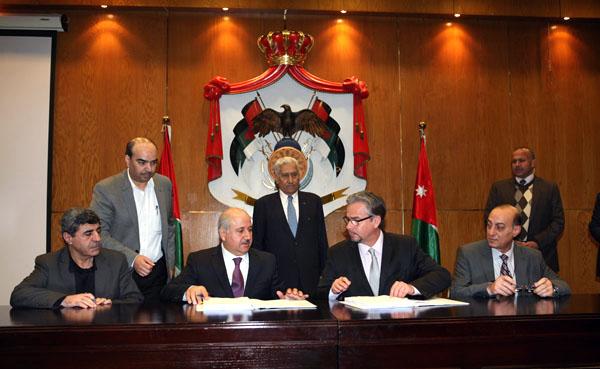 Dec 02,2015
AMMAN — The Water Ministry on Wednesday launched its water supply strategy for the northern governorates until 2028, including eight project
Jun 30,2014
Construction work commenced on Monday on two main carriers to convey water from the Disi Water Conveyance Project to the northern governorates, according to the Ministry of Water and Irrigation.
May 17,2017
AMMAN — Unconventional water sources are the Kingdom's long-term solution to its water dilemma, government officials said on Wednesday, indi
Newsletter
Get top stories and blog posts emailed to you each day.