You are here
Construction work starts on two pipelines to convey Disi water to northern governorates
By Hana Namrouqa - Jun 30,2014 - Last updated at Jun 30,2014
AMMAN — Construction work commenced on Monday on two main carriers to convey water from the Disi Water Conveyance Project to the northern governorates, according to the Ministry of Water and Irrigation.
The ministry will construct, via local contractors, a pipeline from the Hofa reservoir in Irbid Governorate to Ajloun Governorate to transport over 10 million cubic metres (mcm) of water annually, Water Minister Hazem Nasser said in a statement issued on Monday.
Another 34-kilometre pipe will be established to connect the Um Eloulou Station in Mafraq Governorate to Jerash Governorate's main water reservoir, Nasser added, noting that it will transport 13mcm of water annually.
"The networks project to improve water supply in the north will cost JD7 million, funded by the KfW [German Development Bank]," the statement quoted the minister as saying.
He noted that the project is one of several under which the ministry is linking the governorates together to facilitate the transfer of water from one area to another, pointing out that the northern governorates are suffering from an acute water shortage due to hosting hundreds of thousands of Syrian refugees.
The northern governorates receive the lowest water per capita and suffer from the highest water loss rates in the Kingdom, standing at 60 per cent in Mafraq, 35 per cent in Irbid, 28 per cent Ajloun and 24 per cent Jerash, according to the ministry.
Construction of the network of pipelines will take 18 months and the project will be completed by next year, according to Water Ministry Spokesperson Omar Salameh.
Salameh told The Jordan Times on Monday that the project is part of the ministry's water redistribution plan, which was announced in July last year when the Disi project was officially launched.
Carried out on a build-operate-transfer basis by Turkish company GAMA, the Disi project entailed the construction of a 325-kilometre pipeline to convey 100 million cubic metres annually from the ancient Disi aquifer in southern Jordan to the capital.
The water is being transferred to Amman via pipeline, which passes through several water stations in Maan, Tafileh, Karak and Madaba.
Related Articles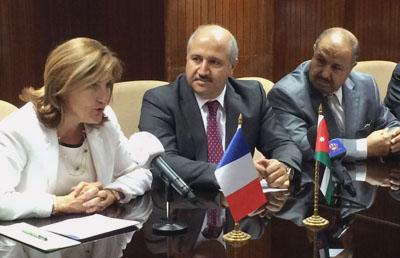 Oct 14,2014
Construction work on a pipeline to transport 30 million cubic metres (mcm) of Disi water from Amman to Zarqa Governorate annually will commence in the middle of next year, a government official said on Tuesday.
Jan 04,2014
Construction commenced on Saturday on two main water conveyors for Ajloun and Jerash governorates to address water shortages due to the growing population in the northern region, officials said on Saturday.
Jul 17,2014
Construction on a conveyance pipeline to carry water from the Disi Water Conveyance Project to the northern region will commence in the middle of next year, a government official said on Wednesday.
Newsletter
Get top stories and blog posts emailed to you each day.