You are here
'Man prevented from setting children ablaze, committing suicide'
By Rana Husseini - Jun 16,2016 - Last updated at Jun 16,2016
AMMAN — Police on Thursday thwarted a suicide attempt by a man who threatened to push his three children and jump off Abdoun Bridge in Amman, official sources said.
The man reportedly headed to Abdoun Bridge at around 1:30pm, "poured kerosene on his three children and threatened to set them ablaze", Public Security Department (PSD) Spokesperson Lt. Col. Amer Sartawi said.
PSD and Civil Defence Department (CDD) personnel who rushed to the scene "managed to convince the man after 30 minutes not to set his children ablaze or jump", Sartawi told The Jordan Times.
"We managed to control him and the man and his children were transferred to the Family Protection Department for follow up," the police official added.
Sartawi said preliminary investigation indicated "that he was complaining from financial constraints and difficult living conditions".
Meanwhile, a CDD official said ambulance and fire engines rushed to Abdoun Bridge and were on standby.
"The situation was contained and we avoided a tragedy with the intervention of officers at the scene," he told The Jordan Times.
Amman Traffic Department Director Col. Bassem Kharabsheh said one lane leading from the 4th Circle towards Abdoun Bridge was closed "until the ordeal was over".
"The suicide attempt caused a traffic jam in the already congested bridge, so to minimise the effect, we closed one lane," Kharabsheh told The Jordan Times.
The traffic official said this was not the first time the traffic department had to deal with such an incident.
"We had to work with traffic on three or four occasions over the past years where people either choose the bridge or a building near the Interior Ministry Circle for suicide purposes and this usually causes heavy traffic congestion," Kharabsheh added.
In mid-May, five young Jordanian men were dissuaded from committing suicide by jumping off a building near the Interior Ministry Circle over "lack of job opportunities in the market".
up
9 users have voted, including you.
Related Articles
Jun 23,2016
AMMAN — Police say they are investigating a "possible suicide" at Abdoun Bridge in Amman on Wednesday.A man, believed to be in his 50s, alle
May 31,2017
AMMAN — Reducing traffic jams in the capital's streets will be one of the major challenges facing the reinstated director of the Central&nbs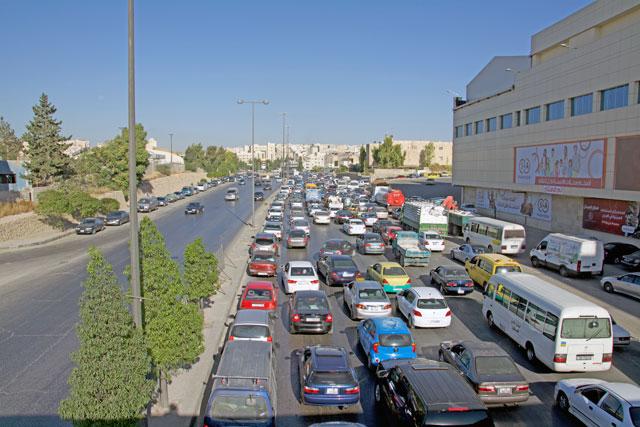 Jun 07,2016
AMMAN — With the start of the month of Ramadan traffic jams in Amman have increased in intensity, prompting the traffic department to implem
Newsletter
Get top stories and blog posts emailed to you each day.