You are here
Extra traffic patrols, radars as Ramadan road deaths rise
By Rana Husseini - Jun 15,2016 - Last updated at Jun 15,2016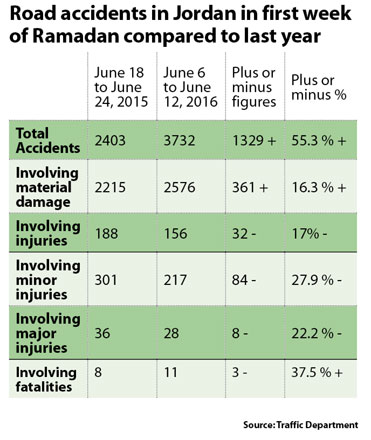 AMMAN — Ahmad and Ibrahim only had minutes to go before the end of the daily fast on Sunday when they were both killed instantly in a head-on collision with another vehicle.
The two young men were in a vehicle that veered off the street, colliding with an oncoming vehicle at the 7th Circle. Two other people were injured in the accident, according to traffic officials.
"This was surely a tragic accident that occurred just before iftar and claimed the lives of two young men," said Amman Central Traffic Department (CTD) Director Col. Bassem Kharabsheh, referring to the meal shared at sunset to break the daily fast during the holy month of Ramadan.
"Witnesses gave accounts of seeing them flying out of the vehicle's windows," he added.
Civil Defence Department (CDD) rescue teams rushed to the scene of the accident but it was too late to save the men, who were aged 21 and 22, a CDD official said.
"The injured passengers were listed in fair condition," the CDD official said.
Kharabsheh said that motorists tend "to become more aggressive, edgy and nervous" during Ramadan.
"From our experience, motorists in general are in a rush to catch the iftar meal and the lack of glucose in their system causes them to become mentally and physically weak," Kharabsheh told The Jordan Times.
"They tend to lose their concentration, and at the same time, they speed to reach their destination," Kharabsheh explained.
The traffic official said this causes an "increase in traffic accidents especially in the last 15 minutes before iftar."
The official added that traffic worsens in certain areas in the two hours before the iftar meal as people "rush to buy bread, sweets and other food items".
Speeding, reckless driving, congestion, wrongful overtaking and tailgating are the main reasons behind accidents this month, according to the traffic official.
Kharabsheh revealed that the number of deaths in the first week of Ramadan rose by 37.5 per cent compared to last year, while the 2015 figures showed a 50 per cent increase on 2014.
To address this problem, Kharabsheh said, "streets will be beefed up with more patrol vehicles around iftar time and we will also increase mobile radars as a deterrent method to minimise road fatalities and accidents that increase during this period".
"We are hopeful that the strict campaign will result in the decrease of road accidents and fatalities during this holy month," the traffic official added.
University of Jordan sociology professor, Majdiddine Khamash said that the heatwave and traffic congestion during Ramadan increase the tension for fasting motorists, resulting in more traffic accidents.
In addition, the sociologist added: "Jordanians in general do not plan ahead and always run their errands at the last moment or head to iftar invitations late, so they tend to speed recklessly to get to their destination."
"This lack of planning drives many to commit violations and drive in a reckless manner causing accidents and dangerous behaviour," Khamash said.
Related Articles
Jun 29,2016
AMMAN — Thirty-four people have been killed and 875 injured in road accidents during the first three weeks of Ramadan, officials said on Tue
Jun 05,2016
AMMAN — The Public Security Department (PSD) said Sunday it has a traffic safety plan in place to be implemented during Ramadan, when traffi
Jun 24,2016
AMMAN — Four people were killed in separate road accidents in Amman this week, the capital's traffic department said on Thursday. A fem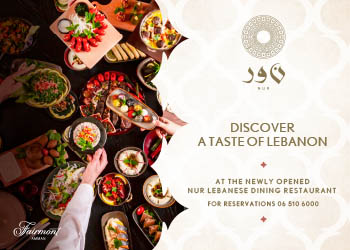 Newsletter
Get top stories and blog posts emailed to you each day.