You are here
Kingdom marks 51st anniversary of Karameh Battle
Eighty-six Jordanians lost their lives in battle to defend Jordan Valley highlands
By JT - Mar 20,2019 - Last updated at Mar 20,2019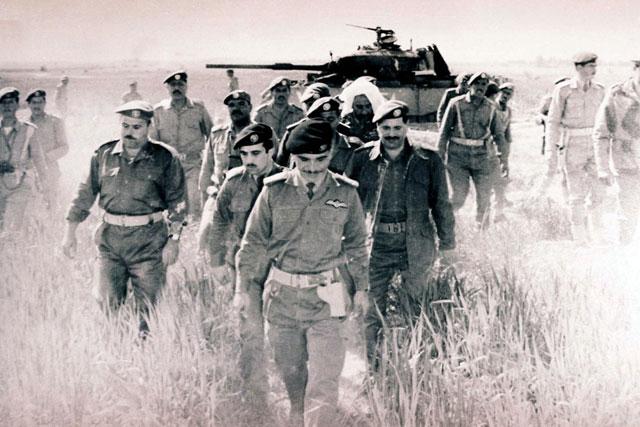 The Kingdom marks the 51st anniversary of the Karameh Battle today, which saw Jordan repel an Israeli attack on Karameh where 86 Jordanians lost their lives (Petra photo)
AMMAN — Jordan marks the 51st anniversary of the Karameh Battle today, in which Jordanian soldiers repelled an Israeli attack on the town of Karameh in the Jordan Valley, whose name means "dignity".
Eighty-six Jordanian soldiers lost their lives and 108 were wounded in the battle on March 21, 1968, according to the Jordan News Agency, Petra.
The Israeli raid was repelled with heavy losses as the Jordanian army launched an artillery barrage against Israeli tanks.
A total of 250 Israeli soldiers were killed and 450 were wounded, Petra said.
The Jordanian army lost 13 tanks and 39 various vehicles, while Israel had 88 vehicles destroyed and seven fighter planes shot down.
The battle objective announced by Israel was destroying the garrison of Arab fighters in Karameh, while the real goal of the attack was occupying the eastern highlands of the Jordan Valley in Balqa, 35km northwest of Amman, Petra said, adding that Israel was attempting to be closer to the capital to force the surrender of Jordan and to obtain new land.
In addition to occupying more land, Israel aimed to destroy the Jordanian army and affirm its superiority after winning the 1967 war with Arabs.
In the fifth hour of the battle, Israel requested a ceasefire that was rejected by His Majesty the late King Hussein "as long as a single Israeli soldier is still on the eastern bank of the Jordan River".
In his speech after the battle ended, King Hussein said that the battle had shown excellent planning and implementation of strategies by the Jordan Armed Forces-Arab Army and the intelligence agencies, which deprived the enemy of the element of surprise, by predicting the attack.
His Majesty King Abdullah has said previously that "the victory of Karameh has stunned the enemy and forced him to confess to defeat for the first time in history".
After the battle, several senior Western military officers and press outlets expressed admiration for the Jordanian determination and heroism, which led to victory against a superior army, according to Petra.
To mark the occasion, King Abdullah and HRH Crown Prince Hussein on Monday received congratulatory cables from senior military and civil officials, according to a Royal Court statement.
Newsletter
Get top stories and blog posts emailed to you each day.