You are here
King Hussein Foundation to go solar
By Muath Freij - Jan 12,2016 - Last updated at Jan 12,2016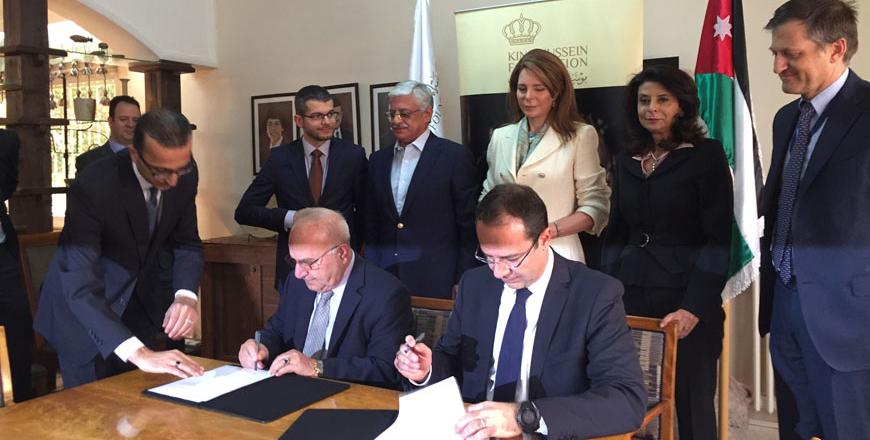 Her Majesty Queen Noor attends a signing ceremony at the King Hussein Foundation in Amman, on Monday (Photo by Muath Freij)
AMMAN — The King Hussein Foundation (KHF) on Monday signed a soft loan agreement with Capital Bank for the implementation of a photovoltaic (PV) power wheeling project in the capital's Shafa Badran area.
The PV power station, financed by the French Development Agency (AFD) and supported by the EU, will cover the energy needs of most KHF institutions and branches across Jordan with the cooperation of the Jordanian Electric Power Company (JEPCO), a KHF statement said.
"By establishing the solar farm in Shafa Badran, the King Hussein Foundation is contributing to our nation's efforts to become more selfsufficient in this field of renewable energy generation," Her Majesty Queen Noor, KHF founder and chairperson, said at the signing ceremony.
"We are very proud to be a non-profit pioneer in reducing our carbon footprint," Queen Noor added, noting that the efforts of the KHF honour the legacy of His Majesty the late King Hussein.
"King Hussein in his final message and his final interview emphasised the importance of environmental conservation as a priority for this country, for its people, and also for the region," she added.
EU Ambassador to Jordan Andrea Matteo Fontana said renewable energy is important for Jordan and that the EU would be happy to support whatever additional efforts the Kingdom exerts in this respect.
"Actually we consider energy one of the main areas of our cooperation with Jordan, and since 2010 we have invested some 150 million euros in this country in the energy sector in many different ways," Fontana noted.
"We have powered the schools in the Jordan Valley with electric power generation and the same thing we are doing now in worship houses across the Kingdom so that they can have more efficient energy production," the EU official added.
Fontana said he is happy that the private sector is cooperating in this regard.
French Ambassador to Jordan David Bertolotti said the project is one example of the various instruments the AFD uses in Jordan to support sustainable growth to create employment opportunities and empower Jordanians.
"We try to cover as many fields in Jordan as possible. This programme is fully in line with [the] Jordanian national strategy on energy efficiency and renewable energy," Bertolotti added.
Jordan currently relies on imports for 96 per cent of its primary energy requirements, but plans are under way to increase renewable energy's contribution to the total energy mix to reach 10 per cent by 2020.
Queen Noor said she looks forward to seeing the project become "a tangible benefit to our country".
"This project we celebrate today will encourage other institutions in Jordan to join this movement and contribute to our efforts together to fight climate change."
Related Articles
Jan 19,2017
AMMAN — The King Hussein Foundation (KHF) on Thursday inaugurated its solar farm with a 750 kilowatt peak (kWp) capacity to serve the founda
Aug 08,2016
AMMAN — Her Majesty Queen Noor welcomed with "love and peace" participants in the 35th International Arab Youth Congress (IAYC), through a m
Aug 10,2015
AMMAN — The 34th International Arab Youth Congress (IAYC) concluded in Amman on Sunday with a ceremony attended by Her Majesty Queen Noor, f
Newsletter
Get top stories and blog posts emailed to you each day.