You are here
King discusses Jordan's regional role with Capstone Fellows
Meeting addresses Mideast peace push, developments in Syrian crisis
By JT - Feb 17,2019 - Last updated at Feb 17,2019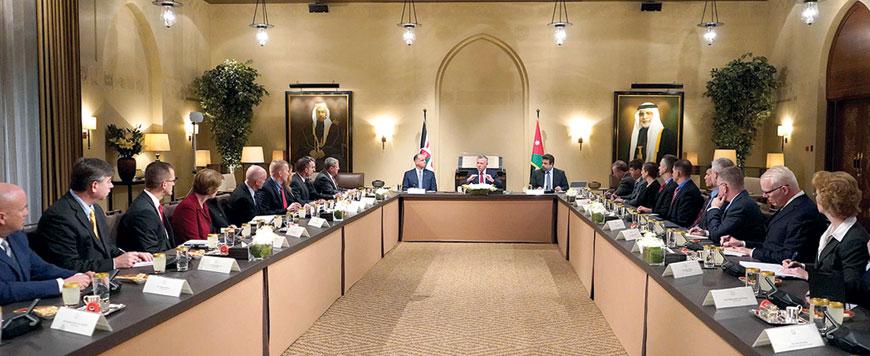 His Majesty King Abdullah meets with a delegation of senior officers from the US National Defence University (CAPSTONE Fellows) at Al Husseiniya Palace on Sunday (Photo courtesy of Royal Court)
AMMAN — His Majesty King Abdullah on Sunday met with a delegation of senior officers from the US National Defence University (CAPSTONE Fellows), headed by retired Admiral William Gortney, to discuss recent development in the region.
The meeting, attended by HRH Prince Feisal, covered Jordan's position on various regional issues, and its role in pursuit of peace, stability and finding political solutions to crises in the region, a Royal Court statement said.
In addition, discussions, held at Al Husseiniya Palace, addressed the peace process, with King Abdullah calling for an end to the Palestinian-Israeli conflict based on the two-state solution and leading to the establishment of an independent Palestinian state with East Jerusalem as its capital, living side by side with Israel.
The recent developments in the Syrian crisis and efforts to fight terrorism within a holistic approach were also discussed, according to the statement.
Adviser to His Majesty and Director of the Office of His Majesty Manar Dabbas attended
the meeting.
Also on Sunday, Chairman of the Joint Chiefs of Staff Lt. Gen. Mahmoud Freihat met with the delegates over the latest regional and international developments, and means of cooperation and coordination in issues of interest for both countries' armed forces, the Jordan News Agency, Petra, reported.
The delegates also listened to a military briefing on the missions and duties of the Jordan Armed Forces-Arab Army in the operational, logistic and administrative aspects, as well as the army's security roles, training plans and humanitarian role that contributes to serving societies in various areas across the world.
Several high ranking officers and the US military attaché in Amman attended the meeting.
Newsletter
Get top stories and blog posts emailed to you each day.