You are here
Journalist-turned-philanthropist reflects on media, charity work
By Fares Al Abed - Apr 14,2018 - Last updated at Apr 14,2018
Firas Al Abbadi poses for a photo with children in a southern bedouin community (Photo courtesy of Firas Al Abbadi)
AMMAN – "Every time when the cameras were turned off and I arrived home, I went into my room, raise TV volume and sob till tears dry up," says a TV journalist who over the past 10 years produced and presented a programme on vulnerable Jordanians in every corner of the Kingdom, attracting donations to help these people and when he quit the job finally, he started a charity to continue the work, to which he dedicates all his time and resources.
The emotional reaction to these extreme cases does not cease.
"Every time I tell myself: 'Enough is enough. I cannot take it anymore,' and every time I go back to business as usual. Once you are in this field, it is so hard to quit," says Firas Al Maghareez Al Abbadi in an interview on Friday at his office in Wadi Seer.
He still films the cases, before and after, for purposes of documentation so that donors will know where their money goes, especially when his Bader Centre for Relief and Development builds residential units for the targeted families, which is its core activity, along with food relief, health care and even help some people to get married and start a family.
The cache of videos shows cases expanding in terms of location from in the remote southern desert community to Palestinian refugee camps and almost every district in the Kingdom. An octogenarian man and his wife raising their dead son's orphans in a tent get a decent home, while a blind man in Salt is helped to find a bride and get married, while a widow with nine children, one with a physical disability, sees her uninhabitable bamboo-roofed house bulldozed and rebuilt into a decent home and her daughter receive an electric wheelchair with a big smile on her face.
"You cannot stop when you know that you can help people and that you are not alone," Abbadi says.
Of course, he says, donors, especially businesses, are more enthusiastic to extend support when there is a two-hour, widely viewed TV programme that covers a certain humanitarian case and despite the help he gets from family members and young volunteers, a media platform is pivotal to get the message through. He gives special credit to the people of his native rural town of Bader, around 10km to the west of Amman, who contribute to his philanthropic activities despite their modest incomes.
"I am speaking about TV in particular, not print media. We need crews to roam the country looking for such cases and we need sponsorship for such programmes to ensure that they receive the aid they need," the 48-year-old father of five says.
Another problem such an approach would help address is that these vulnerable people have no access to aid and are sometimes too marginalised to be noticed. Abbadi says that there are several channels to obtain help, but such aid does not necessary go to those who deserves it most. In several other cases, donors focus more on refugees than hosts.
"This is the job of the media to attract attention to these vulnerable people and it is the job of big companies and philanthropists to pay attention."
Some do fortunately and the tears of Abbadi and his team that fall when they see the case are replaced by smiles when they can make a difference to the lives of the recipients of their services.
Related Articles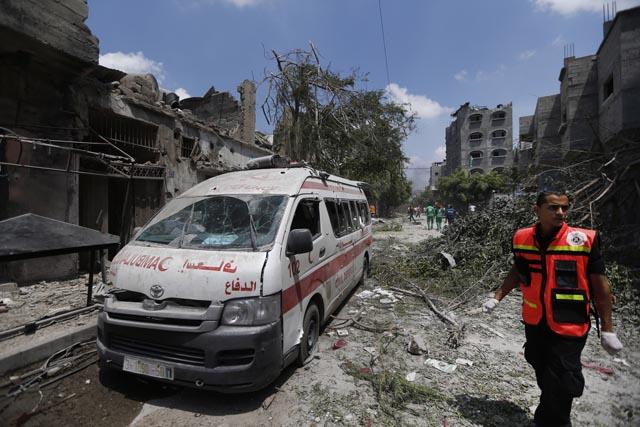 Jul 21,2014
At a dingy Gaza ambulance station, paramedics struggle to stay awake during 24-hour shifts that see them coming under fire, and dealing with the deaths of civilians and even colleagues.
Jun 14,2014
There will be no more shy semi-smiles from seven-year-old Nabaa Zaitoun, now that she has finally had her face reconstructed after five years of suffering from facial paralysis caused by a dog attack.
Jul 25,2017
AZAZ, Syria — At an austere mental health clinic in northern Syria, male patients with shaved heads squat barefoot in a courtyard, some dres
Newsletter
Get top stories and blog posts emailed to you each day.