You are here
Jordanian designer displays reclaimed wood, steel furniture collection
By Saeb Rawashdeh - Oct 12,2017 - Last updated at Oct 12,2017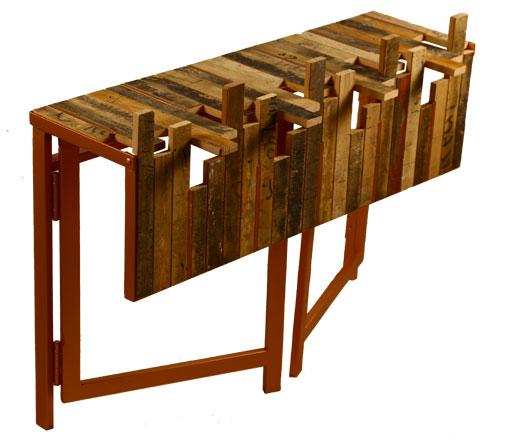 A work by Jordanian architect and designer Basel Naouri (Photo courtesy of Amman Design Week)
AMMAN — For young Jordanian architect and designer Basel Naouri, Amman Design Week (ADW) is a great opportunity to display three pieces of his most recent work: "A reclaimed wood and steel furniture collection".
His display of "Moustache" at the Hangar is "a sculptural piece that defies the conventional use of materials" and addresses the "dichotomy of utilitarianism versus aesthetics in design".
This year's ADW looks "very promising", Naouri said, noting that the team behind the event has increased in number and seems to cater to a "wider audience".
"I'm sincerely excited to see how the 'Hangar' exhibition comes!"
One of the main differences from last year's ADW is the large number of young designers actively partaking in the exhibition, he added.
"This team [of organisers] increased the number of participating spaces, which I imagine [and hope] will spark much needed new energy across Amman," said Naouri.
As a Jordanian architect and designer, Naouri says he finds it challenging to gain public exposure.
"To get my ideas and designs out and succeed in this field, I need to have an audience. So, one of the most important elements of ADW from the perspective of a designer is that the event exposes various artists and their projects," he stressed.
Moreover, ADW invites more people than any other design or art-related event in the country. This allows introduction to local talents, while creating networking opportunities, the architect highlighted.
He also commended ADW's efforts in boosting direct connections between designers and local craftsmen, which in turn creates room for potential artistic collaborations.
"Given that this event is the first of its kind in Jordan, I believe it adds great value to enriching our cultural experience, encouraging designers to push their creativity to the limit and building a hub for art, design and culture in the region," he added.
His general artistic approach is to pair the sound of working machines with the final art piece. Naouri's recent work is exhibited not only at the Hangar but at The Duke's Design Centre, in the downtown, on King Hussein Street, under the title "Sounds of Design".
"Sounds of Design" highlights the creative processes across a number of design fields, and is "an immersive space with a carefully designed speaker system that takes visitors to a journey via different sounds of materials, machines, human work and other segments involved in the creation of a designed product, whether it is a furniture, textile or home accessory", noted Naouri.
"In addition to the display of my furniture pieces, I'm partnering with Mamdouh Bisharat [founder of The Duke's Design Centre] on a sound exhibition in an external space in downtown Amman," the designer said, adding that the audio is recorded from the workshops of three different designers working in different fields — "Namliyeh, in food design, Nafsika Skourti in fashion design and myself in my own furniture workshop".
Related Articles
May 24,2018
AMMAN — Four Jordanian designers have been invited to take part in Venice Design 2018, the largest international design exhibition alongside
Sep 05,2016
AMMAN — Inspired by the female identity, Syrian artist Rana Sunaij creates works of art from timeworn furniture to produce functional design
Sep 08,2016
AMMAN — Seven artists are exhibiting their work at Nabad Art Gallery as part of the Amman Design Week (ADW), tackling different issues throu
Newsletter
Get top stories and blog posts emailed to you each day.