You are here
Syrian artist brings timeworn furniture to life at Amman Design Week
By Suzanna Goussous - Sep 05,2016 - Last updated at Sep 05,2016
Syrian artist Rana Sunaij says her work focuses on women, independence, femininity and beauty (Photo by Suzanna Goussous)
AMMAN — Inspired by the female identity, Syrian artist Rana Sunaij creates works of art from timeworn furniture to produce functional designs that can be used in homes.
Sunaij's latest exhibition, themed "Women emerging in flowers", is at Wadi Finan Gallery, as part of the Amman Design Week.
The artist says her work focuses on women, independence, femininity and beauty, linked with strength and solitude to emphasise the identity of women in art.
"I am an artist who likes to engage flowers and the faces of women in my pieces, it's my own way of expressing my emotions and feelings," she told The Jordan Times on Monday.
By creating new designs from old furniture, and restoring chairs and tables, Sunaij says she aims to "recycle" items that can be used in homes.
"I turn old pieces of furniture into art; I draw on canvases, glass and ceramics. It is my idea to use furniture; I felt like the items were interacting with me every time I paint an image on them," she explained.
The artist often adds floral prints to chairs, inspired by the figure, texture and outline of the piece of furniture.
"Flowers and women make a beautiful combination in art…. Lilies symbolise beauty, femininity and transparency," she added.
Born in Damascus, Sunaij completed her education in Syria before travelling to California to follow her passion of art.
In her travels, she met artists from Egypt, Romania, Italy and Austria, she said.
"My inspiration came from many countries I visited. The different type of flowers I saw and women from all races. I felt that the woman should be present in all forms of art, because she is art herself."
ADW offers an opportunity to present a different, unique kind of art, said Sunaij, who hopes to start her own furniture line.
Exhibitions, workshops and talks featuring over 60 local and international designers are being held at Raghadan Tourist Terminal, the Jordan Museum, and Ras Al Ain Gallery's Hangar until Friday, as part of Amman Design Week.
Related Articles
Apr 12,2016
AMMAN — Believing in the "special link" between nature, emotions and feminine beauty, Jordanian artist Hanada Khataybeh is showcasing that r
Nov 01,2017
AMMAN — "In a world full of conflict, the beauty of nature remains, and like a flower grows naturally, we are all born free." This is the me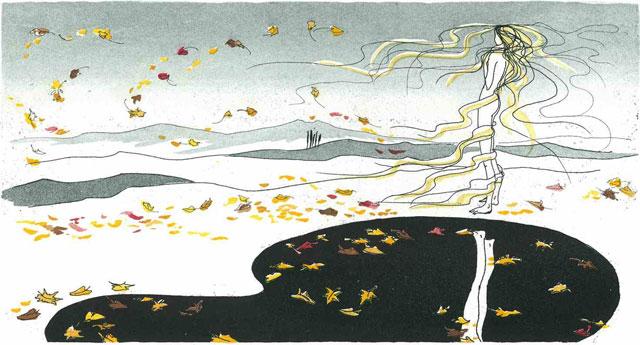 May 03,2015
They say the eyes are the mirror of the soul. The eyes of the children painted by Rana Sunaij might be the best illustration of this saying.
Newsletter
Get top stories and blog posts emailed to you each day.