You are here
Jordan, Romania review ties, areas of economic cooperation
Ississ meets with Romanian delegation
By JT - Jun 16,2019 - Last updated at Jun 16,2019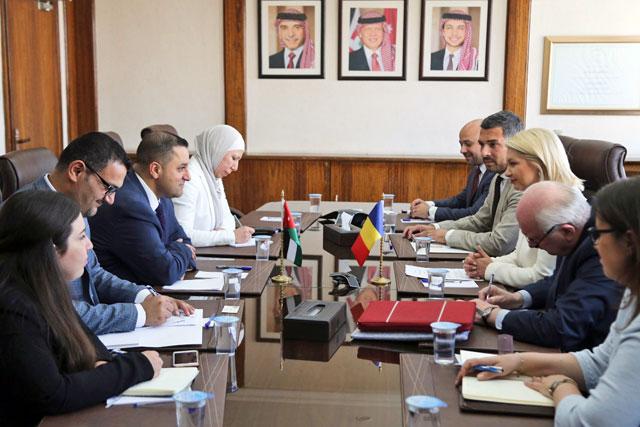 Minister of Planning and International Cooperation and State Minister for Economic Affairs Mohamad Al-Ississ hosts State Secretary of the Romanian Ministry of Foreign Affairs Maria Magdalena Grigore (centre right) and a Romanian delegation on Sunday (Photo courtesy of Planning Ministry)
AMMAN — Minister of Planning and International Cooperation and State Minister for Economic Affairs Mohamad Al Ississ on Sunday met with State Secretary at the Ministry of Foreign Affairs of Romania Maria Magdalena Grigore and an accompanying delegation to discuss ways of enhancing bilateral economic cooperation.
The meeting was also attended by Romanian Ambassador to Jordan Nicolae Comanescu, according to a Planning Ministry statement.
Ississ and Grigore addressed blueprints for a memorandum of understanding that aims to set the primary aspects of cooperation between Jordan and Romania.
Areas of cooperation will reportedly include economic development through agriculture, training of public sector employees, healthcare, entrepreneurship, vocational training, job creation, education, providing scholarships and cooperation in the field of electoral knowledge, the statement said.
Ississ thanked the Romanian government for its five-year renewal of a cooperation programme within the fields of education, culture, tourism and mass media.
As part of the programme, scholarships will be provided to students wishing to pursue bachelor's degrees in health and veterinary medicine, humanities, arts and engineering sciences.
The programme will also provide scholarships to those who seek master's and doctorate degrees, the statement said.
For her part, Grigore expressed her understanding of the challenges that currently face Jordan and stressed her country's support to the Kingdom at all international events.
She added that Jordan has set an example in maintaining stability and supporting the refugees, pointing out the international community's responsibility in providing the Kingdom with economic support to handle the aftermath of the Syrian crisis.
Newsletter
Get top stories and blog posts emailed to you each day.