You are here
Jordan pursues SDGs at Amman global summit
By Camille Dupire - Sep 13,2018 - Last updated at Sep 13,2018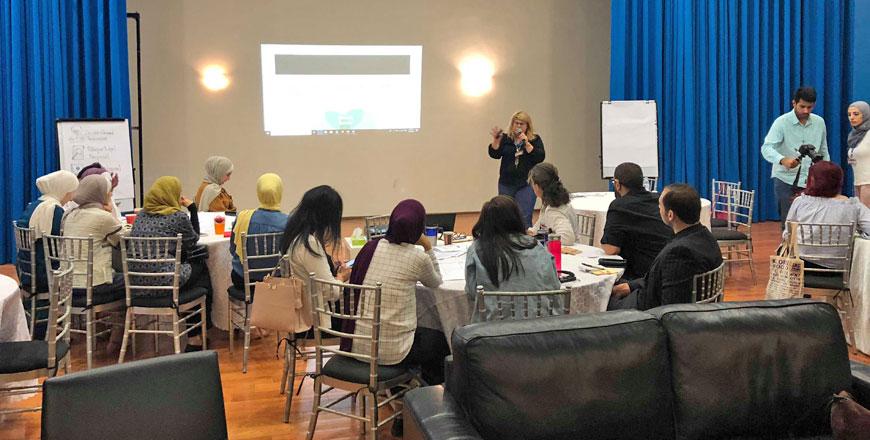 Participants in the Feminomics impact stream listen to a presentation by Madison Marks from Womena in Amman, on Wednesday (Photo by Camille Dupire)
AMMAN — "What is the Jordan we want to see in the future? Are these the oceans, the forests, the job environment we want to leave for our children?," UNDP Country Director Sara Ferrer Olivella asked on Wednesday, stressing "I believe that we are all here today to draft the solutions and ways forwards to see the Jordan we want to leave behind come through."
The UN official remarks came as part of the Global Summit VI, held under the theme "Behind Borders: There is a solution" at the Generations for Peace HQ in Amman.
Alongside Managing Partner of Silicon Badia Emile Cubeisy, CEO of the Crown Prince Foundation Initiative Naua Ahmad El Zubi Chairman of Oasis500 Board of Directors Marwan Juma, Olivella took part in one of the last panel discussions of the participatory event, under the moderation of Seven Circles co-founder Dina Saoudi.
The panelists covered topics as diverse as public-private partnerships, ethics in governance and technological changes, aiming to further deepen the lessons learned during the four-day summit, which gathered hundreds of participants from various walks of life.
"In Jordan these days, people don't talk to each other, businesses don't work with each other and it is important to bring together businesses working towards the UN Sustainable Development Goals (SDGs), to enable better investments in areas such as childcare, education, or women empowerment," Olivella commented during a Q&A session with the audience, stressing that "most of the time, solutions are designed by the private sector, not the government. However, we do need to work all together to ensure a collaborative platform exists to design innovative solutions that engage citizens, mobilise investors, and allow for a sustainable change".
For executive producer of the Global Summit, Melanie St James, this was the inception idea behind the summit. "Nowadays, in countries hosting large scale crises like Jordan, we witness a critical, systemic problem in the way that philanthropy and NGOs work, with much duplication in the work being implemented on the ground," she told The Jordan Times, adding "by bringing together a wide array of leaders focusing on specific issues, we aimed to foster collaboration among those sectors to develop a holistic response to these global challenges".
Divided into four impact streams, namely "Living Well", "Education 4 All", "Feminomics", and "Thriving Cities", cross-sector leaders spent four days following the seven stages to sustainability path, a universal roadmap for action empowering multisector Partners In Empowerment (PIE) to build thriving communities from the ground up, St James explained.
"We have such a diversity of participants here, which goes from young motivated students to educational experts, NGO representatives and sustainable businesses," said Nour Al Tobasi, who coached the Feminomics impact stream, adding "wherever they are from, whatever their background, gender or profession is, they are all dedicated to empowering women to be part of the community, whether in the economy, the household or society as a whole."
Al Tobasi spent four days overseeing the women centred stream's sessions, which included presentations and panels by experts such as Madison Marks from Womena, Saeed Omar and Nada Hanieh from Sitat Byoot, journalist Shereen Nanish and Fida Taher, founder and CEO of Atbaki, the largest digital recipe platform in Arabic, among others.
"These sessions sought to educate the participants on two main aspects: The topic of women empowerment first, and the technical ways to develop a viable idea, co-create plans and deliver effective pitches," Al Tobasi told The Jordan Times on Wednesday, noting that "this provided the three groups involved in the stream with the mentorship needed to best design their solution to achieve the SDGs in Jordan".
Focused on the SDGs 1, 8, 15, 16 — respectively no poverty, decent work and economic growth, life on land and peace, justice and strong institutions — the Feminomics stream witnessed the design of three main solutions: One digital game aimed at incorporating behavioural changes in young children to support gender equality from a young age; an art space celebrating the achievements and hardships of successful women; and an informational app for women
"This app, which was designed specifically for women, would include features such as a list of all the organisations that provide support to women across Jordan, whether in terms of psycho-social support, childcare, mental health or else, with reviews for each organisation; a harassment button equipped with geo-localisation, which would alert the police in case of incident; and a direct link to lawyers who could provide advice on divorce and any other women related legal issues," participants in the stream explained.
"Through the Global Summit's collaborative approach, people got to join a growing global community of PIE united in action for a socially just and ecologically thriving world. Like an eco-system, the power of our network comes from the vast diversity of its participants," St James pointed out, concluding "unique to this event is the fact that the people impacted are the ones simultaneously creating the landscape… The beneficiary landscape includes the orphan in the village we put first, to the CEO and government official and everyone in between".
Launched in San Francisco in 2008 and held every other year since, The Global Summit biennial was held for the very first time in the Middle East, aiming to "most creatively catalyse local knowledge, innovation and passion for the greater good", according to its website.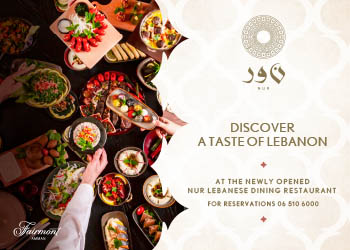 Newsletter
Get top stories and blog posts emailed to you each day.