You are here
Jordan, Germany sign 30-million euro soft loan
By JT - Sep 19,2015 - Last updated at Sep 19,2015
AMMAN — The government and the German Development Bank (KfW) on Saturday signed a soft loan agreement worth 30 million euros to finance the second segment of the Water Resources Management Programme in its third phase.
The agreement was signed by Planning and International Cooperation Minister Imad Fakhoury and KfW Director in Amman Florian Rabe in the presence of German Ambassador to Jordan Birgitta Siefker-Eberle, according to a ministry statement.
The loan will be allocated to finance several projects aimed at improving water carriers, sewage networks and the reuse of the water provision system in the Kingdom, Fakhoury said.
The loan will be paid back within 15 years that includes a five-year grace period with a fixed interest rate of 2 per cent, the minister added.
Fakhoury expressed Jordan's appreciation to Germany for its financial and technical support for vital projects in the sectors of water, education, energy and refugees, indicating that Germany is among the biggest supporters to Jordan at the bilateral level, citing 193 million euros recently allocated by Berlin within the joint development cooperation programme.
Following the signing ceremony, Fakhoury met with Siefker-Eberle and discussed ways to boost cooperation between Jordan and Germany, with the minister acquainting the ambassador on latest repercussions of the Syrian crisis on Jordan.
There is a dire need to finance and support the 2015 Jordan Response Plan to address the consequences of the Syrian refugee crisis, the minister said.
For her part, Siefker-Eberle praised the Jordanian role regarding regional and international issues, highlighting the Kingdom's reform efforts despite regional circumstances.
Also on Saturday, Fakhoury held a meeting with Nadine Morano, member of the European Parliament, who is currently on a visit to the Kingdom to have a first-hand look at Jordan's challenges and needs, and to discuss means to enhance bilateral cooperation, a Planning Ministry statement said.
Fakhoury told the EU lawmaker that supporting Jordan to be able to deal the impacts of the Syrian crisis contributes to the security and stability of Europe and could alleviate the pressure caused by the unprecedented wave of refugees and immigrants.
Morano stressed that Europe's support to Jordan is in Europe's best interest, stressing that she will convey the messages she heard in Jordan to the European Parliament.
Related Articles
Jul 31,2017
AMMAN – Jordan and Germany on Monday signed several agreements for grants and soft loans to support development projects in the Kingdom.&nbs
Aug 14,2016
AMMAN — Jordan and Germany on Sunday signed a grant agreement worth 20 million euros (around JD16 million) to be extended by the German Deve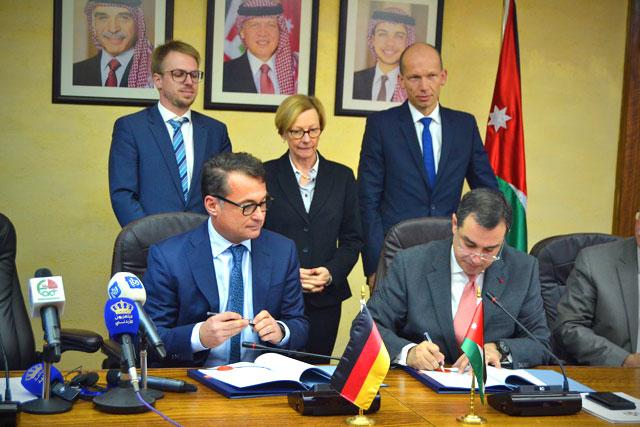 Nov 12,2017
AMMAN — Minister of Planning Imad Fakhoury and executive member of the German Development Bank (KfW) Joachim Nagel on Sunday signed the Fina
Newsletter
Get top stories and blog posts emailed to you each day.