You are here
Jordan, Germany celebrate 60 years of development, water cooperation
By JT - Apr 16,2019 - Last updated at Apr 16,2019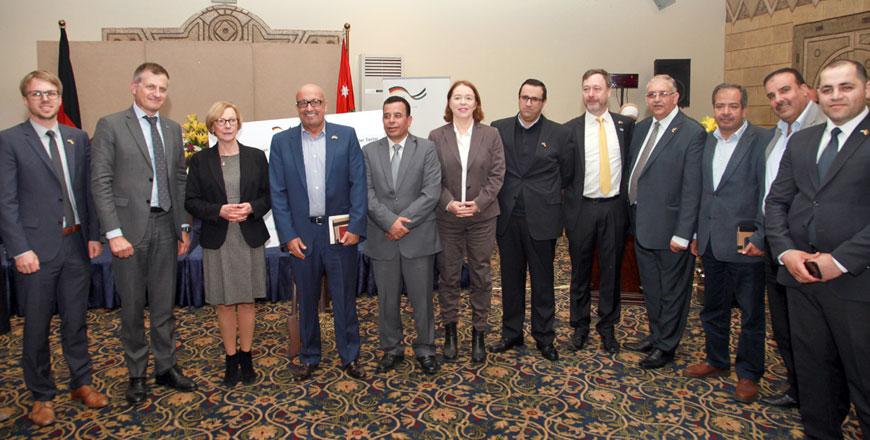 Minister of Water and Irrigation Raed Abul Saud and the German Ambassador to Jordan Birgitta Siefker-Eberle attend a celebration ceremony on Tuesday to mark 60 years of Jordanian-German cooperation (Petra photo)
AMMAN — Jordan and Germany celebrated on Tuesday the 60th anniversary of Jordanian-German cooperation.
The event was sponsored by Minister of Water and Irrigation Raed Abul Saud and the German Ambassador to Jordan Birgitta Siefker-Eberle in the presence of a number of ministers, MPs and representatives of the water sector.
"German cooperation has been crucial in helping Jordan face water-related challenges, providing water services and enhancing the performance of the water sector," Abul Saud said in a statement sent by the Agriculture Ministry.
Abul Saud thanked the German government for its understanding of the water shortage issues in Jordan, especially with the influx of refugees over the years.
"Relations between Jordan and Germany are rooted in the strong fraternity and friendship established by our leadership over the years. They are reflected in the mutual respect and appreciation shared between the two peoples," the minister added.
He reiterated that issues of supply and demand and budget deficits within the water sector, following waves of refugees to the Kingdom since 1948.
"The water sector in Jordan cannot bare more strain," Abul Saud stressed.
The minister pointed that the implementation of large-scale water projects, especially those involving water desalination, is the only hope for the future of the Kingdom's water sector.
"The Disi project, which cost the Kingdom $1.1 billion, helped with the water demand, especially with the influx of Syrian refugees. Projects such as the Zarah desalination station in Maeen and others, at a cost exceeding $500 million, have also helped mitigate demand challenges resulting from the influx of Iraqi, Yemini and Libyan refugees," Abul Saud elaborated.
"Jordanian-German cooperation began in 1959, and ever since then, the two countries have worked closely to enhance sustainable development within the Kingdom. They have made great strides in the fields of water and wastewater, solid-waste recycling, environmental protection, education and the promotion of employment," affirmed Siefker-Eberle.
Meanwhile, the German Jordanian University's School of Natural Resources Engineering and Management, in cooperation with the Technical University of Cologne, launched a water-safety project funded by the German ministry of education and research.
The project aims at finding areas of cooperation between scientists and policymakers to discuss various aspects of water safety, in addition to coordinating research among academic fields, create innovative environmental systems and turn research into practical solutions to serve the local market.
Newsletter
Get top stories and blog posts emailed to you each day.