You are here
Hardline Jewish groups incite settlers to storm Al Aqsa — Royal Committee for Jerusalem Affairs 
By JT - May 05,2021 - Last updated at May 05,2021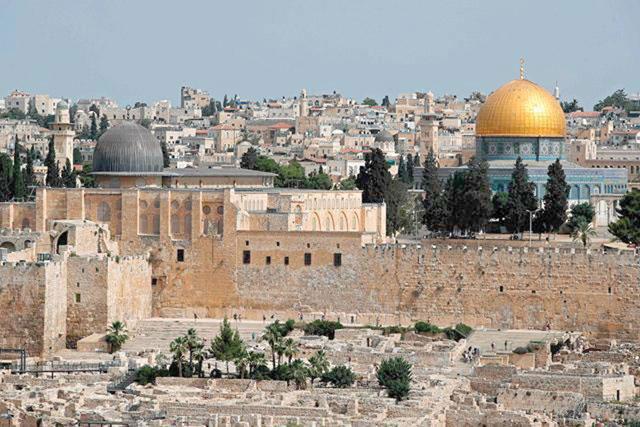 The Old City of Jerusalem with the Dome of the Rock (right) and Al Aqsa Mosque (left) (AFP file photo)
AMMAN — The Royal Committee for Jerusalem Affairs on Tuesday said that since the beginning of Ramadan, the so-called "Temple Mount organisations" have been inciting Israeli settlers to storm Al Aqsa Mosque on Ramadan 28, which falsely marks the so-called "Jerusalem Day".
Secretary General of the Royal Committee for Jerusalem Affairs Abdullah Kanaan told the Jordan News Agency, Petra, that Israeli occupation's policy of attacking Palestinians, their land and holy sites in Palestine and Jerusalem is based on a set of "false biblical allegations", which were used as a "provocative weapon to inflame racism and hatred" towards Palestinians by the right-wing Israeli government.
He said that the Israeli incitement included holding Talmudic prayers inside Al Aqsa Mosque in its attempts to tamper with the sanctity of the mosque and impose full sovereignty over the Muslim place of worship to pave way for its demolition and build the so-called temple on its ruins.
The committee's secretary general said that all these Israeli practices represent a violation of UN and UNESCO resolutions that made it "clear that Al Aqsa Mosque/Al Haram Al Sharif with its full area of 144 dunums is a sole Muslim property and the Jews have nothing to do with it whatsoever".
The committee warned the right-wing Israeli government and reminded international organisations and supporters of freedom and justice across the world of the dangers of the rising calls by Israeli extremist organisations to storm Al Aqsa Mosque, which would threaten world peace and stability.
Kanaan said that, if these calls continue, "they will eventually lead to a religious war with unpredictable consequences for the region and the world".
up
25 users have voted, including you.
Newsletter
Get top stories and blog posts emailed to you each day.