You are here
Guinean president visits several security institutions
By JT - Nov 15,2017 - Last updated at Nov 15,2017
Guinean President Alpha Conde visits the Royal Military College on Tuesday (Petra photo)
AMMAN — Guinean President Alpha Conde on Tuesday visited the Royal Military College where he was briefed by commander Brig. Gen. Salameh Othman on the institution's tasks and duties.
The president then watched a movie highlighting the development and history of the college, and its role in preparing officers of the Jordan Armed Forces-Arab Army (JAF) and other armies, the Jordan News Agency, Petra, reported.
Conde also visited the King Abdullah II Design and Development Bureau (KADDB), where he was received by KADDB Director General Brig. Gen. Mohammad Habahbeh who delivered a presentation on the role of the centre in designing and developing equipment before transferring them to companies for production according to each company's specialisation, Petra reported.
The Guinean president had a firsthand look at a 9-millimetre pistol and a 5.56-calibre offensive rifle, as well as other projects to modify weapons used by JAF.
At the end of the visit, he voiced his admiration of the technological level achieved by the centre and its affiliated companies, highlighting the importance of developing cooperation in the field of defence industries.
The president also visited the Royal Police Academy and listened to a briefing on its tasks and duties.
The academy commander, Col. Mikhled Zu'bi, said the academy undertakes the role of bolstering skills of public security personnel by engaging them in various police and security courses to educate them on police sciences that positively reflect on the progress of their work.
He added that the academy has turned into a central destination for police sciences students from Arab and foreign countries as it offers Masters and PhD degrees in police, security and legal majors in cooperation with Mutah University.
Conde, who is currently on an official visit to the Kingdom, commended the progress achieved by Jordan in the police and security fields, and voiced hope for joint cooperation and exchange of relevant expertise.
He also visited the Ministry of Agriculture where he had a look at the Kingdom's experiments in agriculture.
Agriculture Minister Khalid Hniefat briefed Conde on the status of agriculture in Jordan and the phases of its development, in addition to the Jordanian experiment in administrating water resources in agriculture.
Related Articles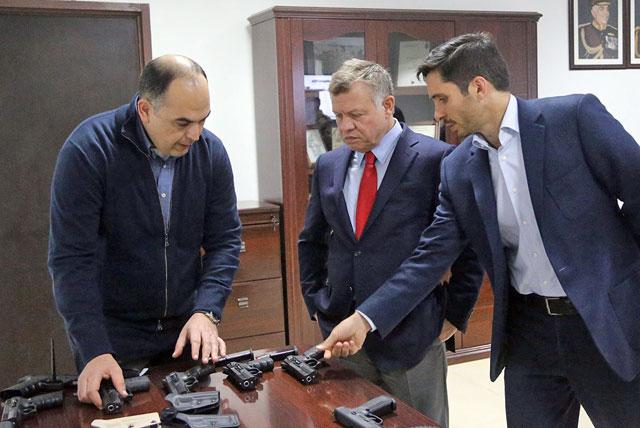 Mar 20,2017
AMMAN — His Majesty King Abdullah, the Supreme Commander of the Jordan Armed Forces-Arab Army (JAF), on Monday visited the Jordan Armament a
Nov 16,2017
AMMAN — Guinean President Alpha Condé on Wednesday concluded an official visit to Jordan which lasted for several days, the Jordan News Agen
Dec 14,2015
AMMAN — His Majesty King Abdullah on Monday sent a cable to Guinean President Alpha Condé to congratulate him on his re-election.In the cabl
Newsletter
Get top stories and blog posts emailed to you each day.