You are here
Golf tournament sheds light on Aqaba attractions
By Eoin Wilson - Mar 25,2017 - Last updated at Mar 25,2017
The Ayla resort includes 350,000 square metres of grass golf courses and other facilities (Photo by Eoin Wilson)
AQABA — The neat grass fairways of Jordan's first 18-hole, grass golf course were zigzagged by golf buggies from Thursday to Saturday, ferrying the weekend's 75 competitors in the 27th Jordan Open golf tournament.
Before 1994 and Jordan's peace treaty with Israel, this lagoon and palm-tree ringed oasis of calm looked very different, Sahl Dudin, the Managing Director of Ayla Oasis Development Company, explained. Prior to its transformation into the current golf and resort development, the site was a no-man's-land between the Jordanian and Israeli borders, littered with landmines from both sides, subsequently cleared, he said.
"It's a nice story to tell, because this used to be a military area with minefields. Now, you see solar fields, you see very nice bodies of water, you see some really nice marine life developing there," Dudin said, adding that "what's going on here is really, really healthy and encouraging".
Unless one is a keen student of border architecture, it would be easy not to notice the razor wire and artificial trench behind the continuous solar panels units that line the whole perimeter of the 430-hectare (4.3 million-square-metre) Ayla resort site on the eastern fringe of Aqaba, on Jordan's most south western Red Sea border.
The Israeli military watchtowers rising above palm groves in the distance, as well as three Jordanian airtraffic control-like watchtowers, are the only clues to the fact that the site runs right up to the very limits of the Kingdom's land and sea border with Israel.
Dudin explains that Ayla was launched as part of the formation of the Aqaba Special Economic Zone Authority (ASEZA) as "one of the major mixed-use development projects", trigerring the development of "touristic, residential, commercial and entertainment" opportunities on the site.
"Aqaba seeks to improve its tourism assets, so that we can make the stay of visiting tourists longer. So it is not only the 'sun and sand': it is the 'Golden Triangle', which is Wadi Rum and Petra, and more attractions in Aqaba, which is diving, and now golf."
While the golf facilities are this weekend's main draw for many, the resort also features extensive clear-blue lagoons which increased the site's waterfront from 235 metres to 17 kilometres, beach clubs and a marina.
When eventually fully realised, Ayla will see hotels and residential housing mix with golf courses, lagoons and publicly-accessible retail outlets, Dudin explained.
The Ayla resort includes 350,000 square metres of grass golf courses and other facilities. The 18-hole course is complimented by a par 3, 9-hole floodlit course, and a driving range, with a golf academy also due to open.
As well as competitors from Jordan and the Arab world, the tournament also drew players from many different countries, particularly foreigners working in Jordan and Saudi Arabia.
Gidae Lee, 50, a South Korean based in Amman, made the four hour journey south to Aqaba to play over two days. He said that the course is "excellent compared to other places, because it's very difficult to design" such a course given the geography of the area.
Ayla's steep bunkers and deep lagoons can quickly spoil a golfer's scorecard, though the "comfort stations" built around the course provide rest and shade for those wanting a break from the sun. Built to emulate the gentle undulation of sand dunes, they mirror the ethos behind the whole project.
Australian golfer and Ayla designer Greg Norman was "sensitive to the environment, knowing that Jordan is one of the poorest countries in the world when it comes to water. We needed someone to really have this in the back of their mind when they designed the golf course", Dudin noted.
Solar power provides 100 per cent of the course's electricity needs, the managing director noted, while water required for the golf course is provided through sea-water desalination, sub-surface irrigation to reduce water evaporation, the use of indigenous plants and salt-tolerant grass.
Hani Abdallat, the president of Jordan Golf Federation, who organised the tournament, explained that the "world-class" course is "one of a kind in the world and in the region".
"In the region, it's one of the best golf courses, and of course in Jordan it's Jordan's first proper grass course," Abdallat said.
Competitors from the region were represented by four national teams, from Jordan, Iraq, Palestine and Lebanon, Abdallat noted, bringing "a different spice to the tournament itself, so it's kind of a Middle Eastern gathering, and it's very competitive", he said.
Abdallat explained that the Jordan Golf Federation and its parent organisation, the Jordan Olympic Committee, are ambitious in their plans for golf in the Kingdom, saying that "we, as a federation, put a roadmap... to grow our tournaments every year at a different level".
"This year's [tournament] is much bigger, much stronger, much more competitive. Next year, we're hosting the Pan-Arabian championship here in Aqaba... We're talking about 12 of the best Arabic nations, who are taking place in a team event," the golfer said.
Symbolic of the youth and optimism of golf in Jordan is the case of 13-year-old Shergo Kurdi, whose talents are being nurtured by Jordan Golf and the olympic committee.
Kurdi has already notched up significant victories, including winning the Pan-Arab Junior Championship (U-15). He is the great hope of Jordanian golf, Abdallat explaind, saying that the aim for him is to compete in "the youth olympics first of all, and then hopefully in the official olympics in 2020".
The relationship between Jordanian golf and Ayla is symbiotic, Dudin said. As Jordanian golf grows, so does Ayla. Golf is a key part of Ayla's tourism strategy and Dudin noted that a specific precondition of the tender to develop the site was the inclusion of a world-class golf course.
Dudin's approach to expanding and developing the resort is to keep a distinctly laid-back atmosphere: "slow and steady" expansion, he said, based on supply and demand.
Neil Tanner, an English aricraft engineer based in Saudi Arabia, travelled up in a dozen-strong group of mainly British expatriate workers to play over the weekend.
"We've come from Tabuk, Saudi Arabia... There's about a dozen of us come up. It's only 220kms. All the guys between them, there's probably going to be someone here from our club at nearly every event."
Tanner explains that his expat group used to travel from Saudi Arabia to the golf course in Taba Heights in Egypt, but the flooding of the course and the lengthy border and sea crossings have made Ayla the obvious choice for a weekend's golf and relaxation.
"It might be only 200kms, but it would take us seven hours to get Taba Heights because you cross three borders. Whereas here, we're here in Aqaba in about three and a half hours with the border crossing."
"The course is lovely, it's bloody nice. The greens are amazing. It's tough though," a sentiment echoed by many over the weekend.
Norman's designs of Ayla's steep bunkers and deep lagoons can quickly spoil a golfer's scorecard, but Tanner said that the other facilities, especially the B12 beach club, offer a "little paradise escape".
If part of Ayla's strategy is to promote the resort through word of mouth, and by using golf as a marketing strategy, it seems to be working.
Speaking to The Jordan Times on Saturday after the award ceremony Nasser Shraideh, Chief Commissioner of ASEZA, said the sport will attract a new kind of visitors and promote the port city's tourism.
"We hope this will bring value to the touristic products that we have in Aqaba, it will enhance our competitiveness as a first-class touristic destination"
"As well, [...] we are seeking to build an olympic city that will also have other games that can be practised in it, to attract different kinds of players to Aqaba. The weather is quite reasonable around the year, which we believe could also attract clubs to do their training camps in Aqaba."
As play finished on Saturday afternoon, Lebanon's Rachid Akl took first place in the main competition, with his compatriot Sheikh Mouss El Zein in second place and Palestine's Bilal Altaya taking third place.
Related Articles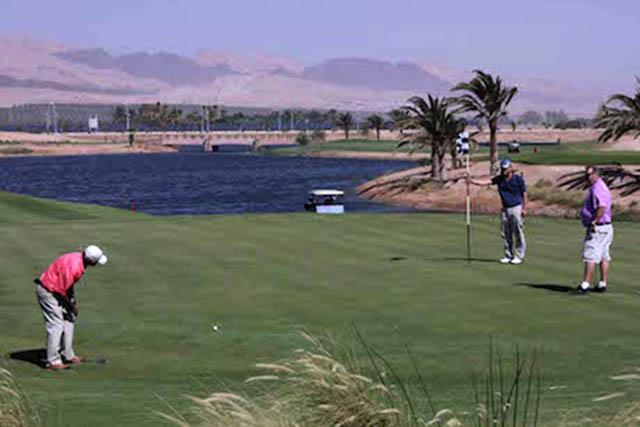 Aug 29,2017
AMMAN — The city of Aqaba will host the Jordan's Ayla Golf Championship October 5-7, Ayla's Managing Director Sahl Dudin announced at a pres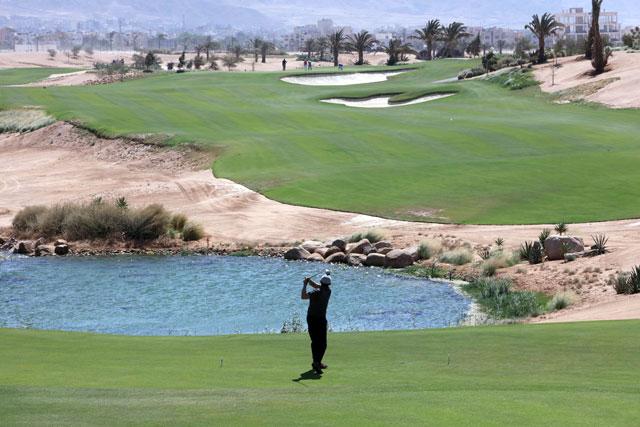 Oct 02,2016
AQABA — Some 72 golfers took part in an amateur tournament on Friday to mark the opening of Jordan's first 18-hole championship golf course
Oct 05,2017
AMMAN — The Jordan Ayla Golf Championship on Wednesday started in Aqaba, marking the beginning of a "first of its kind" event in the Kingdom
Newsletter
Get top stories and blog posts emailed to you each day.