You are here
World-class Ayla Golf Championship attracts top-notch players
By Ana V. Ibáñez Prieto - Aug 29,2017 - Last updated at Aug 29,2017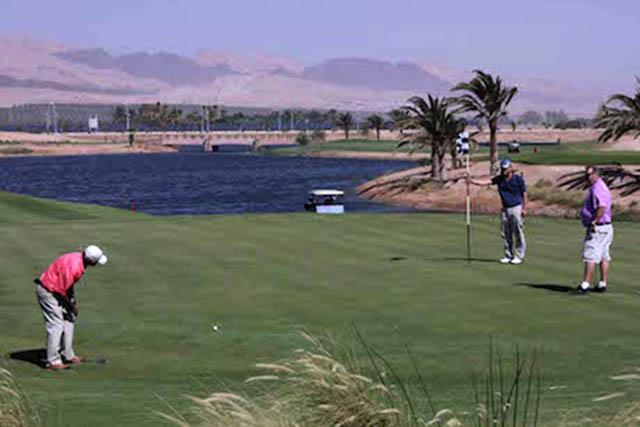 Ayla Golf Club is Jordan's first signature 18-hole grass course (Photo courtesy of Ayla Oasis Development Company)
AMMAN — The city of Aqaba will host the Jordan's Ayla Golf Championship October 5-7, Ayla's Managing Director Sahl Dudin announced at a press conference on Monday.
This international golf tournament is the first one to be held at the Ayla Golf Club, and it comes as part of the second season of the 7th MENA Golf Tour — an initiative launched at the United Arab Emirates by the Sheikh Maktoum Golf Foundation back in 2011.
During the championship, Aqaba will welcome a total of 120 players of 25 nationalities, including world-renowned players such as Zane Scotland, Rayhan Thomas, Faycal Serghini and Ahmed Marjan.
Furthermore, this tournament will also be an opportunity for developing golfers to make their way to the professional sphere and gain international recognition, according to Chris White, Ayla's director of operations.
White pointed out Ayla's "social responsibility to grow the game of golf in the Kingdom".
"Golf has become an Olympic sport and there is absolutely no reason why Jordan should not be represented in the Olympic games in the upcoming years," White added.
In this regard, White said that they are performing a talent scout at Aqaba and Amman schools with the aim of getting teenagers to take on this sport and "become the future golf stars of Jordan".
"Currently, we are training around 50 unprivileged teenagers from Aqaba and providing them with all the necessary equipment, and we are trying to identify 15 elite players in order to start a development programme," said White.
For his part, Dudin expressed his hopes for the championship to position Jordan as a "premier golfing destination" in the MENA region, noting that an event of this magnitude will "shine the spotlight on Aqaba as a fast growing destination for business and tourism".
Designed by Greg Norman, the 18-hole, par-72 championship course at Ayla is the largest in the Levant region. Its construction was implemented under eco-friendly guidelines, and it incorporates a nine-hole golfing academy.
Related Articles
Oct 05,2017
AMMAN — The Jordan Ayla Golf Championship on Wednesday started in Aqaba, marking the beginning of a "first of its kind" event in the Kingdom
Mar 25,2017
AQABA — The neat grass fairways of Jordan's first 18-hole, grass golf course were zigzagged by golf buggies from Thursday to Saturday, ferry
Jun 28,2018
AMMAN — European legends, female stars and the next generation of golfers will all gather at Ayla Golf Club in 2019 for a ground breaking ne
Newsletter
Get top stories and blog posts emailed to you each day.