You are here
Germany to help qualify Jordanian products' access to EU market — ambassador
By JT - Feb 17,2019 - Last updated at Feb 17,2019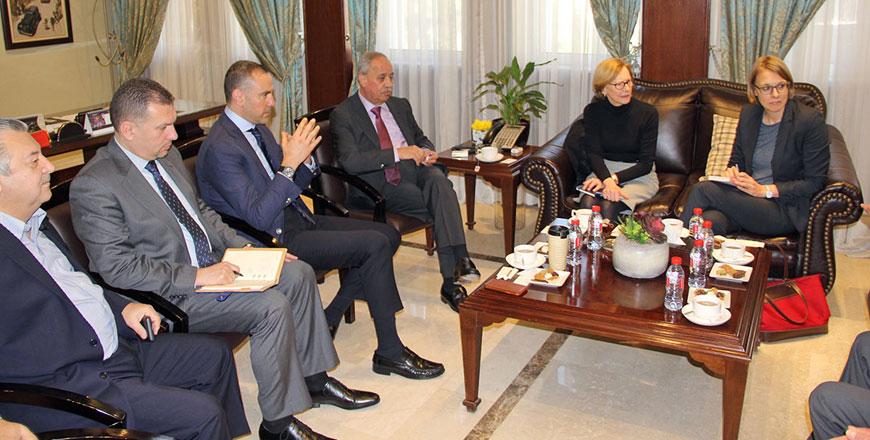 German Ambassador to Jordan Birgitta Siefker-Eberle discusses Amman-Berlin cooperation with Amman Chamber of Industry President Fathi Jaghbir (Petra photo)
AMMAN — Germany will help qualify Jordanian products to enter the European market, Berlin's ambassador to the Kingdom, Birgitta Siefker-Eberle, said.
Siefker-Eberle said that Jordanian industry has the potential to access the EU market, adding that the German embassy in Amman will prepare a study on the mechanisms to help Jordanian companies export their products to the European market, the Jordan News Agency, Petra, reported.
The ambassador's remarks came at a meeting with Chairman of the Amman Chamber of Industry Fathi Jaghbir during which she said that Berlin wishes to increase the Jordanian exports to Germany, according to Petra.
Siefker-Eberle also said that the embassy will contribute to enhancing Berlin-Amman economic relations through a set of programmes.
The ambassador added that her country will participate in upcoming London conference, scheduled for the end of February to support the Jordanian economy, according to Petra.
Jaghbir said that the Jordanian exports to Europe are "hindered by regulatory and legislative" complications imposed by the EU and the rules of origin requirements, according to Petra.
Jordan has reached an "initial understanding" with the EU to ease some requirements in the EU relaxed rules of origin for Jordanian exports to Europe, including a reduction in the percentage of Syrian manpower in the exporting industry.
Newsletter
Get top stories and blog posts emailed to you each day.