You are here
Gender equality triggers 'real transformation' in society — Kosovo's Jahjaga
By Rana Husseini - Oct 22,2019 - Last updated at Oct 22,2019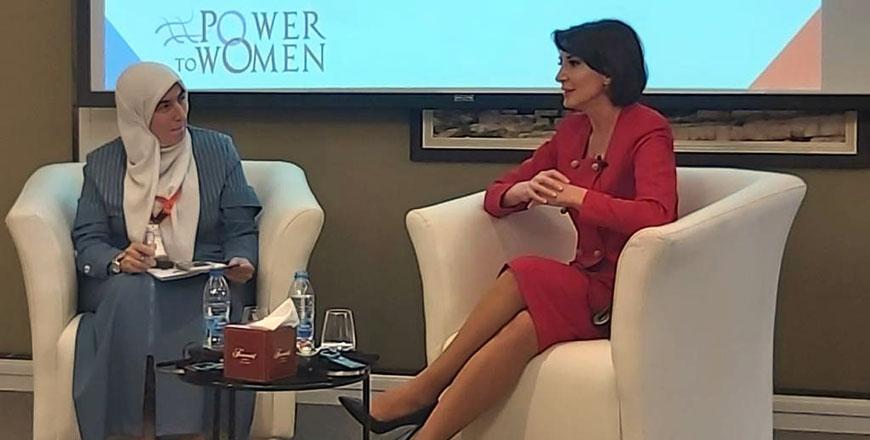 Former Kosovo president Atifete Jahjaga shares her presidential experience during a session moderated by MP Dima Tahboub on Tuesday (Photo courtesy of NDI)
AMMAN — Former Kosovo President Atifete Jahjaga on Tuesday urged Jordanian women activists and politicians to always be united and support each other.
During her speech and remarks at a meeting with a group of Jordanian women leaders and politicians, Jahjaga said if women want to witness a real transformation in their societies they need to be constantly united.
Jahjaga spoke during a one-day conference titled "Empowering Jordanian Women Participation in 2020 Elections and Combatting Violence against Women" that was organised by the National Democratic Institute (NDI) and funded by USAID.
Jahjaga also gave a session sharing about her presidential experience, which was moderated by MP Dima Tahboub.
"I joined hands with the women MPs, the civil society and the media to lobby for laws that would preserve women's rights and protect them from gender-based violence and we succeeded to a large extent," Jahjaga told the gathering.
The reason for this success, Jahjaga added, was the approach "we used by informing the public of the pros and cons of each amendment that we targetted; and we gained people's trust and support".
She added that change will never come overnight.
That is why, Jahjaga continued, "we need to make solid and continuous efforts to bring the change that we want and we need role models and champions to tell their stories and inspire others."
Jahjaga stressed that a leader should not be identified by gender but by her or his actions and the quality of services provided.
"When we do not have gender diversity [in leadership positions], we do not have inclusive policies and solutions, which would actually address the problems of our society," the former president noted, exemplifying gender-based violence as one such problem.
Addressing the female MPs attending the session, Jahjaga urged them to continue to engage with the people who voted for them.
"Do not forget the people who elected you, because it might leave a negative long-lasting impact, when in reality you are supposed to be their role model and the younger generation's," Jahjaga said.
The former president ended the session with a quote from Her Majesty Queen Rania: "We should not judge people through the prism of our own stereotypes."
"Please think about this — the way you see the world, the stereotypes that you may have built along the way —and think about whether they are really true. I trust once you reflect on this, you will see that women can be as good of leaders as men," Jahjaga said.
up
11 users have voted, including you.
Newsletter
Get top stories and blog posts emailed to you each day.