You are here
Gazan lion cubs find sanctuary, medical attention in Jordan
By Muath Freij - Jul 21,2015 - Last updated at Jul 21,2015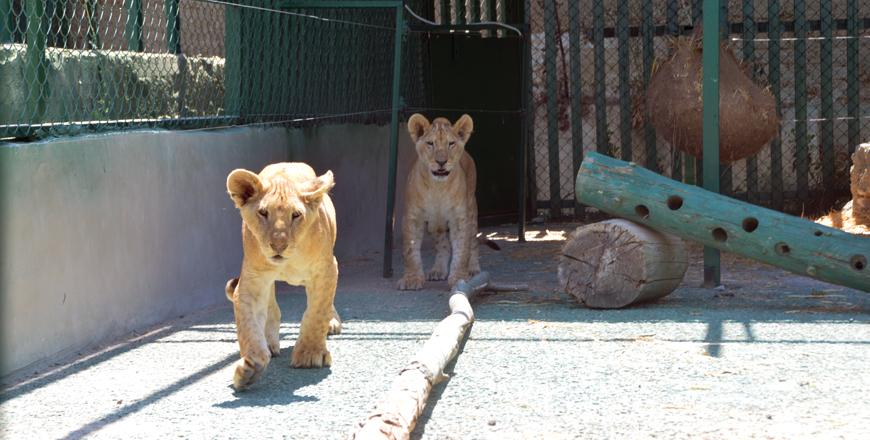 Lion cubs Mona and Max, who arrived recently in Jordan from Gaza, are seen at Al Mawa for Nature and Wildlife sanctuary in Amman (Photo by Muath Freij)
AMMAN — Jordan is hosting two Gazan lion cubs that were transported earlier this month to receive proper care and sanctuary, according to Al Mawa for Nature and Wildlife CEO Mahdi Quatrameez.
Quatrameez noted that the two lion cubs were owned by a Gazan who used to take them wherever he went.
"He would take them to weddings, football matches and to the beach, so he was contacted by the international animal welfare organisation FOUR PAWS asking him to have them transported," he told The Jordan Times in a recent interview.
The owner, Saed Eldin Al Jamal, had kept them as pets at his family's home in the border town of Rafah, according to The Associated Press.
He had bought the cubs when they were a month old from a zoo whose owners were worried they eventually would not be able to afford to buy meat to feed them as they grew, AP reported.
The pair, female Mona and her brother Max, became well known across the Palestinian coastal strip as Jamal took them to parks or the beach where children who were brave enough would come up to pet them.
His family kept the cubs in their small, one-storey house inside a crowded refugee camp in Rafah where they quickly became star attractions. Scores of visitors came to see the cubs play with Jamal's sons and grandchildren in the camp's narrow alleys, according to AP.
Quatrameez noted that it took FOUR PAWS, which transported them to Jordan, two months to convince the owner to let Mona and Max go.
The two cubs are now seven months old.
"These animals have grown and they now could pose a danger to their owner and people around them," he added.
Zain Shaheen, the centre's veterinarian, said when the two lion cubs first arrived in the Kingdom, they were exhausted by the transportation process and each had sustained some injuries to the legs and head.
But their situation is improving with the proper medical care they are receiving in Amman, she noted.
"We provided them with vaccines and we are monitoring their health condition. We are trying to keep them calm. It is better for them to be in centres like this because they are wild animals and they are not supposed to be living among people," Shaheen added.
Quatrameez said no decision has been made yet regarding the future of Mona and Max, whether they are going to stay in Amman or be transported to another centre.
Last year, three lions arrived in Jordan from the Gaza Strip to receive medical attention after the Israeli aggression on the coastal enclave destroyed their zoo and left them in difficult conditions.
Established in 2011, Al Mawa for Nature and Wildlife currently hosts 20 lions, two tigers, one bear, two hyenas, eight wolves, 16 monkeys, three snakes and two crocodiles.
Quatrameez noted that it was established as an animal sanctuary that serves Jordan and neighbouring countries.
"Authorities always find difficulty in securing proper places for animals that have been confiscated from illegal vendors until a decision is taken regarding their issue and this is the purpose of the centre. There have also been similar requests by many countries in the region and we tried to be the first centre to offer this service," he added.
In addition to its Amman centre, Quatrameez said Al Mawa for Nature and Wildlife has another facility under construction in Jerash, some 48km north of Amman, which will function as a reserve that can accommodate a large number of animals.
Related Articles
Jul 04,2015
RAFAH, Gaza Strip — Gaza's Hamas rulers on Friday allowed a pair of lion cubs en route to a wildlife sanctuary in Jordan back into the Pales
Jul 05,2015
GAZA CITY — Two lions cubs were on Sunday taken from a Gaza Strip refugee camp to Jordan, their former owner said, after their maintenance b
Aug 13,2017
JERASH — Thirteen animals from a Syrian zoo have found refuge in Jordan, thanks to the efforts of an international animal welfare orga
Newsletter
Get top stories and blog posts emailed to you each day.