You are here
Lion cubs en route to Jordan sanctuary check into Gaza hotel
By AP - Jul 04,2015 - Last updated at Jul 05,2015
In this June 15 photo, lion cubs Mona and Max walk as children run next to them at the beach of Gaza City, in the northern Gaza Strip (AP photos)
RAFAH, Gaza Strip — Gaza's Hamas rulers on Friday allowed a pair of lion cubs en route to a wildlife sanctuary in Jordan back into the Palestinian coastal strip after the animals and their entourage had been stuck for several hours on no-man's land at a Gaza-Israel border crossing.
Earlier in the day, the cubs were taken from Gaza resident Saed Eldin Al Jamal, who had kept them over a year as pets at his family's home in the border town of Rafah, and transported to the Erez crossing with Israel.
By the time they arrived at the border, the Israeli side had closed and the cubs remained on no-man's land after Hamas guards refused to let them back into the Palestinian territory.
But after several hours, Hamas allowed them back in and the cubs' entourage checked into a Gaza hotel, together with the lions in crates, to wait there until the Israeli crossing reopens on Sunday.
The Israeli security branch responsible for the crossings said the lions and their entourage showed up out of the blue after the crossing had closed and without any prior coordination and appropriate preparations, unlike in a previous case involving lions.
Al Jamal had bought the cubs when they were a month old from a zoo in the Gaza town of Rafah, after it was hit during last summer's war between Hamas and Israel.
He said the original owners of the small South Jungle Zoo were worried they eventually would not be able to afford to buy meat to feed the cubs as they grew.
The pair — the female, Mona, and her brother, Max — became well known across the Palestinian coastal strip as Al Jamal took them to parks or the beach where children who were brave enough would come up to pet them.
His family kept the cubs in their small, one-floor home inside a crowded refugee camp in Rafah, where they quickly became star attractions. Scores of visitors came to see the cubs play with Al Jamal's sons and grandchildren in the camp's narrow alleys.
Earlier Friday at their Rafah home, Al Jamal cried as he gave up the cubs to Amir Khalil from the British charity Four Paws International, which was to take them to Jordan.
The charity had been trying for months to convince Al Jamal to hand over the cubs. As time passed and concerns grew that the lions would become too big and attack people, Al Jamal relented and agreed to "donate" them in return for about $2,500.
Before the entourage with the cubs departed, Al Jamal's 17-year-old son Ibrahim burst into tears as he hugged and kissed Mona good-bye.
Khalil told The Associated Press the cubs were a danger to the health and well-being of the Al Jamals, especially the children, and needed a place that was better for them, too.
Last September, Khalil had helped send lions from Gaza to the same Jordan sanctuary, that time a trio of scrawny lions from the Al Bisan zoo in Beit Lahiya.
"A lion living in a flat is not a normal thing," Khalil said on Friday. "The lion doesn't need to sleep on tiles, but on grass, sand or savanna."
Most of the zoo animals in Gaza have been hauled into the isolated territory through smuggling tunnels linking the strip with Egypt. In one famous scene captured on film, Gazans used a crane to lift a camel over the border fence by one of its legs as the animal writhed in agony.
Khalil said there remain more than 45 lions in Gaza, living in makeshift zoos, even homes, often being looked after by untrained staff.
Related Articles
Jul 05,2015
GAZA CITY — Two lions cubs were on Sunday taken from a Gaza Strip refugee camp to Jordan, their former owner said, after their maintenance b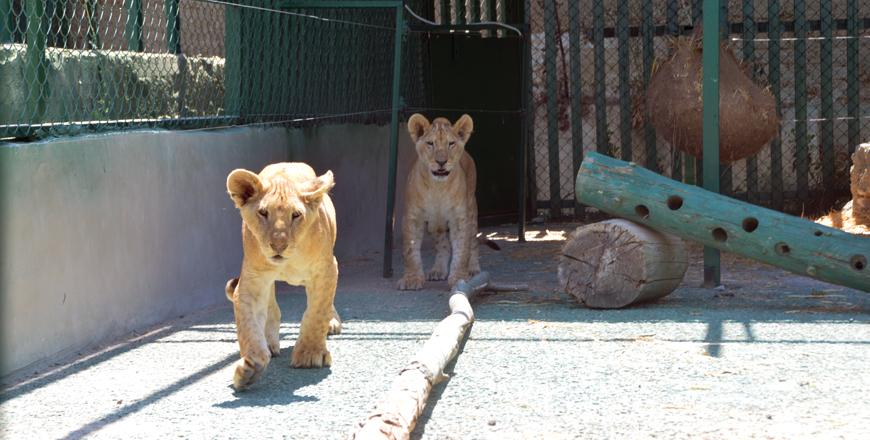 Jul 21,2015
AMMAN — Jordan is hosting two Gazan lion cubs that were transported earlier this month to receive proper care and sanctuary, according to Al
Dec 23,2017
GAZA CITY, Palestinian Territories — The owner of a private zoo in the impoverished Gaza Strip has put three lion cubs up for sale, saying h
Newsletter
Get top stories and blog posts emailed to you each day.