You are here
As crises mount, Jordan can lead the way for regional cooperation — conflict resolution expert
By Hana Namrouqa - Feb 22,2017 - Last updated at Feb 22,2017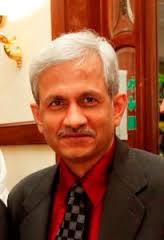 AMMAN — Jordan can lead the way for achieving regional cooperation, peace and a new framework, an expert on conflict resolution said, indicating that the Middle East must come together and negotiate with the whole world for a "global social contract".
Since 2011, the region has been in crisis, witnessing internal conflicts and tensions between countries, which points out that the old systems are not working and are breaking down and that a "new kind of architecture" for the Middle East is required, said Sundeep Waslekar, president of the Strategic Foresight Group, a think tank based in India that advises governments and institutions around the world on managing future challenges.
In a recent interview with The Jordan Times, Waslekar said the most dangerous thing the Middle East has witnessed in the past six years was that rivalry between countries gave way to the rise of non-state armed groups.
"The states are becoming weak, civil society is becoming weak and the non-state violent groups are becoming powerful, and this is very dangerous. Hence, [the region] has to see what kind of a new outlook is required, a new outlook that has to be based on working together and on regional cooperation," he said.
And since the frontline states around Syria (Iraq, Jordan, Lebanon and Turkey) are suffering from violence and terrorism, as well as pressure on water resources and the environment, they need to transform the crisis into an opportunity, the expert added.
Cooperation based on harnessing water and other resources for the common good of the region, as well as achieving reconciliation and understanding between communities and between states is among the approaches, he suggested.
Establishing a strong institution that can withstand and survive political crises is also important to overcome the consequences of the war in the region, Waslekar stressed.
"Frontline countries should start such an institution, and then — in later stages — include Syria when the situation stabilises. Water, environment and refugees are all interlinked problems and challenges that can be worked on regionally," he added.
A strong regional institution can also pave the way for the frontline countries to negotiate with the whole world for a global social contract, Waslekar suggested.
Under this global social contract, the international community can release resources for the region to help it "manage its own problems without interfering", he said.
The expert on conflict resolution said that because terrorist groups like Daesh and Al Nusra took control of vital assets like water infrastructure and dams to exploit the population, the region should push for a UN Security Council resolution on protecting water assets and facilities from attacks by non-state armed groups.
Waslekar proposed using water to introduce a temporary ceasefire to help technical teams repair pipes and systems, indicating that the temporary ceasefire can create an opportunity for dialogue.
"…, So, water that is being used in many occasions as a weapon of war, can be converted to a tool for ceasefire and maybe dialogue," he said.
The expert also called on the Middle East to come together and negotiate with the world for a "martial plan".
"A deal must be negotiated among all the frontline states with the whole world, so the region must come together," Waslekar said.
He stressed that the country that can lead the way for regional cooperation, peace and a new framework is Jordan at the moment, highlighting that the Kingdom has the biggest potential.
"Despite all the things that happened in the region, Jordan proved to be an island of stability, and I think Jordan can show the way… Currently the biggest hope I see is from Jordan; it has very cleverly managed its own journey in this crisis," Waslekar said.
Related Articles
Mar 17,2015
A lack of political will and a deficit of trust in the Middle East hinders the region from reaching an inclusive understanding on water, a rare commodity in the region, according to an expert on conflict resolution.
Mar 16,2015
Around 80 regional and international water experts, lawmakers and academics are scheduled to convene in Amman on Wednesday to share experiences on water cooperation and propose solutions to prevent water sources from becoming tools of war, organisers said on Monday.
Feb 25,2017
AMMAN — Frontline states with Syria should find ways to engage in practical cooperation on essential issues, including water, refugees and s
Newsletter
Get top stories and blog posts emailed to you each day.