You are here
Cold air mass, heavy rain forecast to impact Kingdom
By Bahaa Al Deen Al Nawas - Jan 19,2021 - Last updated at Jan 19,2021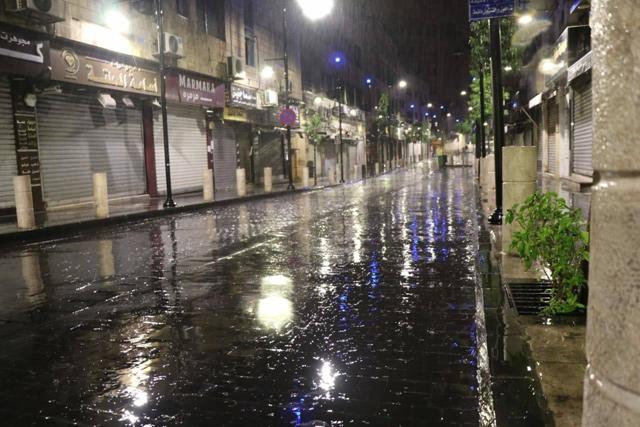 Greater Amman Municipality (GAM) on Monday reiterates its preparedness for winter season amid cold air mass, heavy rains that started impacting the Kingdom on Monday (Photo courtesy of GAM Facebook page)
AMMAN — Cold weather permeated the Kingdom on Monday and is forecast to increase in intensity on Tuesday night when a cold air mass is expected to settle and impact the Kingdom, according to the Jordan Meteorological Department (JMD).
The department forecasts rainfall in the evening in the north, extending gradually to the centre, turning into thunderstorms and causing the formation of torrents in valleys and low areas.
The weather is forecast to become extremely cold on Wednesday with heavy rainfall, and a possibility of snowfall on mountainous areas, according to the JMD.
It added that the wind will be westerly to north-westerly brisk winds, reaching gusts as fast as 60 kilometres per hour, raising dust in Badia.
On Wednesday night, the JMD expects the air mass to recede with weaker chances of rain and snowfall, with fog formation on mountainous areas and possible formation of frost on Thursday dawn on mountainous areas and in Badia areas.
The JMD warned citizens to avoid low areas and to follow-up on weather conditions constantly on www.jmd.gov.jo or call the employee on 4916190 or 4916191.
Temperatures in Amman are forecast to reach 10°C during the day and 5°C during the night on Tuesday, whereas on Wednesday, temperatures are expected to range between 6°C and 3°C, and on Thursday it is expected to slightly increase to hover between 9°C and 2°C.
In Aqaba, temperatures are forecast to range between 22°C and 11°C on Tuesday, 19°C and 9°C on Wednesday and 22°C and 8°C on Thursday, according to the JMD.
Newsletter
Get top stories and blog posts emailed to you each day.