You are here
Businesses at risk of cyber attacks — report
By Mohammad Ghazal - Mar 03,2014 - Last updated at Mar 03,2014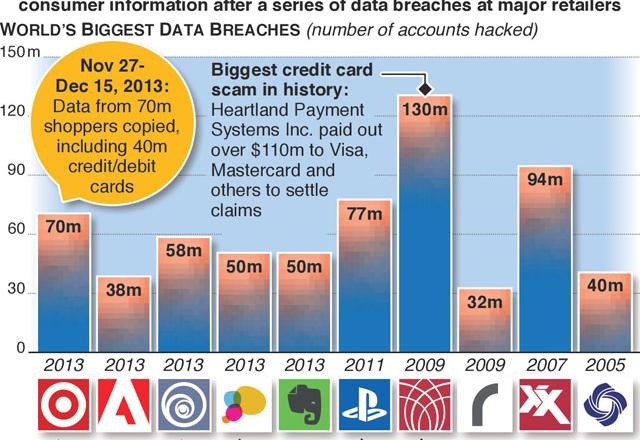 AMMAN — Businesses in the region, including Jordan, face unprecedented levels of cyber attacks, according to the Cisco 2014 Annual Security Report, released on Monday
Noting that global security vulnerabilities and threats against systems, applications, and personal networks have reached their highest-ever recorded level, Cisco said Middle Eastern and African countries are at risk as the region is posting strong adoption of smart devices and cloud computing.
Smart devices are set to grow from 133 million in 2013 to 598 million in 2018, in the region, which is projected to post the world's-strongest cloud traffic growth rate from 17 exabytes in 2012 to 157 exabytes in 2017, said the report.
"Organisations across the Middle East and Africa must realise that it is no longer if they will targeted by cyber attacks, but rather when," Hani Raad, general manager, Cisco Levant, said in an e-mail sent to The Jordan Times.
"Chief information security officers face growing pressure to protect terabytes of data on an increasingly porous network, manage information safely, especially on the cloud, and evaluate the risks of working with third-party vendors for specialised solutions — all in the wake of shrinking budgets and leaner IT teams," Raad added.
However, businesses in Jordan can protect themselves from cyber threats by simple procedures and solutions, according to Jawad Abbassi, founder and general manager of the Amman-based Arab Advisers Group.
"A majority of small- and medium-sized companies do not upgrade their operating systems, whether they use Apple or Microsoft," Abbassi said over the phone on Monday.
"For example, when Microsoft notifies users that it has stopped supporting a certain old version of an operating system and they need to upgrade to a newer version, they usually do not upgrade, and this way, they become vulnerable to cyber threats," he explained.
Abbassi said there is a need for more awareness among local firms on how to protect themselves from cyber attacks, especially since the usage of personal devices for conducting work-related transactions is on the rise in the Kingdom.
"Businesses, regardless of their sector, need to be vigilant. As long as they use the Internet, the risk of being subject to cyber attacks is high; therefore, they should focus on adopting security solutions," he added.
In its report, Cisco said 65 per cent of employees in businesses across the Middle East do not understand the security risks of using personal devices in the workplace.
Global threat alerts increased 14 per cent year-on-year from 2012 to 2013, with 99 per cent of all mobile malware targeting Android devices, according to the report, which noted that Java was the most frequently exploited programming language, while multipurpose Trojans were the most frequently encountered web-delivered malware.
Of the total malware in 2013, 64 per cent were Trojans, 20 per cent adware, 8 per cent worms, 4 per cent viruses and 4 per cent downloaders.
Spam volume was down last year, but malicious spam is still a threat, Cisco said, indicating that top themes for spam e-mails include bank deposit/payment notifications, online product purchases, attached photos, shipping notices, online dating sites, and requests for upgrading Facebook profiles.
Related Articles
Jan 20,2014
The ICT Association of Jordan ([email protected]) on Monday said local universities need to train IT students on cyber security skills, as a Cisco Systems report indicated that hackers worldwide are cashing in on the shortage of skilled cyber security staff.
Feb 16,2015
Businesses and individuals in Jordan must adopt an "all hands on deck" approach to defend themselves against cyberthreats, as attackers have become more proficient at evading detection, according to international network giant Cisco Systems. 
Nov 15,2014
The North Atlantic Treaty Organisation (NATO) announced a project over the weekend to help Jordan fend off any possible cyber threat by the Islamic State (IS), which the ICT Association of Jordan ([email protected]) labelled as crucial to protecting vital infrastructure in the country.
Newsletter
Get top stories and blog posts emailed to you each day.