You are here
Assistive tech seeks to improve living conditions of people with disabilities
By Camille Dupire - Feb 04,2018 - Last updated at Feb 04,2018
Alliance Academy Jordan supports inclusive school systems by allowing students with diverse abilities and backgrounds to learn together (Photo courtesy of Alliance Academy Jordan Facebook page)
AMMAN — Despite an increasing number of initiatives implemented to raise awareness on accessibility for people with disabilities in Jordan, the Kingdom still lacks the basic infrastructure to help people with disabilities "enjoy the small pleasures of daily life", according to Lana Bataineh, a Jordanian living with ALS, a motor neurone disease that causes the death of neurons controlling voluntary muscles.
Citing the lack of wheelchair accessible facilities, she noted that "the difficulties we think of are just a fraction of what we have to endure in order to leave our house," noting "before I go anywhere, I always need to do a site-check ahead of making the trip. Wheelchairs don't fit in most elevators and the bathroom stalls are usually too small to fit wheelchairs".
Technological innovations have been increasingly used to facilitate the lives of people with disabilities, including in Jordan and the Arab world, a recent research by the Innovation Group, a J. Walter Thompson Intelligence entity, showed.
In its latest report titled "The Future 100 for the MENA", which outlines the 100 latest trends, themes and opportunities growing in the Arab region, the group highlighted the spread and pace of technological change and the increasingly "tech-savy" aspect of young Arabs.
Mennah Ibrahim, the Middle East and Africa director at the Innovation Group, said: "2018 is going to be the year in which 5G and augmented reality [AR] drive massive change in our interactions with the Internet. It will also be marked as the year of 'out-of-this world' experiences as technology sends immersion into total hyper-speed."
In Jordan, several startups and companies have been leading the way of this technological advance, some focusing exclusively on using it to improve the lives of people with disabilities.
Communicating through technology
For Jordanian Mahmoud Darawsheh, founder of Mind Rockets Inc., "we now have the technology to make any service deaf-friendly, furthering the independence and engagement of the deaf community into our society".
This was the reason behind the creation of RAMZ, a mobile app that uses assistive technology in the form of an animated avatar to translate text or speech to sign language.
"Sign language has a basic common vocabulary but each country, language and accent has special sign language," Darawsheh noted, stating that, out of 360 million deaf people over the world, of whom 80 per cent are illiterate, 12.6 million live in the Arab world.
In January, Adli Kandah, director general of the Association of Banks in Jordan, announced the launch of Signcom, a 24/7 live interpretation support for clients with hearing disabilities.
The app, which allows deaf and mute clients to use live video calls to privately communicate with bank tellers without having to be accompanied by a third person, aims at ensuring privacy and access to equal banking for all, with no additional cost for the people with disabilities.
These innovations are not limited to Jordan, as many Arab companies have developed their own assistive technologies, such as the Palestinian "Swift Braille", an app that helps the blind and visually impaired communicate with others in writing.
Through a customisable soft keyboard, users can type by connecting Braille dots together using one or two fingers to form letters and words.
Further challenges
However, facilitating the lives of people with disabilities entails much more than communicability, according to Bataineh, who noted that "going around in Jordan is, if not impossible, extremely challenging for someone in a wheelchair".
A number of initiatives have been launched over the past few years to raise awareness on the issue and help create change.
In November last year, a team from the Higher Council for Affairs of Persons with Disabilities (HCD) started an online initiative that aimed to highlight the difficulties of access to touristic sites across the Kingdom.
Through videos posted on their social media pages, the council showed the general public "what it's like for a person with a disability to go sightseeing in Madaba" and "what they missed in the visits compared to other tourists", Ghadeer Al Haris, media spokesperson at HCD told The Jordan Times.
"We believe that any person should be able to enjoy visiting the beautiful tourist attractions we are so proud of in Jordan," she continued, noting that "the smallest changes and adjustments in touristic sites can go a long way and help us in achieving the goal of accessibility for all".
Meanwhile, some schools in Jordan, such as Alliance Academy in Al Yadudah, are also trying to breakdown these challenges by creating "inclusive school systems" allowing students with diverse abilities and backgrounds to learn together.
"Traditionally, students with disabilities have been segregated from students without disabilities by being placed in separate schools. This approach has isolated people with disabilities from their communities," said Aya Aghabi, a wheelchair user who was invited to tour the school, noting: "Many people worry that including students with disabilities in the classroom will impede the development of both students with and without disabilities. However, research proves otherwise."
Turning the trend into a sustainable change
In light of this booming innovational trend, educational institutions have taken steps to implement their own teaching programmes in assistive technology.
In 2013, Princess Sumaya University of Science and Technology (PSUT) launched a course titled "Principles of assistive technology", which teaches students ways to develop and apply professional skills in the field of assistive technology.
"The course covers a wide range of assistive technologies and rehabilitation topics with emphasis on the human and technology interfaces," the course syllabus read, noting that topics range from control devices to seating and positioning, powered mobility, driving and rehab robotics, among others.
"Technology advances are driving creative innovation to help people with disabilities navigate the world independently," said Ibrahim, noting that big brands are also beginning to recognise the role they can play in this domain, with Toyota who announced in 2016 the launch of a wearable device for the blind which uses sound and vibrations to direct the wearer.
Disney's "Feeling Fireworks" provides visually impaired with a tactile experience that aims to replicate the experience of fireworks while Listerine's "Feel Every
Smile" film and app uses facial recognition technology and phones'
vibrations to bring the feeling of knowing someone is smiling at them to the visually impaired.
Related Articles
Sep 25,2017
AMMAN — In light of the high illiteracy rates globally and regionally among deaf people, a Jordanian programmer has invested his passion in
Apr 15,2018
AMMAN — A blind woman is helping other people with visual impairment integrate socially and academically by teaching them Braille (a reading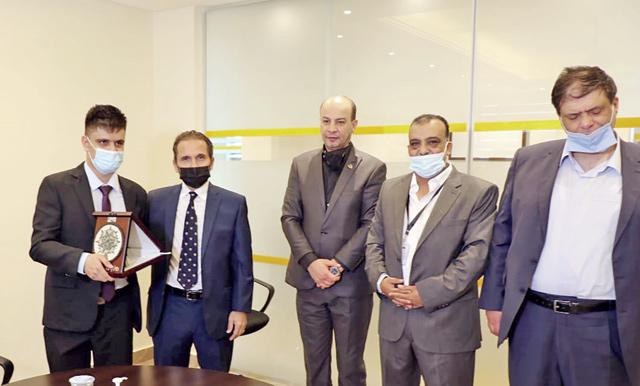 Sep 02,2021
AMMAN — HH Prince Mired, the president of the Higher Council for the Rights of Persons with Disabilities (HCD), on Wednesday honoured Al Taj