You are here
APU meeting kicks off in Amman with calls to defy normalisation
By JT - Sep 19,2019 - Last updated at Sep 19,2019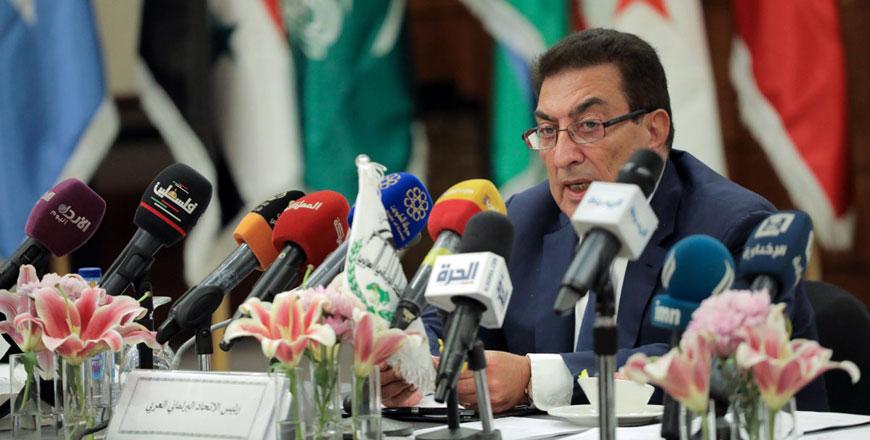 President of the Arab Inter-Parliamentary Union Atef Tarawneh speaks during the 26th session of the APU executive committee on Thursday in Amman (Petra photo)
AMMAN — President of the Arab Inter-Parliamentary Union (APU) Atef Tarawneh on Thursday urged Arab parliaments to reject calls for normalisation with Israel.
Tarawneh made his remarks during the 26th session of the APU executive committee, which was kicked off in Amman, calling on Arab parliaments to abide by the recommendations made during the recent Amman-held conference of the APU over rejecting normalisation.
He said that the occupation, which turns its back on international legitimacy resolutions, is still propagating "state terrorism", the Jordan News Agency, Petra, reported.
He also called for bringing the Palestinian cause, including Israeli violations against Jerusalem's holy sites, to the top of the Arab world's priorites, drawing attention to furthering coordination among Arab countries for the greater good.
He also exhorted Arab parliaments to exert pressure on their governments to strengthen Arab solidarity in the face of regional threats, referring to the recent drone attack that targeted two Aramco oil facilities in Saudi Arabia.
He also highlighted the Kingdom's unaltered stances, reaffirming its pledge not to accept any compromise that neglects the Palestinians' legitimate right to statehood with East Jerusalem as its capital.
Touching on the latest regional developments, Tarawneh reiterated the union's solidarity with Saudi Arabia in all efforts towards maintaining the country's sovereignty and security, while also expressing the union's support for the political process in Iraq.
The executive committee, during its 26th session, decided to refer its conclusions to the member states and parliamentary delegations ahead of the upcoming 30th APU conference, which will be hosted in Abu Dhabi in March.
Besides Jordan, 16 countries took part in the meetings including: The UAE, Bahrain, Algeria, Saudi Arabia, Syria, Somalia, Iraq, Oman, Palestine, Qatar, Comoros, Kuwait, Lebanon, Egypt, Morocco, and Yemen.
Founded in 1974, the APU is an international organisation that aims at strengthening contacts and dialogue among Arab parliamentarians in order to coordinate Arab activities at various international forums, according to its website.
up
7 users have voted, including you.
Newsletter
Get top stories and blog posts emailed to you each day.