You are here
Ambassador affirms US commitment to Jordanian food security
By JT - Mar 30,2022 - Last updated at Mar 30,2022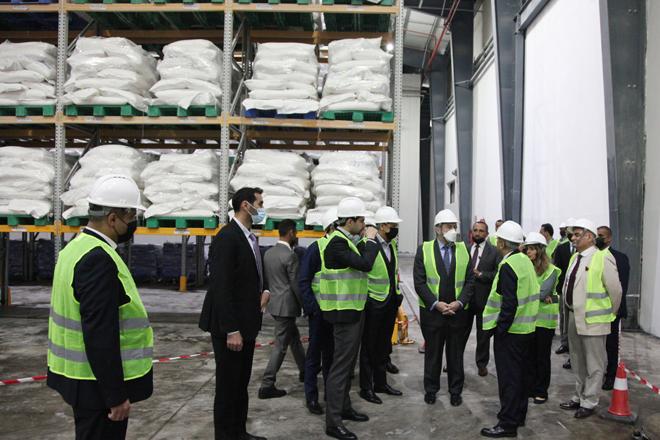 US Ambassador Henry T. Wooster tours the Shaban Group's facility on Wednesday in Amman (Petra photo)
AMMAN — US Ambassador Henry T. Wooster on Wednesday affirmed the US commitment to Jordanian food security during a visit to the Shaban Group, the brand owner of Tiger Rice in Amman, the largest importer of grains and US rice to Jordan, according to an embassy statement.
In a meeting with Shaban Group CEO Amzi Shaban, General Manager Imad Shaban, and Deputy General Managers Karim and Sharif Shaban, Wooster committed to promoting trade between Jordan and the US and highlighted the importance of the Jordanian private sector in ensuring Jordan's food security, the statement said.
During a tour of the Shaban facility, Wooster said: "Companies such as Shaban, and Jordan's entire private sector, play a key role in strengthening trade ties between our two countries and supporting the government of Jordan in achieving its food security goals. The private sector must also be the basis of economic development and opportunity for all Jordanians."
Imad Shaban, executive general manager of the Shaban Group, expressed his appreciation at the visit of the US ambassador to the group, which reflects the importance of American rice in Jordan.
Jordan's trade relationship with the United States is supported by the 2001 Free Trade Agreement between the two countries, the first such agreement between the United States and an Arab partner. The US is the largest destination for Jordanian exports, as well as Jordan's second largest trading partner overall. Total US-Jordan trade reaches nearly $5 billion including trade in services, and Jordanian exports to the United States have increased more than 800 per cent under the Free Trade Agreement. Since 2001, the value of US grain exports to Jordan has grown tenfold, the statement said.
The United States is committed to working with its partners to develop food systems that are economically, environmentally, and socially sustainable over the long term, read the statement.
In October 2021, the US formed the Coalition for Sustainable Productivity Growth for Food Security and Resource Conservation. The goal of this coalition is to work with countries and stakeholders around the globe to mobilise greater efforts in advancing sustainable productivity growth and transiting to more sustainable food systems. Jordan is a member of the coalition, concluded the statement.
Newsletter
Get top stories and blog posts emailed to you each day.