You are here
'All households in Azraq camp to have electricity in 6 months'
By Khetam Malkawi - Feb 15,2016 - Last updated at Feb 15,2016
In this file photo from August 2014, Syrian refugees carry water at the Azraq Refugee Camp, some 100km east of Amman and 20km west of the town of Azraq in Zarqa Governorate (Photo by Muath Freij)
AMMAN — A comprehensive energy plan to provide electricity to every household in Azraq Refugee Camp, which hosts 29,000 Syrian refugees, is under way and will be ready in six months, but international aid remains key for projects, UN officials said on Monday.
"All shelters will be connected to the system, each with an allowance of 1 kilowatt-hour per day so that each household will have enough power to operate lights, a refrigerator, a television, and a fan and charge phones," said Ali Bibi, the UNHCR liaison officer.
A solar power plant will also be installed in the camp, some 100km east of Amman and 20km west of the town of Azraq in Zarqa Governorate, in early 2016 to reduce the cost of electricity bills, Bibi told The Jordan Times, adding that "in the meantime, UNHCR has installed 472 solar street lights and distributed an average of four solar lanterns per household".
UNHCR Representative to Jordan Andrew Harper said the UN agency is "investing in a solar farm that should be ready in six months".
Harper explained that installing and running the required infrastructure for electricity was delayed in order to avoid taking it from the national grid.
Bibi also stressed the importance of not using the national grid, adding that "it is the international community's responsibility to support such infrastructure and not Jordan alone".
The plan to provide the camp with electricity, according to Harper, costs around $8 million "but it all depends on the size".
"The challenge I have is how much to invest in Azraq when the border is basically closed. With returns to Syria, resettlement and movements to Europe, more refugees are leaving Jordan than arriving," he told The Jordan Times.
Bibi noted that only 47 per cent was received out of the $23.2 million requested in 2015 for Azraq camp alone.
The camp was opened in April 2014, as the second-largest camp for Syrian refugees in Jordan, after the Zaatari camp in Mafraq, which hosts more than 80,000 refugees.
Currently, Azraq camp can host up to 50,000 people, rising to 100,000 under an expansion plan.
"Azraq camp now has the capability of receiving more refugees… with the current infrastructure, UNHCR and donor support," Bibi noted.
As for water and sanitation services, Bibi said there is 1 new borehole in the camp with a capacity of 50 cubic metres (m3) per hour, which ensures good water quality and quantity control as well as better cost efficiency. The average water supply is 650m3 per day.
Water is distributed through a network to 26 tap stands. UNICEF, in coordination with the Water Authority of Jordan, is in the process of implementing a wastewater treatment plant in the camp that will soon be operational, according to the UNHCR.
Concerning education, the UNHCR said a complex in the camp hosts primary and secondary schools that operates two shifts, one for girls in the morning and one for boys in the afternoon, giving a total capacity for 5,000 students.
Currently, 3,083 children are enrolled in the school. In addition, there is one kindergarten with a capacity for 400 children.
Informal education is also available to boys and girls between the ages of 6 and 18 years, and for adults.
Furthermore, there are four child-friendly spaces with playgrounds and four adolescent-friendly spaces in the camp providing additional services.
Related Articles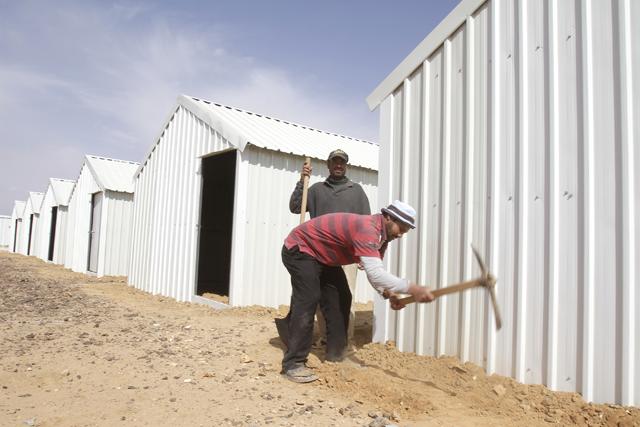 Jun 07,2014
This weekend witnessed the largest daily number of arrivals of Syrian refugees to the Azraq Refugee Camp, 100km east of Amman, Andrew Harper, the UNHCR representative to Jordan, said on Saturday.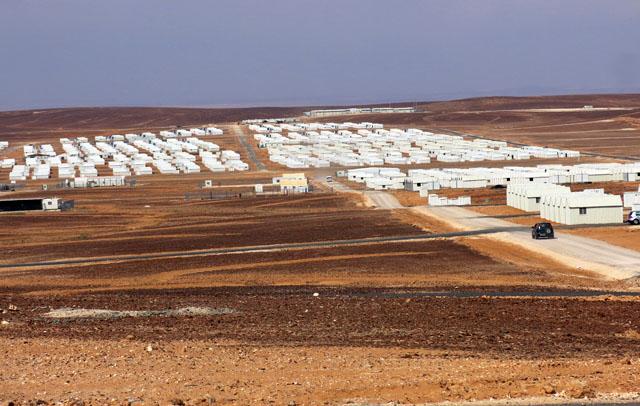 Mar 25,2014
The opening of a third refugee camp in Jordan next month would take some of the pressure off the country's main Zaatari camp and host communities as a soaring number of about 600 refugees is crossing into the country daily, UN and local officials said on Tuesday.
Apr 17,2014
With no end in sight to the Syrian crisis, the UNHCR on Thursday called on Gulf Cooperation Council countries and international organisations to step up efforts to support Jordan in coping with the growing number of refugees.
Newsletter
Get top stories and blog posts emailed to you each day.