You are here
UNHCR urges Gulf donors to aid Jordan in face of refugee crisis
By Khetam Malkawi - Apr 17,2014 - Last updated at Apr 17,2014
AMMAN — With no end in sight to the Syrian crisis, the UNHCR on Thursday called on Gulf Cooperation Council countries and international organisations to step up efforts to support Jordan in coping with the growing number of refugees.
The Zaatari Refugee Camp in Mafraq, around 90km northeast of Amman, has 107,000 Syrians refugees, said UNHCR Representative to Jordan Andrew Harper, "so we have to move into Azraq camp".
The Azraq Refugee Camp, which is scheduled to open by the end of this month, is located some 100km east of Amman near the eponymous town in Zarqa Governorate.
The third Syrian refugee camp in Jordan will eventually be able to accommodate up to 130,000 people, sprawling over 15 square kilometres.
"This crisis will not end in the upcoming few months. Many Syrians are forced to leave their country coming to Jordan. They see Jordan as a place for refuge," Harper said, adding that the needs and demands of Jordan will increase.
"What we will struggle with in 2014 and 2015 is ensuring that we have the resources in order to meet the needs," he noted, speaking at a meeting with Arab Gulf donors and Jordanian NGOs to brief them on the situation of refugees in Jordan.
The UNHCR official noted that the challenges will increase once the Azraq camp reaches its full capacity.
According to figures he cited, 60 per cent of refugees in the Zaatari camp are children, with seven to 10 babies born every day.
Harper also noted that the UN agency used to support 30,000 Syrian families with cash, but the number was reduced to 20,000 due to lack of cash.
Also on Thursday, Ali Bibi, the UNHCR spokesperson in Jordan, said the level of funding that the agency has received after launching its Regional Response Plan is still modest, and more is needed to help Jordan cope with the situation.
UNHCR Regional Response Plan 6 requirements for Jordan and neighbouring operations amount to $1,345,405,017 for 2014.
Addressing representatives of Gulf donors, Duha Abbadi, from the Planning Ministry's coordination department, said the estimated cost on the government for hosting refugees since the beginning of the Syrian crisis in 2011 is $1.6 billion. She noted that this cost includes electricity, healthcare, security and other subsidies.
Abbadi added that the current number of Syrian refugees in Jordan is 625,000, in addition to 750,000 Syrian nationals who were in the Kingdom before the crisis.
Related Articles
Jun 04,2014
UNHCR representative to Jordan, Andrew Harper, on Wednesday urged the World Bank to turn the loans extended to Jordan to address the Syrian refugee burden to grants.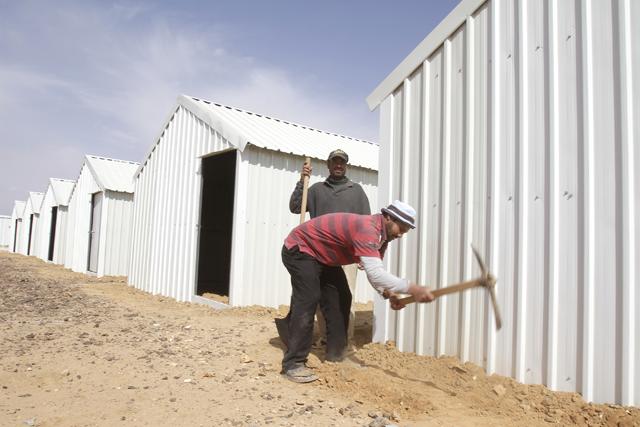 Jun 07,2014
This weekend witnessed the largest daily number of arrivals of Syrian refugees to the Azraq Refugee Camp, 100km east of Amman, Andrew Harper, the UNHCR representative to Jordan, said on Saturday.
Jan 20,2014
The total number of Syrian refugees registered with UNHCR in Jordan reached 585,656 individuals by January 12, according to a report issued by the UN agency on Monday.
Newsletter
Get top stories and blog posts emailed to you each day.