You are here
Mercedes-AMG SLC43: Baby Benz roadster is revised and renamed
By Ghaith Madadha - May 08,2017 - Last updated at May 08,2017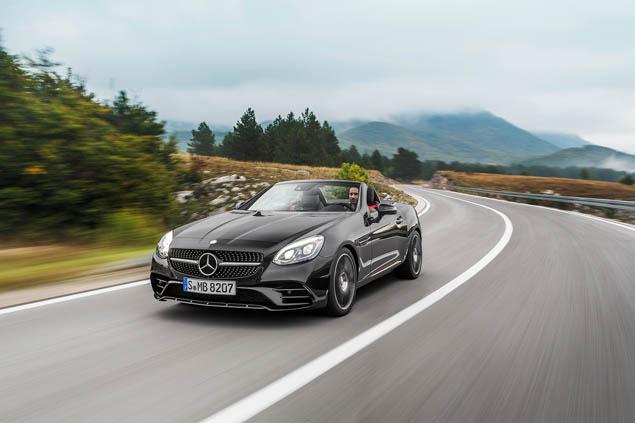 Photos courtesy of Mercedes-Benz
Top dog in Mercedes-Benz' revised and renamed compact roadster model line, the AMG SLC43 picks up where the outgoing AMG SLK55 left off – minus two cylinders, plus two turbos – with near identical performance and improved fuel efficiency.
Introduced last year and 20-years after the SLK-Class first debuted, the SLC-Class' new name reflects Mercedes' range-wide revision of nomenclature, but is in essence a face-lifted and renamed continuation of its R172 platform SLK-Class predecessor. Featuring mild design and interior updates, the SLC-Class also introduces new technology systems, but the biggest change being reserved for the range-topping AMG variant.
New look and nomenclature
Updated aesthetically over the third generation SLK-Class introduced in 2011, the SLC-Class features new front and rear bumper, and headlight designs. Its front headlights are now more fluently integrated with its sleek and arrow-like design and features new LED elements, including daytime running lights.
Adopting Mercedes' diamond style grille mesh and more prominent tri-star and single slats, the SLC-Class has a sportier and assertive presence, while rear lights are slimmer. With long bonnet, curt rear and ascending waistline to, the SLC has a muscular and sporty appearance, and in AMG SLC43 guise features staggered front 235/40ZR18 and rear 255/35ZR18 tyres.
The practical and versatile small sports car, the SLK's unique selling point since its introduction in 1996 has been its automatically retractable hard-top, which remains a central feature of the SLC-Class.
Providing the cabin refinement and security of a hard-top coupe when deployed, the SLC's metal and panoramic glass roof folds back under its high boot line, and is electrically operated from a centre console or key fob buttons, at up to 40km/h. If there is enough boot space available for the roof to fold back, the SLC-Class' boot separator also automatically lowers, but if space is not available, a message alerts the driver.
Improved efficiency
Effectively replacing the AMG SLK55, the AMG SLC43 ditches its predecessor's mighty and charismatic naturally aspirated 5.5-litre V8 engine and 7-speed automatic gearbox with a lighter and more efficient twin-turbocharged 3-litre V6, mated to Mercedes' new 9-speed automatic. Developing 362BHP at 5500-6000rpm and 383lb/ft torque throughout 2000-4200rpm, the SLC43 is down 36BHP and 15lb/ft, while net weight loss taking the engine and gearbox swap is just 15kg. However, despite the reduced output, the SLC43 is only 0.1-seconds slower than its predecessor, scorching through the 0-100km/h sprint in just 4.7-seconds, owing to its new gearbox' more closer ratios, shift times and more aggressive lower gears.
The SLC43's 9-speed also allows for longer cruising ratios and the ability to utilise the engine''s most efficient speeds, and contributes to a fuel efficiency improvement from 8.4l/100km to 7.8l/100km on the combined cycle.
With thoroughly accomplished engine with only the faintest turbo lag from idle, the SLC43's performance almost matches the SLK55's, but the real difference is in its character and delivery.
Whereas the SLK55's engine was throatier with more bass, rumble and growl with progressive, eager and peaky delivery, the SLC43's drone when cruising becomes a livelier and rasping howl at top-end, with crackling pops on downshift, with a broad and muscular mid-range underwriting its climb to a slightly lower-rev peak power plateau.
Compact yet composed
Riding on MacPherson strut front and multi-link rear suspension, with the option of adaptive dampers and a compact front-engine, rear-drive configuration, the 4.1-metre long SLC43 is agile and eager through corners, yet stable, settled and resolutely planted at high speeds.
Weighing in at 1595kg and with revised front suspension rates owing to its altered engine and gearbox weighting, the SLC43 well controls its 1595kg weight through corners, yet remains forgiving over road imperfections encountered on mostly smooth Dubai roads during test drive.
Meanwhile, its electric-assisted steering is quick, accurate, light and progressive, and with a 10.52-metre turning circle and good visibility, is easy to place and manoeuvre on road.
A firmer and more focused car than non-AMG variants the SLC43 is tidy into corners and well controls body lean. It also feels more rigid than garden-variety R172 platform variants driven on more demanding roads, is able to process sudden mid-corner textural imperfections with better composure than before.
Offering better visibility and exposure to its raspy acoustics with the top down, the SLC43 is more refined and cosseting with the roof up, which in this latest incarnation feels like a more integrated component. Meanwhile, gearbox modes feature progressively more aggressive shift settings and a manual shift mode for more involving steering paddle-shift sequential manual shifting.
Convenient convertible
As a small and low 2-seat roadster, the SLC43 is surprisingly accessible and accommodating for larger occupants and is as practical as a sports car of this size gets. Designed for the benefit of a hard-top and soft-top, the SLC43's all-weather versatility also allows for convertible driving regardless of cold weather.
Driven roof down, windows up and benefitting from Mercedes' transparent Airguide draught deflectors, there was very little wind buffeting while driving on motorways. Meanwhile, the SLC43's heated seats and a powerful heater are complemented by an Airscarf system that directs hot air out of vents in the upper seatback to allow for topless cold weather driving.
Accommodating up to 335-litre of luggage with the roof up and 180-litre with the roof lowered, the SLC43's cabin is also packed with convenience and comfort features, from electric seats and Magic Sky Roof tinting to an updated infotainment system high resolution 18-centimetre screen, DVD player, voice control, Bluetooth and media integration and powerful sound system.
Classy yet sporty inside, the SLC43 features a stitched leather flat-bottom steering wheel, sporty aluminium-rimmed cross-hair eyeball air vents, carbon-fibre trim, leather upholstery and a high and rakishly reverse-angled dashboard for a sporty hunkered down ambiance. Well-kitted with advanced driver assistance safety systems, the driven car featured reversing camera and parking, active brake, blind spot and lane assistance systems.
Related Articles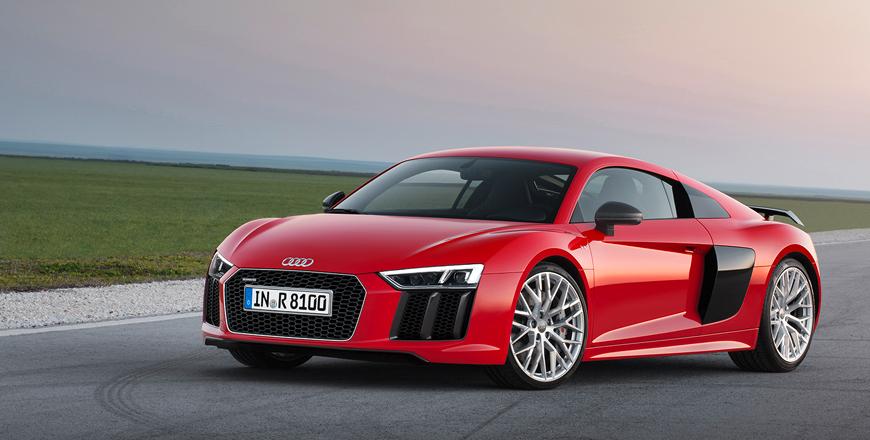 Apr 03,2017
ABU DHABI — Conferred the top accolade at the annual Middle East Car of the Year (MECOTY) ceremony, the Audi R8 V10 is the fourth car to cla
Aug 04,2014
Launched earlier this year the latest incarnation of Mercedes-Benz junior executive C-Class model line is a larger and more luxurious and high tech offering than the car it replaces.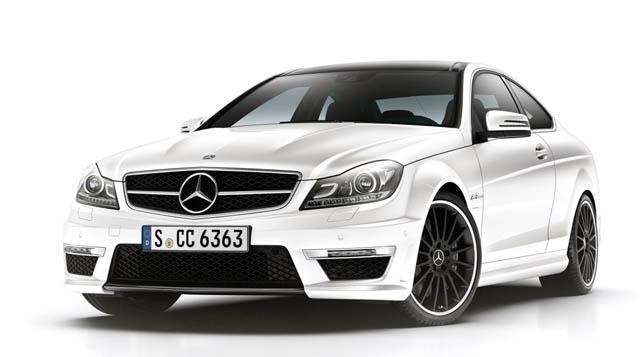 Jan 21,2014
With the new 2015 generation Mercedes C-Class just revealed and due to go on sale later this year and to then be followed by high performance AMG and coupe version, the current Mercedes AMG C63 Edition 507 Coupe, is in fact the swan song for both the outgoing C-Class and is the last car expected to retain its glorious 6.2-litre naturally aspirated V8 powerhouse. Launched last year, the Edition 507 version of this most inspired of Benz bruisers is the second most powerful version of the C63, considerably more powerful than the common, garden-variety C63 and falling just short of the Black Series version's output and performance.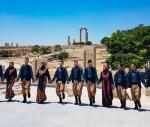 Newsletter
Get top stories and blog posts emailed to you each day.