You are here
Mercedes-Benz C450 AMG 4Matic: A more accessible AMG
By Ghaith Madadha - Mar 11,2019 - Last updated at Mar 11,2019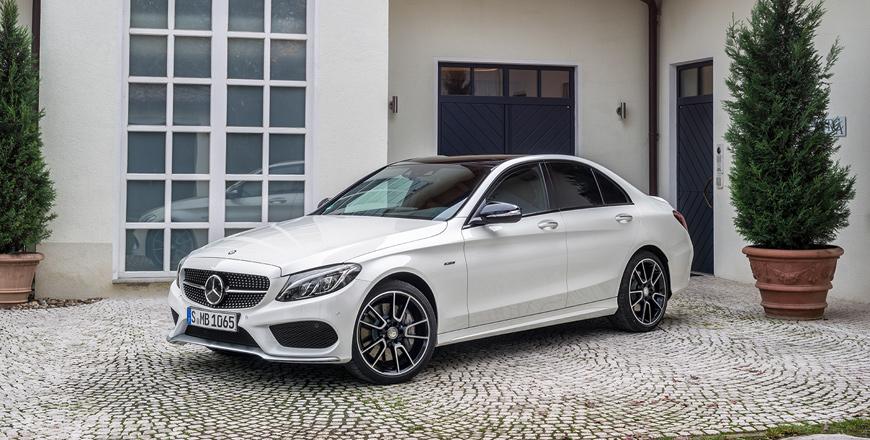 Photo courtesy of Mercedes-Benz
AMMAN — Among the last holdouts employing Mercedes' naturally-aspirated big displacement 6.2L V8 engine, the previous AMG skunkworks division-developed C-Class junior executive saloon, estate and coupe versions – the C63 – were perhaps the German manufacturer's then most compelling cars.
Thunderously vocal, lightning quick, rewardingly high-revving and with precise throttle, it was a modern muscle car oozing visceral old school appeal. Replaced with a downsized, yet similarly muscular top dog C63 with its own 4L twin-turbo V8 charms, the second generation C-Class line-up also received a more junior AMG.
More than sporty styling
Introduced not long after the current generation C-Class arrived in 2014, the C450 AMG 4Matic bridges the performance chasm between the maniacally muscular full-blooded C63 and the top garden-variety C-Class. Powered by an AMG-tweaked version of the C400's V6 engine and chassis, the C450 AMG 4Matic harks back to less brutal late 1990s and early 2000s AMG C-Classes, and is designed to duke it out with near top-end compact executives like the Audi S4 and BMW 340i, rather than the mighty Audi RS4 or ubiquitous BMW M3.
More than just an AMG exterior design package, if not quite a C63 beast, the C450's handsome core styling is accentuated with sporty details including AMG badges, rear spoiler, optional 19-inch alloy wheels and silver chrome flourishes, including integrated dual tailpipes and air diffuser-like lower bumper panel.
Completing its more athletic look are rear bumper vents, low chrome front spoiler lips and a black diamond-like grille treatment with body colour outline, glossy black emblem, single chrome slat and chrome pin pattern for a sportier somewhat concave look.
Eager ability
Also competing with sportier versions of the Jaguar XE, Infiniti Q50 and Alfa Romeo Giulia, the C450's AMG-tweaked twin-turbo 3L V6 has a raspier, more mechanical and higher pitched soundtrack than the C63's more rumbling and bellowing bass-laden notes. It naturally lacks the prodigious punch and brutality of the 503BHP C63 super saloon, but the C450 is nevertheless a brisk and confident sports saloon performer. Dishing out 362BHP at 5,000-6,000rpm and 383lb/ft torque throughout 2,000-4,200rpm, it is just 0.9s slower through 0-100km/h at 4.9s, and is capable of 250km/h.
Urgent in delivery and seemingly eager and revvy despite not being particularly high-revving, the C450 AMG felt quick and zippy during the brief test drive. Quick spooling and with little turbo lag, it drives with a consistently progressive surge underwritten by a generously-broad torque-rich mid-range, if not the C63's intensely explosive top-end- and deep mid-range brawn.
Driving all four wheels through a seven-speed automatic gearbox with different driving modes to tailor gear change swiftness and smoothness, the C450 can also be driven with manual input paddle shifters.
Agility and stability
Seemingly light on its feet and agile with a lighter V6 engine in front and stiff frame, the C450AMG 4Matic tucks into corners with nimble reactions and well-controlled body roll and light steering that is quick and direct, if not quite layered with too much textured road feel. Complementing its agility into corners, the C450's four-wheel-drive distributes power with a nominal 67 per cent rear bias and 33 per cent sent to the front wheels. The result is a balanced and intuitive rear-drive feel, but with the advantage of added grip.
With 4Matic four-wheel-drive serving to counter its modern Mercedes' drift-oriented handling traits, the C450 finds a nice, comfortable and reassuring balance between cornering commitment and balanced adjustability.
Different to its Audi rival's tenacious traction and unwavering road-holding, the C450 AMG 4Matic's character, however, remains that of rear-driver, but with improved grip and less reliance on electronic stability control interventions and management.
Somewhat firm but and stable at speed, and with adaptive dampers, it felt comfortably settled, as driven on fast, smooth track conditions, rather than imperfect public roads.
Practical and pleasant
Featuring a sportier take on the standard C-Class' pleasant interior with its high, ridged dashboard, good seating position and cocooning feel, the C450 incorporates darker trim and matt chrome tones, contrast stitches sports seats with supportive side bolstering, chunky flat-bottom steering wheel and deep user-friendly instrument binnacle with good shading.
A practical car with good levels of safety, convenience, assistance and infotainment features, including standard collision prevention, adaptive braking and stop/start systems the C450 offers good front and luggage room, and decent, if not class-leading rear seating.
Recently revamped and redesignated since the test drive from C450 to C43 to more closely integrate it with the AMG line-up, Mercedes' warm skunkworks C-Class now develops an additional 23BHP from its engine and gains a nine, speed automatic gearbox for slightly improved efficiency and a 4.7s 0-100km/h time.
However, one wonders whether Mercedes missed an opportunity for a yet lighter, more agile and efficient, but no less powerful four-cylinder C450/C43 right from the beginning, which could have been powered by the 376BHP turbocharged 2L engine used for smaller AMG models.
TECHNICAL SPECIFICATIONS
Engine: 3L, twin-turbocharged, in-line V6-cylinders
Valve-train: 24-valve, DOHC, direct injection
Gearbox: Seven-speed automatic, four-wheel-drive
Power, BHP (PS) [kW]: 362 (367) [270] @5,500-6,000rpm
Specific power: 120.8BHP/litre
Torque, lb/ft (Nm): 383.5 (520) @2,000-4,200rpm
Specific torque: 173.5Nm/litre
0-100km/h: 4.9s
Maximum speed: 250km/h
Fuel consumption, combined: 7.6-lit/res/100km
CO2 emissions, combined: 178g/km
Length: 4,699mm
Width: 1,811mm
Height: 1,443mm
Wheelbase: 2,840mm
Headroom, F/R: 1,039/942mm
Legroom, F/R: 1,066/812mm
Boot capacity, 480-litres
Kerb weight: 1,690kg
Steering: Power-assisted, rack and pinion
Suspension: Multi-link, adjustable damping
Brakes, F/R: Ventilated discs, 360mm/320mm
Tyres, F/R: 225/40R19/255/35R19 (optional)
Newsletter
Get top stories and blog posts emailed to you each day.