You are here
Certified marriage
By Nickunj Malik - Apr 27,2016 - Last updated at Apr 27,2016
Once upon a time it was easy to get married. A boy and a girl above a certain age would decide to tie the knot and did exactly that, with a bit of frenzied partying thrown in, where copious amounts of food and drinks were consumed. In my home country India, courts had nothing to do with the nuptials of a couple whose marriage was performed according to the religious ceremonies followed by their community. In the presence of God, there was no reason for the magistrate to also preside over the proceedings. The entire process was so smooth that people could not stop doing it. Getting married, that is. Life was simple and uncomplicated.
But the legal system did not recognise anything that was not put down in black and white on official paper with an authoritative stamp of approval by the officer in charge. If the law of the land required definitive documents to grant certain privileges, one had to basically provide them, we all know that. There was no getting around it. So, three decades after I took my matrimonial vows according to ancient Vedic rites, I was faced with the task of submitting a marriage certificate that I did not possess. My Portuguese lawyers thought I had left it in a safety deposit locker in India and gave me time to fetch it. They did not realise that there was nothing to fetch because I did not have any such documentation.
Out of curiosity, I randomly asked the four Indian couples we were having dinner with that evening if they had got their marriage certified in a court. All four of them replied in the negative. It made me feel better but did not solve my problem. I needed to go to India and get married all over again, with two witnesses, one magistrate and the rest of it. My spouse had to go with me because this task could not be accomplished without his active participation. After talking to the Portuguese lawyers who were both shocked and scandalised that we were not legally wedded but still living together for so many years, I was not sure if I could even call my husband, well, husband.
The tout we went to had an office in the back lanes of New Delhi. He produced a dossier of papers he had already arranged for us but the most significant one, called the "adhaar card", was missing. This is the new unique identification card that every Indian must have, has been specified by our government in the last couple of years. Without this the online application would not even be accepted, we were informed.
To initiate the process we trooped into a dilapidated building to get our fingerprinting done. That is where I discovered that I have something wrong with my fingertips. Even after 20 trials the machine could not register more than three of my ten digits on the screen. Soon, a small group of people gathered behind me with everyone giving out helpful suggestions.
"Press the fingers evenly Madam," one gentleman prompted.
"I'm trying," I said.
"Error," he read out.
"Wipe your hands Ma'am," a lady spoke up.
"OK", I wiped my fingertips vigorously on a tissue.
"Error", I heard them repeat.
"Don't move your fingers", my spouse held my wrist.
"Error", announced the machine.
"Iris scan successful" the clerk proclaimed.
"That's it? Are we married now?" I asked.
"Not yet," the crowd chorused.
Related Articles
Feb 17,2018
Spouses with uncontrolled drinking problems have a "large and rapid" influence on the likelihood their partner will also be diagnosed with a
Oct 04,2017
When I messaged a Jordanian friend of mine to tell her that I might be going to Mauritius, she asked me to wait while she Googled the place.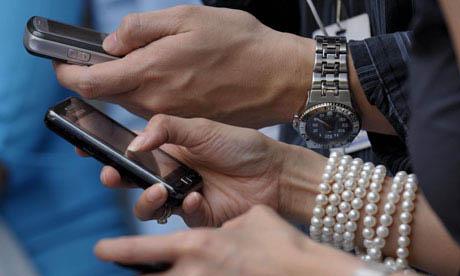 Feb 12,2014
Technology helps bring married couples closer together even though the use of electronic devices can be a source of tension, a US survey showed Tuesday.
Newsletter
Get top stories and blog posts emailed to you each day.