You are here
Honeymoon destination
By Nickunj Malik - Oct 04,2017 - Last updated at Oct 04,2017
When I messaged a Jordanian friend of mine to tell her that I might be going to Mauritius, she asked me to wait while she Googled the place. After sometime, she replied back excitedly, with many happy emoticons accompanying her response. She informed me that the island was a tropical paradise, a favoured honeymoon destination for all newly weds and I must jump into the first plane and get there at once!
The last time I visited a place that was frequented by honeymooners, things were different. I had just got married, my spouse and I had more hair on our heads and both of us were roughly half our respective sizes. Also, neither of us had ever stayed in a plush five- star hotel before, so we were easily intimidated by the staff in their sleek uniforms and foreign accents. We spoke to one another in hushed whispers, ostensibly cooing sweet endearments, but actually checking out the price of each edible item, before ordering it. Everything was atrociously expensive and I felt guilty eating a meal that cost half of our monthly salary.
But we were young and fearless so decided to try out all the freebees the resort had to offer, from cycling and boating to mountain climbing and jungle trail walking. I took lots of photos to record this. On our flight back, I came across a newspaper clipping advertising a "made for each other" contest that was being held by a leading tobacco company in India, and impulsively, I filled in the form and posted it to the given address.
A month later we got selected, along with ten other couples, for a full expense paid vacation to another luxury resort. We did not make the final cut eventually, because as one of the judges explained, all newly wedded folks seem made for each other. The real test is to win the compatibility challenge after twenty or so years of marriage.
If my memory serves me right, the gentleman who gave us these pearls of wisdom was none other than Mansoor Ali Khan Pataudi, the erstwhile captain of the Indian cricket team, and the husband of our renowned Bollywood star, Sharmila Tagore. They were married for eighteen years then, and when he was asked why his wife had not accompanied him, he said she kept away from functions that celebrated togetherness because according to her, he was made only for himself! At the time his statement had sounded very strange, but three decades into holy matrimony, it makes perfect sense.
I was thinking about this when the guest relations manager of the opulent hotel we were staying in Mauritius, told me that he had organised a surprise for us. On the shores of the ocean, with waves lapping at our feet, there was a table set perfectly for two people. Tall glasses of pink champagne greeted us and there was fresh seafood being prepared right there as well.
"Champagne and lobster, a perfect combination," the manager announced.
"Made for each other, like sir and madam," he gushed.
"But she does not drink champagne," my spouse stated.
"And he does not eat lobster," I added.
"Oh!", exclaimed the manager disappointedly.
"I will have it, don't worry," I consoled.
"And sir will try crabs?" he brightened up.
"No way!" said my horrified husband.
"He is made only for himself," echoed the voice in my head.
"What?" the manager asked.
"He means, not today," I answered.
Related Articles
Nov 08,2017
The interesting thing about relocating to a new place is that one gets a chance to reinvent oneself.
Sep 14,2015
AMMAN — Instead of spending thousands of dinars on a wedding party that lasts a few hours, a Jordanian couple decided to start married life
Mar 21,2018
We are all familiar with the forms that are distributed on the flights, just before we land in an alien country, where one has to answer num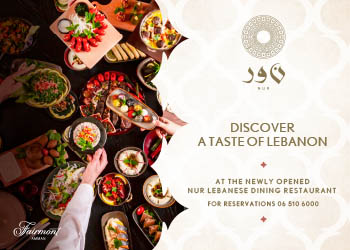 Newsletter
Get top stories and blog posts emailed to you each day.