You are here
Audi S5 Coupe: All-round ability
By Ghaith Madadha - Apr 17,2017 - Last updated at Apr 17,2017
Swift, safe, stylish and sophisticated, the Audi S5 is the closest thing to a direct descendent to the iconic original Audi Quattro currently available. With the recently unveiled RS5 high performance iteration of the A5 compact executive coupe soon set to take the mantle of successor to the 1980s Quattro, the S5 nonetheless remains more powerful than any road-legal versions of game-changing and milestone model. Rather than an outright brute, the S5 instead bridges the gap between garden-variety A5 models and the RS5, and is perhaps the most well-rounded and accessible car in its segment.
Stylish and sporty
A more stylish, sleek and lower slung personal luxury sister to Audi's highly accomplished and high tech A4 compact premium saloon line, the S5 is built on the same basic platform. Incorporating sophisticated five-link suspension in front and rear, the S5 also features a similarly more aluminium intensive lightweight body construction as its four-door sister, and sheds up to 60kg over its predecessor, first introduced in 2007. Utilising more sophisticated design including optimised underbody covers and automatic grille shutters, the A5-line achieves remarkable aerodynamic figures as low as CD0.25 and CD0.29 for the more aggressive S5.
A sexier and more stylish car than its' predecessor, the new S5 seems flatter, wider and sportier, with longer bonnet and shorter front overhang for a sportier stance. Meanwhile, its fascia features bigger air intakes and a broader hexagonal single-frame grille flanked by more defined and slim headlights with LED elements creating a browed effect.
Crisp, clean and un-fussed, the S5's body features elegant yet defined ridges and character lines, and a wavy line across the flank to draw attention to its wheels. A level waistline and flowing roofline trail off to a pert boot and sharp rear headlights to complete the S5's aesthetic clarity.
Fast and frugal
Powered by the latest iteration of Audi's 3-litre V6 TFSI engine, now with a single twin-scroll turbocharger for enhanced efficiency and in place of its predecessor's supercharger, the S5 produces 349BHP peaking at a broad 5400-6500rpm top-end. Eager through revs and with its climb to peak power underwritten by a muscular 368lb/ft available throughout a wide 1400-4500rpm mid-range, the S5 is ever-flexible and responsive when on the move.
Overtaking with effortless refinement and with a distant snarl at full throttle and as revs build towards its redline, the S5 was surprisingly efficient during its first media test drive on Middle East roads in Dubai.
Efficient yet swift in real world driving conditions and on long motorway jaunts, the S5 officially returns 7.4l/100km combined cycle fuel efficiency with the larger 19-inch alloy wheels, as driven. Shod with 255/35R19 tyres digging into the tarmac, and with a quick-spooling turbocharger and Quattro four-wheel-drive ensuring tenacious traction, the S5 launches smartly from standstill, achieving 100km/h in just 4.7-seconds and capable of an electronically-limited 250km/h top speed.
Meanwhile, its smooth, slick and swift shifting 8-speed automatic gearbox features a broad range of ratios to optimise performance, versatility, refinement and efficiency, and features sportier selectable driving modes for quicker responses and a paddle-shift manual mode for more engagement.
Committed and composed
Lighter than its predecessor and riding on a more sophisticated five-link independent suspension set-up front and rear, the new S5 is one of the most agile and balanced cars using Audi's traditional driveline configuration. With a front weight biased configuration with the engine positioned in-line and ahead of the front axle, the S5 develops huge levels of traction with no torque steer. Traditionally, the downside to this is a nose-heavy driving dynamic, but this is little evident in the S5. Tidy and composed into corners, the S5 is tidy and responsive to directional changes, and features a self-locking centre differential to manage front-to-rear power distribution and enhance agility.
Developing vast levels of traction and grip, the S5 is committed and thoroughly reassuring in it road-holding through corners, able to carry high speeds with composure. Pushed to the edge of its grip limit, the S5's instinct is for under-steer, but this is mitigated by easing off the throttle slightly or the electronic stability systems.
For added agility, grip and handling ability, a limited-slip rear differential is optionally available. And while adaptive dampers are also optionally available, the demo car driven wasn't so equipped, but was set-up with the right balance for taut body control through corners and comfort over textural imperfections.
Smooth and sophisticated
Riding slightly on the firm side over jagged bumps and cracks, the S5 Coupe is otherwise a smooth, comfortable and buttoned down drive with excellent high speed stability and settled vertical control over dips and crests. Featuring quick and direct steering with meaty feel, the S5 is also manoeuvrable and easy to place on the road. Highly practical and user-friendly whether driving winding roads, fast motorways or in town, the S5 benefits from terrific road visibility, aided by reversing camera and parking sensors and optional assistance systems. Highly adjustable steering and seats allow for an alert, comfortable and supportive driving position, while ambiance is airy and instrumentation clear.
Spacious in front and with useable rear seats, the S5 Coupe notable features a generously accommodating and accessible 465-litre boot with flat floor. Thoroughly well-constructed with quality luxury materials and textures, the S5's cabin is sophisticated to the eye and touch, and features a thick flat-bottom steering wheel, horizontal all-across vents for a sense of space, and user-friendly and intuitive controls and infotainment system.
Thoroughly high tech, it features advanced infotainment including wifi hotspot for eight devices and predictive next generation driver-assistance and safety systems and adaptive cruise control, turn assist, traffic jam assistance, collision avoidance, rear cross traffic assistance and host of other driver aids.
TECHNICAL SPECIFICATIONS
Engine: 3-litre, turbocharged, in-line V6-cylinders
Bore x stroke: 84.5 x 89mm
Compression ratio: 10.3:1
Valve-train: 24-valve, DOHC, direct injection
Gearbox: 8-speed automatic, four-wheel-drive
Ratios: 1st 4.714; 2nd 3.143; 3rd 2.106; 4th 1.667; 5th 1285; 6th 1.0; 7th 0.839; 8th 0.667
Reverse/final drive: 3.317/2.848
Drive-line: self-locking centre differential
Power, BHP (PS) [kW]: 349 (354) [260] @5400-6400rpm
Specific power: 116.5BHP/litre
Power-to-weight: 206.5BHP/tonne
Torque, lb/ft (Nm): 368 (500) @1370-4500rpm
Specific torque: 167Nm/litre
Torque-to-weight: 295.8Nm/tonne
0-100km/h: 4.7-seconds
Top speed: 250km/h
Fuel consumption, urban/extra-urban/combined:
9.9-/6-/7.4-litres/100km
CO2 emissions, combined: 170g/km
Fuel capacity: 58-litres
Length: 4692mm
Width: 1846mm
Height: 1368mm
Wheelbase: 2765mm
Track, F/R: 1587/1568mm
Overhangs, F/R: 883/1044mm
Aerodynamic drag co-efficient: 0.29
Headroom, F/R: 1005/920mm
Shoulder width, F/R: 1404/1287mm
Luggage volume: 456-litres
Kerb weight: 1690kg
Steering: Electric-assisted rack & pinion
Turning Circle: 11.5-metres
Suspension: Multi-link, anti-roll bars
Brakes: Ventilated discs
Tyres: 255/35R19
Related Articles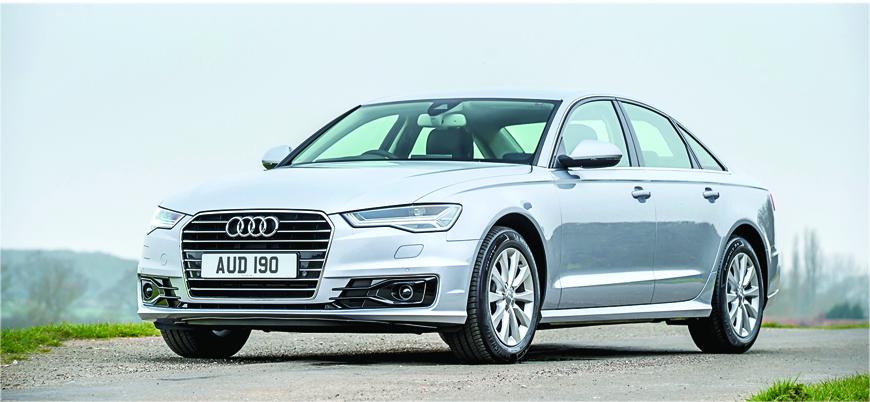 Nov 28,2016
Having first learned to drive on its distant predecessor, Audi's latest A6 35 TFSI mid-size saloon proved an occasion to reflect on how the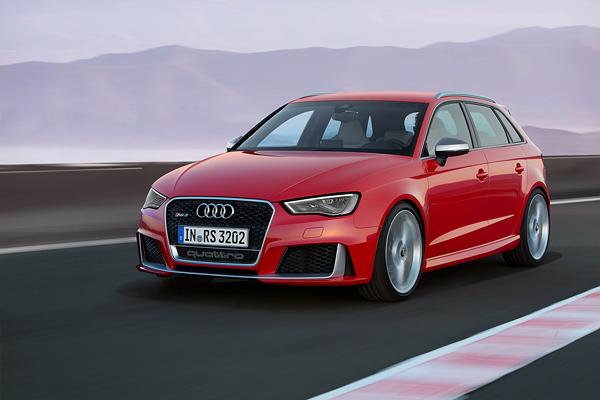 Jul 18,2016
A practical high performance brute with turbocharged 5-cylinder engine and resolute four wheel-drive roadholding, the Audi RS3 Sportback is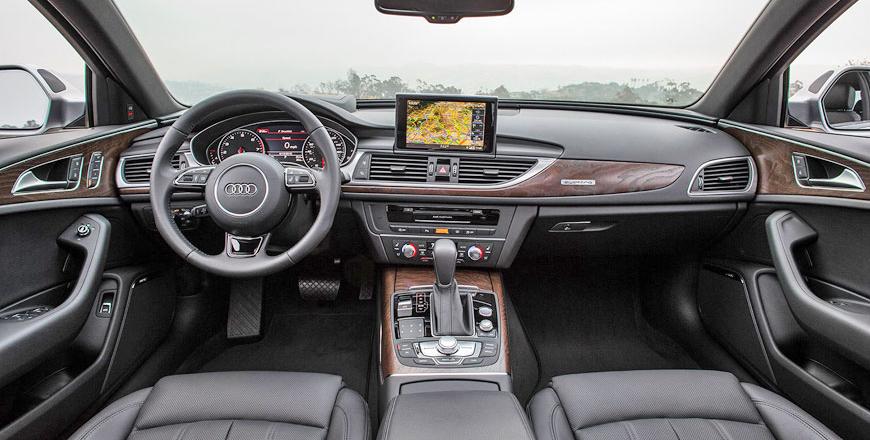 Jul 14,2015
Sophisticated and smooth, quick and confident, and well equipped and elegant but uncomplicated, the Audi A6 is a well thought out and execut
Newsletter
Get top stories and blog posts emailed to you each day.