You are here
Audi A6 35 TFSI Ultra: Entry-level luxury
By Ghaith Madadha - Nov 28,2016 - Last updated at Nov 28,2016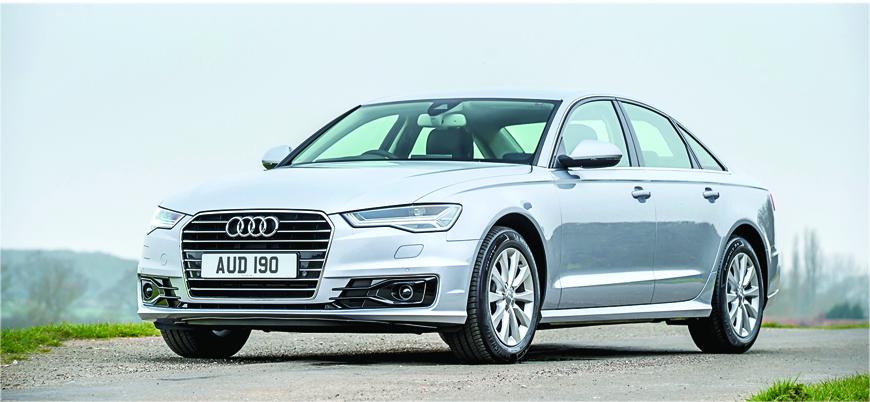 Having first learned to drive on its distant predecessor, Audi's latest A6 35 TFSI mid-size saloon proved an occasion to reflect on how the Audi brand and automotive industry has developed over the past 30 years. On the cusp of breaking into the premium automotive bracket in the 1980s, with its futuristically aerodynamic 100 and rally conquering Quattro models, Audi has since become one of the most deeply established "big three" players in this German dominated segment.
Driving the front wheels through an in-line 1.8-litre four-cylinder engine slung out just ahead of the front axle, the said base model Audi 100CC otherwise has little in common with the current entry-level A6 35 TFSI successor. With just a 3-speed automatic gearbox and a meager 89BHP under the bonnet, the said 1984 100CC may have shared the same displacement, cylinder count and position in the Audi hierarchy, but had less than half the power and gears as the A6 35 TFSI, not to mention its sophisticated equipment and refinement
Sophisticated aesthetic
First introduced in 2012 and updated in late 2014, the current fourth generation A6 design bears a direct lineage to the wind cheating 100. However, with sharper tauter lines, more defined ridges and larger 235/55/R18 footwear, it has a more potent, road-hugging and purposeful presence, in addition to slipperier contemporary CD0.26 aerodynamics. Uncomplicated and sophisticated, the A6 fluently combines a somewhat understated character with a more assertive front featuring slim heavily browed lights and a tall and wide single-frame trapezoidal grille dominating the fascia.
With more defined bumpers, side air intakes and sills, new LED element strips and slimmer rear lights and wider exhaust tips, the revised A6 has a more stylishly horizontal emphasis. Similarly horizontal, the A6's relatively low and level waistline and taut surfacing provide an airy cabin and good visibility to easily position it on road. Considerably heavier than its 1980s predecessor owing to huge leaps in equipment and refinement, the A6's high aluminium content construction, however, keeps weight to a contemporarily trim 1,645kg.
Doubling up
With turbocharging an exotic feature only available top-spec 2.2-lire models in the 1980s, early base model 1.8-litre 100s even made do with carburettors before moving onto mechanical fuel injection. By contrast, today Audi fields an almost entirely turbocharged line-up. More reliable and efficient, Audi's TFSI engines also feature dual multipoint and direct fuel injection systems. Much less susceptible to low-end turbo-lag and with power arriving at a higher and broader engine speed plateau, the A6 35 TFSI develops 187BHP at 4,200rpm-6,200rpm, allowing for brisk 7.9-second 0-100km/h acceleration and 233km/h top speed.
With 107lb/ft, the old 100CC's torque provided good off-the-line responses, but nevertheless pales in comparison with the 35 TFSI's 236lb/ft, available throughout a broad and versatile 1,400-4,100rpm range for confident overtaking flexibility and for seamlessly transitioning through to higher power build up at higher revs. And in place of the 100CC's slushy and widely spaced three speed automatic, the modern A6 35 TFSI features a crisp and finger-snap slick 7-speed automated dual-clutch gearbox.
Smoother and more economical by leaps and with stop and go engine activation, the A6 35 TFSI returns frugal 5.7l/100km combined fuel efficiency.
Smooth and tidy
Built using a longitudinal engine, front-wheel drive configuration with equal length drive shafts, as traditionally employed by most Audis, A6's evolved platform benefits from good traction over loose surfaces and greatly minimises torque steer. However, with lighter components and the engine positioned nearer to the front axle, and more sophisticated multi-link suspension, the front-drive A6 35 TFSI feels more balanced and much better masks such an inherently nose-heavy configuration than the old front-drive 100's MacPherson strut front and trailing arm rear suspension. Four-wheel drive Quattro models are better still.
Smooth, stable, reassuring and highly refined at speed, the A6 is a natural long distance companion, with a comfortable ride and settled recovery on rebound over crests and dips. Turning into corners it is far tidier than Audis of old, with only hints at its nose-heavy configuration evident if pushed hard and tight when entering. Through corners it feels settles, stable and committed, with plenty of rear grip and decent body control for its class. Steering is accurate, well weighted and designed for highway directional stability, if not especially nuanced or communicative cornering prowess.
Ergonomics and equipment
With a similar horizontal emphasis and at least as good, if not better, usable passenger room owing to its more upright cabin, the 100CC's Spartan fabric and wind-down window interior is vastly surpassed by even entry-level current A6 standards. A model of sophistication, ergonomics, design and quality, the current A6 is a comfortable and refined environment with quality leathers, soft textures and clear functionality. Well accommodating passengers and luggage, the A6 features highly adjustable steering and seating in front, and reasonably generous standard features.
Well-equipped with standard convenience, infotainment and safety features, the A6 options list is, however, long and includes 4-zone climate control motion sensing boot release and MMI Plus infotainment system with satnav, Wi-Fi hot spot, handwriting recognition and voice control. Upholstery and trim options are likewise varied, while safety and driver assistance systems options include reversing and 360° cameras, parking assistance and sensors, heads up display, lane assistance, adaptive cruise control and more.
TECHNICAL SPECIFICATIONS
Engine: 1.8-litre, turbocharged, in-line 4 cylinders
Bore x stroke: 82.5 x 84.1mm
Compression ratio: 9.6:1
Valve-train: 16-valve, DOHC, direct injection
Gearbox: 7-speed dual clutch automated, front-wheel drive
Top gear/final drive ratios: 0.43:1/4.41:1
Power, BHP (PS) [kW]: 187.5 (190) [140] @ 4,200-6,200rpm
Specific power: 104.3BHP/litre
Power-to-weight: 114BHP/tonne
Torque, lb/ft (Nm): 236 (320) @ 1,400-4,100rpm
Specific torque: 178Nm/litre
Torque-to-weight: 194.5Nm/tonne
0-100km/h: 7.9 seconds
Top speed: 233km/h
Fuel consumption, urban/extra-urban/combined: 7.1/5/5.7 litres/100km
CO2 emissions, combined: 133g/km
Fuel capacity: 65 litres
Length: 4,933mm
Width: 1,874mm
Height: 1,455mm
Wheelbase: 2,912mm
Track, F/R: 1,627/1,618mm
Overhangs, F/R: 930/1,091mm
Headroom, F/R: 1,046/962mm
Shoulder room, F/R: 1,460/1,429mm
Luggage volume, min/max: 530/995 litres
Unladen weight: 1,645kg
Steering: Electric-assisted rack & pinion
Turning Circle: 11.9 metres
Suspension: Multi-link
Brakes: Ventilated discs
Tyres: 235/55R18 (optional)
Related Articles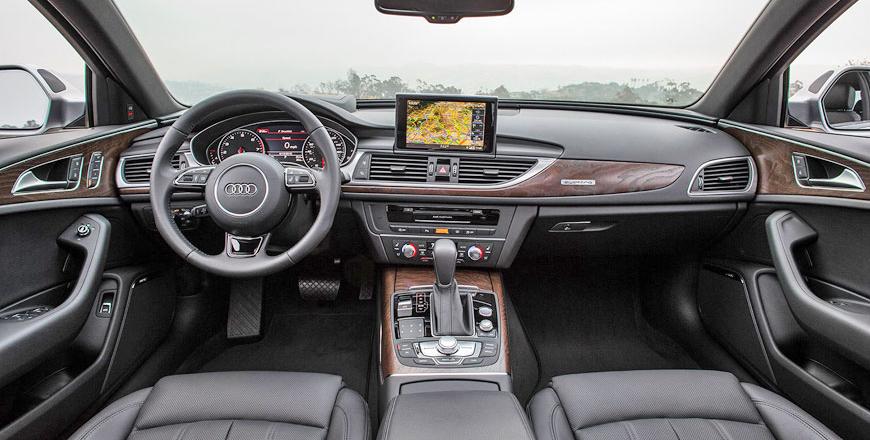 Jul 14,2015
Sophisticated and smooth, quick and confident, and well equipped and elegant but uncomplicated, the Audi A6 is a well thought out and execut
Apr 18,2016
Launched globally at the Frankfurt Motorshow late last year and arriving in the Middle East market earlier this month, the latest generation
Jan 26,2015
A breakthrough model for Audi's luxury car ambitions and successor to the four-ring brand's first 1988-93 Audi V8 effort, the A8 effectively pole-vaulted Audi into the heart of the full-size luxury flagship segment.
Newsletter
Get top stories and blog posts emailed to you each day.