You are here
Bears sink teeth into Apple, bulls run on China ends
By AFP - Nov 03,2018 - Last updated at Nov 03,2018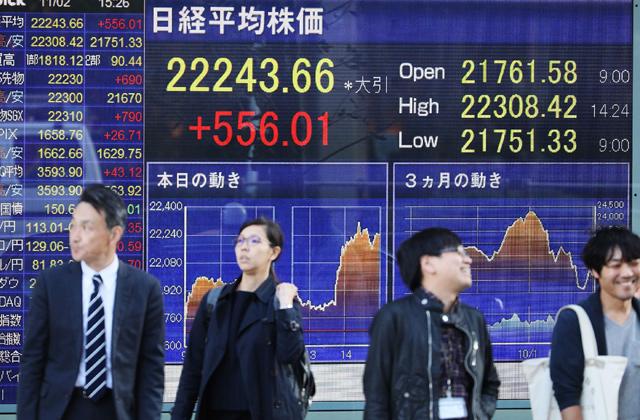 Pedestrians wait at a signal in front of an electronic stock quotation board in Tokyo on Friday (AFP photo)
PARIS — A stocks rally on hopes of a US-China trade deal ran out of steam on Friday as the rising certainty of further US interest rates increases chilled fervour for equities.
Investors took the shine off Apple shares, which plunged 6.8 per cent on a disappointing holiday season forecast and word that it will stop reporting how many iPhones it sells.
Trading in Asia started with a bang after US President Donald Trump hailed positive talks with Chinese counterpart Xi Jinping, which was a rare sign of hope in the stand-off between the world's top two economies.
A later report said he had asked officials to draw up a draft bill as he eyes a potential trade deal between the two.
Hong Kong jumped more than four per cent, while Shanghai and the yuan soared as dealers seized on the news, hoping for a breakthrough in a rift that has rocked global equities and fuelled warnings about global growth.
European shares also benefitted from the positive sentiment in the morning, as did Wall Street at the open, but later reports of US officials saying there was a long way to go before a deal took the steam out of the rally.
"The announcement cooled the mood a little," said market analyst David Madden at CMC Markets UK.
The yuan also rallied to 6.8961 to the dollar — its best rate since mid-October — well off the 10-year lows around 6.97 on Thursday.
Rate hikes 'on track'
In the United States, data that showed the economy added 250,000 net new positions in October, handily overshooting forecasts, also helped cut short the equity rally.
That data, along with the fastest gain in wages since April 2009 at a 3.1 per cent annual increase, helped cement expectations the US Federal Reserve will continue to gradually increase interest rates.
"Investors viewed all this through [US Federal Reserve Chairman] Jerome Powell's glasses," said Spreadex analyst Connor Campbell.
"The strength of the US economy, as suggested by that data, likely mitigates some of the concerns caused by October's market correction, and leaves the Federal Reserve on track to raise interest rates in December, with the potential for three or more hikes across 2019," he added in a note to clients.
Rising bond yields, in anticipation of the interest rate hike, reduced the attractiveness of equities and bolstered the dollar.
Oil prices fell further after Thursday's plunge of more than 2 per cent on oversupply worries, as Washington announced on Friday it will allow eight countries to continue importing Iranian oil, at lower levels, despite US sanctions on Iran coming back into place within days.
The commodity has lost around 15 per cent from four-year highs at the start of last month as Russia and the Organisation of the Petroleum Exporting Countries said they would bolster output to ease supply concerns due to the sanctions.
Dealers have also been concerned about the impact on demand from a trade war between China and the US.
Newsletter
Get top stories and blog posts emailed to you each day.