You are here
Waste management yet to gain traction
By Rayya Al Muheisen - Jun 27,2021 - Last updated at Jun 27,2021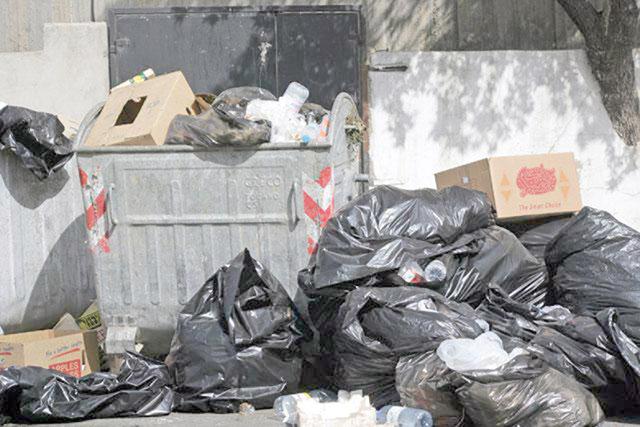 Growing industrialisation, high population growth and immigration rate have led to a rapid increase in solid waste generation in Jordan which has, in turn, put increasing pressure on the waste management infrastructure, according to reports (File photo)
AMMAN — Growing industrialisation, high population growth and immigration rate have led to a rapid increase in solid waste generation in Jordan which has, in turn, put increasing pressure on the waste management infrastructure, according to reports.
Mohammad Ziad Yamin, an environmental scientist, said that around 2 million tonnes of municipal waste is generated in Jordan each year, most of which is diverted to unsanitary landfills and dumpsites.
Improper solid waste disposal is leading to public health risks, adverse environmental impacts as well as socioeconomic problems, he said.
Amman accounts for almost half of the total solid waste generated in Jordan. The Greater Amman Municipality (GAM) collects, transports, and disposes the waste to Al Ghabawi landfill site, which is considered to be the largest landfill in Jordan serving Amman and 10 other major cities, according to the GAM website.
Al Ghabawi landfill is "the first of its kind" in Jordan as it employs a bio-gas electricity-generating system with financial assistance from the World Bank.
The waste-to-energy project, once connected with the Jordan Electricity Company's grid, will generate 4.8 megawatts per hour by burning methane collected from waste at Al Ghabawi landfill, according to a report by GAM.
According to a report by USAID's Recycling in Jordan Activity project, Al Ghabawi landfill receives 4000-4300 tonnes of Amman's waste, serving almost 50 per cent of Jordanians. According to GAM estimates, the commercial sector generates at least 40 per cent of this waste.
The USAID report noted that low levels of awareness on recycling and high price sensitivity are among obstacles to waste management in the country.
The Ministry of Environment together with GAM are working on many recycling projects, according to the GAM website.
These include the Jordan Vision 2025, the National Municipal Solid Waste Management Strategy (2015-2034), the National Green Growth Plan, the National Strategy and Action Plan for Sustainable Consumption and Production (2016-2025), and the National Environmental Strategy.
Related Articles
Dec 29,2018
AMMAN — The Greater Amman Municipality (GAM) said on Saturday that the Ghabawi landfill will start generating 5 megawatts per hour (MWh) as
Jan 12,2023
AMMAN — Even after implementing a slew of policies and programmes, Solid Waste Management (SWM) remains a challenge for Jordan, according to
Jan 26,2020
AMMAN — In the Kingdom, recycling efforts are relatively low-priority for citizens, as 56.7 per cent of Jordanians struggle with "fragile an