You are here
Princess Sumaya says hosting World Science Forum confirms Jordan's position as place for dialogue
By JT - Dec 13,2016 - Last updated at Dec 13,2016
HRH Princess Sumaya with members of the steering committee of the World Science Forum 2017 in Amman on Tuesday (Photo courtesy of Royal Scientific Society)
AMMAN — HRH Princess Sumaya, the president of the Royal Scientific Society (RSS), on Tuesday welcomed leading international scientists and policymakers to the RSS as she convened the second meeting of the steering committee of the World Science Forum 2017 (WSF).
The princess, who chairs the WSF 2017, said it was a great privilege for Jordan to plan and host in November the "world's most prestigious science forum" for the first time in the Middle East.
The eighth WSF will be held at the Dead Sea under the heading of "Science for Peace", according to an RSS statement.
The meeting, which is known as the "Davos of Science", will examine how science, technology and innovation can help create a better future for the world.
"For the first time, WSF will have an Arab and Middle Eastern focus as the world's leading scientists and policymakers make Jordan the focus of attention for debate and discussion," the statement said.
Princess Sumaya voiced hope that the WSF 2017 would act as a launch pad for cooperation in science, technology and innovation across the Arab world.
The princess said she was delighted that the WSF, and the global attention it attracts, would confirm Jordan's position as a place for dialogue and the exchange of ideas.
Related Articles
Oct 04,2016
AMMAN — HRH Princess Sumaya has chaired a meeting in Brussels to discuss preparations for the 8th World Science Forum (WSF), which will be h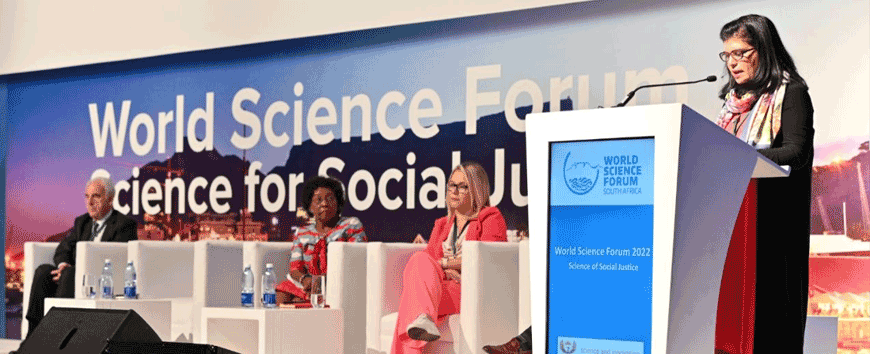 Dec 11,2022
AMMAN — A delegation from the Royal Scientific Society (RSS) participated last week in sessions of the World Science Forum (WSF) 2022 in Cap
Sep 13,2023
AMMAN — HRH Prince Hassan, Chairman of the Royal Scientific Society (RSS), on Wednesday met with delegates of the Steering Committee of the