You are here
Prince Hassan calls for establishing international Zakat institution
By JT - Nov 01,2022 - Last updated at Nov 01,2022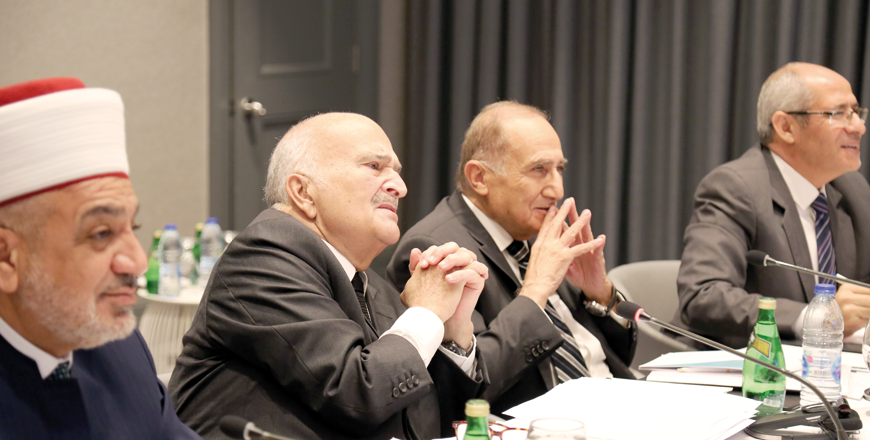 HRH Prince Hassan and other participants of a panel discussion titled 'The Universality of Zakat: Dimensions and Institutional Representations — Towards a Global Institution for Zakat and Human Solidarity', on Monday (Petra Photo)
AMMAN — HRH Prince Hassan, president of the Arab Thought Forum, on Monday said that the "Zakat (compulsory almsgiving) is a practical expression of dignity and human fraternity, as it enhances the collective spirit and increases goodwill".
Speaking during a panel discussion, titled "The Universality of Zakat: Dimensions and Institutional Representations – Towards a Global Institution for Zakat and Human Solidarity", Prince Hassan emphasised the importance of viewing Zakat as key to building the threshold at which development will take place, calling for a focus on human dignity as a fundamental factor in policy development and investment in human capital.
The main purpose of creating a global humanitarian institution for Zakat and solidarity is to realise the concept of effective charity, which excludes no one and is based on the transmission of ideas from "egoism to wegotism", the prince said, according to the Jordan News Agency, Petra.
Prince Hassan also drew attention to the need for setting mechanisms to empower underprivileged people by understanding the different, interlinked dimensions of poverty.
The meeting, which was organised by the Arab Thought Forum, featured a number of current and former ministers, Sharia judges, muftis (Islamic jurists) and academics, among other guests.
The gathering unanimously agreed on the need for a global Zakat institution accompanied by a humanitarian solidarity to provide underprivileged people with food, medical treatment, education, housing and income-generating activities.
The participants also called for enhancing coordination between the Zakat-related funds, institutions and bodies at the international level, including members of the Organisation of Islamic Cooperation (OIC) and representatives of Islamic communities in non-Muslim countries, to establish a "general secretariat" for Zakat bodies in the Islamic world.
Newsletter
Get top stories and blog posts emailed to you each day.