You are here
KAFD launches platform to connect job seekers to employers
By Mohammad Ghazal - May 05,2016 - Last updated at May 05,2016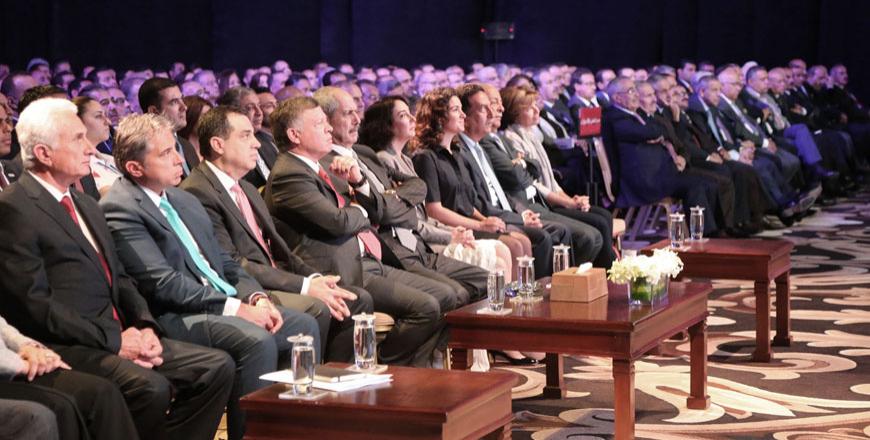 His Majesty King Abdullah attends the annual ceremony of the King Abdullah II Fund for Development at the Dead Sea on Wednesday (Photo courtesy of Royal Court)
DEAD SEA — His Majesty King Abdullah on Wednesday attended the King Abdullah II Fund for Development (KAFD) annual ceremony, which witnessed the launch of a series of initiatives seeking to empower the Jordanian youth, boost their engagement in local communities and enhance their employability.
In a speech at the gathering, Imad Fakhoury, chairman of KAFD's board of trustees, announced the launch of ForUs.jo, which is a national platform that is launched in collaboration between KAFD , the Labour Ministry and local and regional partners to help young Jordanians in fields of training, entrepreneurship, career counselling, job opportunities and volunteering.
The platform, Fakhoury said, will help enhance networking between young Jordanians and institutions working in various areas.
The platform will connect employers with job seekers and help acquaint young Jordanians with available opportunities for volunteering, as well as for online and offline training opportunities.
Fakhoury announced the opening of a digital gaming lab in Aqaba in addition to a mini-gaming lab in the governorate of Maan to help boost the skills of young Jordanians in the development of digital games.
He added that the fund, which supports graduation projects by students majoring in scientific fields, will expand its support this year to cover graduation projects by students majoring in humanitarian fields.
Fakhoury stressed the key role KAFD plays in supporting the youth and activating their role in the comprehensive development process through a variety of activities and programmes that focus on entrepreneurship, community awareness, building capacities, boosting employability such as "We Are All Jordan Youth Commission".
Since its establishment, around 770,000 young Jordanians benefited from KAFD's activities across the Kingdom.
He added that around 32,000 students participated in several discussion clubs that KAFD held over the past years, adding that the outcome was that they came up with 100 initiatives.
Fakhoury also outlined the fund's activities to help Jordanian entrepreneurs, citing KAFD's 25 career guidance centres at universities.
At the event, short clips were displayed showing the fund's celebration of the centennial of the Great Arab Revolt and some success stories.
The KAFD also announced the names of 10 winners of the King Abdullah II Award for Youth Innovation and Achievement for 2015.
Several royal family members and officials attended the ceremony.
KAFD was established by a Royal Decree in 2001 as an NGO to support the local community by driving human and infrastructure development.
The fund works to further develop key sectors in Jordan and improve local standards of living for all segments of the community through initiatives targeting individuals as well as the public, private and civil society sectors, according to its website.
Related Articles
Oct 26,2017
AMMAN — His Majesty King Abdullah on Wednesday attended the King Abdullah II Fund for Development (KAFD) annual ceremony, where announcement
Jun 03,2015
AMMAN — King Abdullah II Fund for Development (KAFD) on Wednesday announced the second round of winners of an initiative aimed to support cr
Apr 02,2016
AMMAN — The King Abdullah II Fund for Development (KAFD) said on Saturday it has signed memoranda of understanding with 10 public and privat
Newsletter
Get top stories and blog posts emailed to you each day.