You are here
King attends development fund's annual ceremony
KAFD says thousands of jobs created by projects it supported
By Mohammad Ghazal - Oct 26,2017 - Last updated at Oct 26,2017
His Majesty King Abdullah attends King Abdullah II Fund for Development's annual ceremony in Amman on Wednesday (Photo courtesy of Royal Court)
AMMAN — His Majesty King Abdullah on Wednesday attended the King Abdullah II Fund for Development (KAFD) annual ceremony, where announcements were made for plans to set up more digital gaming labs in the country and launch new cycles of projects to support and reward the talented youth and innovators.
His Majesty also toured an exhibition on the sidelines of the ceremony that displayed several success stories and projects benefiting and supported by KAFD in fields of research, innovation, virtual reality, heritage, environment, development and community services, among others.
Addressing the attendees at the ceremony in the presence of Royal family members and senior officials and experts from various sectors, Imad Fakhoury, chairman of KAFD's board of trustees, said KAFD is currently working on establishing new digital gaming labs in Zarqa, two others in Muta University in Karak and another at Karak Innovation Centre following the success witnessed at gaming labs already established in Amman, Irbid, Zarqa and Maan.
Fakhoury added that KAFD will also launch several projects in 2018 including the fifth edition of the King Abdullah II Award for Youth Innovation and Achievement and a new cycle of a project to support talented Jordanians. In addition, a mobile digital gaming lab will be launched to reach all areas across the country next year.
Highlighting the role KAFD plays to ensure the effective participation of the Jordanian youth upon directives by His Majesty, Fakhoury said KAFD has created around 65,000 job opportunities across Jordan through its various projects and initiatives.
The number is expected to rise to 100,000 in 2018, Fakhoury added.
This year, the fund has supported nine projects that address the needs of local communities including one to combat extremism on the web and another providing equipment for the blind.
He added that Oasis500, a startup incubator, has invested JD4.1 million in 122 fledgling businesses in the field of ICT and creative industries, adding that these startups have attracted investments totalling JD33.6 million and created more than 600 jobs.
He also referred to Forus.jo portal, which includes a section listing all microfinance institutions and opportunities for the benefit of young Jordanians.
Referring to KAFD-affiliated All Jordan Youth Commission, he said the entity has created some 26,700 opportunities for young Jordanians through 516 activities it held this year.
Fakhoury also highlighted the fund's projects to develop the eastern shores of the Dead Sea through several projects to support the tourism sector.
During the celebration, a documentary was screened highlighting several success stories of young Jordanians and projects they implemented in fields of technology, volunteerism, industry, food, community service and others.
KAFD was established by a Royal Decree in 2001 as an NGO to support the local community by driving human and infrastructure development.
The fund works to develop key sectors in Jordan and improve local standards of living for all segments of the community through initiatives targeting individuals as well as the public, private and civil society sectors, according to its website.
Related Articles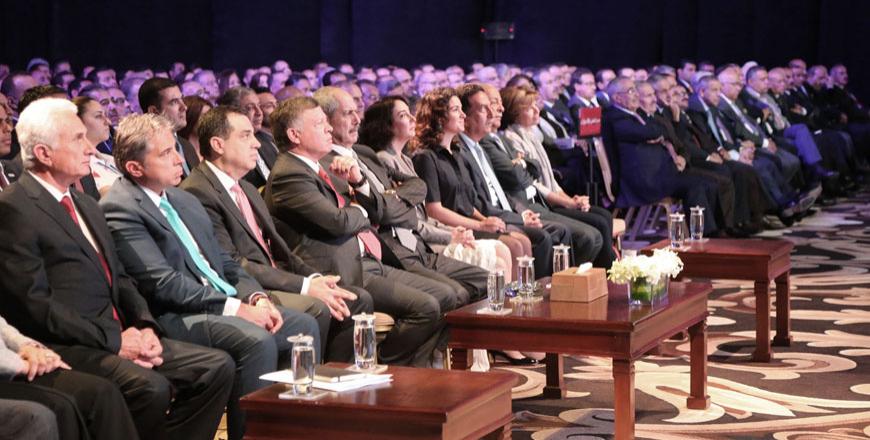 May 05,2016
DEAD SEA — His Majesty King Abdullah on Wednesday attended the King Abdullah II Fund for Development (KAFD) annual ceremony, which witnessed
Oct 18,2015
AMMAN — Experts and industry insiders on Saturday highlighted Jordan's potential as a regional hub for the digital gaming industry whose glo
Aug 04,2016
AMMAN — HRH Crown Prince Hussein, the Regent, on Thursday inaugurated a gaming lab in Aqaba, established by the King Abdullah II Fund for De
Newsletter
Get top stories and blog posts emailed to you each day.